« Ace of Spades Pet Thread
|
Main
|
Saturday Evening Movie Thread - 3/19/2022 [TheJamesMadison] »
March 19, 2022
Weekend Hobby and Bodging Thread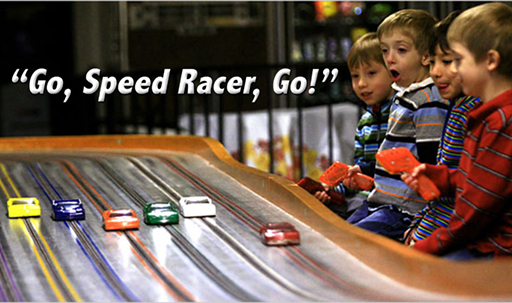 Greetings, gang. Hope you're all having a relaxing Saturday. It's time once again to head for the basement, garage, studio or wherever you can go to make a mess and have some fun being creative.
Pictured: Action aplenty at one of the last slot car raceways in New York (maybe anywhere for that matter), Brooklyn's legendary Buzz-a-Rama.
First up, this Brit creates some truly fantastic items mostly from recycled pallets and metals. How about a treasure chest with some secret drawers and compartments?
A Japanese modeler creates a stunning diorama based on a game called "FAR: Changing Tides." All sorts of great demos on scratchbuilding in plastic as well as epoxy resin water and styrofoam rock carving.
If you're layout runs through the desert southwest, here are some types on how to create realistic scenery typical of that setting. It's a multipart series so surf this guy's channel for the other episodes.
This gentleman takes you step by step in reproducing a painting by the impressionist master Claude Monet as well as a bit of history about his life and career.
Chest'r from beautiful Krasnoyarsk, Russia (where I actually visited 30 years ago) is a master upholsterer. Watch how he restores/reupholsters a Cold War Era East German chair. And you won't believe the low-tech/no-tech "airbrush" he uses to apply the finish!
Sewing is one of those skills I wish I had learned when I was young. Pops Sefton started out as a textile designer and knew his way around a loom and a Singer. Anyway, this demonstration might help break the ice and get you started.
I never got into slot car racing as a kid but evidently it's still alive after all these years. Good video on how to make your own track.
I wish kids today would stay the hell way from useless college degrees and learn how to do tool and die work and machining, like these really skilled dudes from Greece. This kind of project might be just the thing that appeals to the younger generation.

posted by J.J. Sefton at
05:00 PM
|
Access Comments