« Mid-Morning Art Thread
|
Main
|
The Speech »
March 16, 2022
Wednesday Morning Guest Rant [Joe Mannix]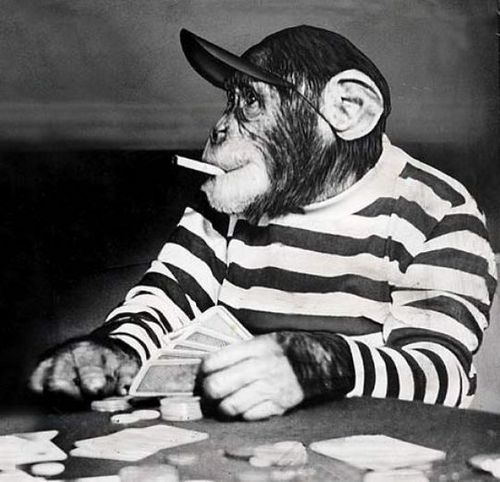 The Privilege of Muddled Thinking
The deranged ape I have been using seems to make a lot of people unhappy, so I am trying a new one. What do you folks think?
One of the more troubling and absurd phenomena erupting from the wokification of all things is the creation of the "privilege test." Such tests are used in many schools, corporations, governments, NGOs and more. The basic premise is that you fill out a questionnaire. Your total score at the end determines how much privilege you have, and thus how bad a person you are. You are then usually expected to apologize and promise to be better in a bit of good old-fashioned Maoist self-denunciation.
I have read through many of these tests over the years and they are reflective of the soft-brained idiotic madness of those who write them. These tests are rarely exclusively about the type of "privilege" they claim to diagnose. Other things always leak in because they just can't help themselves.
From various "white privilege" tests:

I can speak in public to a powerful male group without putting my race on trial.
I am heterosexual
I am a man
I am an American
Points awarded based on gender identity
Points awarded based on sexual preferences
This gets far worse on the more broad-spectrum "privilege tests" that are just all over the map and usually poorly organized. These tests look for all kinds of "privilege" (racial, sexual, professional, national, etc.) to try to be more complete, and the question ordering is usually as insane as the concept is wicked. They're all peppered together throughout, with no organization or theme.
These people can't even keep their own BS straight. Why does sex, gender, sexual orientation or anything non-racial appear on a "white privilege" test? Why are various forms of privilege assumed to track with each other? Why combined tests? Why tests with no thematic structure or components?
Because the idea behind these and the people who write them are stupid and evil. The point is Maoist self-denunciation and subservience to the Red Guards of the classroom and HR, so anything approaching reality or reason takes a back seat to the real purpose. The authors of this wicked nonsense have no ability - or need - to be consistent about their own premise.
The people who perpetrate this on the world are the possessors of the real privilege. They have the privilege to put forth a bunch of sinister mush-brained poison, back it up with force (lose your job if you refuse, get expelled, etc.) and compel you to pretend it isn't what it so clearly is. That's actual power, that's actual privilege and they - not you - have it. They have the privilege of muddled thinking because they have the power. No amount of their squawking about being disempowered or oppressed changes the reality.

posted by Open Blogger at
11:00 AM
|
Access Comments