« Kamala "Heels-Up" Harris Suggests That Ukraine Is Part of NATO
|
Main
|
Wall Street Journal: Hispanic Support for Republicans Is Surging
Axios: Beware of "White Nationalist Hispanics!" »
March 14, 2022
Covid Fanatic and Potential Trump Assassin Stabs Two Employees at the Museum of Modern Art;
Media Not Interested in Story, Doesn't Report on His Crazed Leftist Rantings on Social Media
A mentally ill man whose sanity had worsened during the Covid lockdowns (as predicted, as planned) was denied entrance to the MoMA, due to past disruptive behavior.
So he came back dressed like Fat Zodiac and stabbed two employees there.
Gothamist.com is one of the few media outlets willing to report on his political beliefs:
The man who allegedly stabbed two employees at the Museum of Modern Art on Saturday was a Broadway usher and passionate critic of former President Donald Trump whose recent social media tirades had worried some of his friends, several people who spoke to Gothamist on Sunday said.

Security footage released Sunday showed the enraged suspect, who police identified as 60-year-old Gary Cabana, leaping over the museum counter, cornering two employees and plunging a knife into them as they tried to escape. He fled the building and remained at large Sunday, the NYPD said.


...

Varney and other friends said that Cabana had a history of mental illness, which appeared to worsen during the pandemic. A public Facebook post shared on an account that three friends said belongs to Cabana called the stabbing a "total frame job," while seeming to acknowledge that he had previous altercations at the museum.

"Bipolar is a tough road to hoe," one of those posts from Sunday read. "Dr. Jekyll to Mr. Hyde on the 2 'supposed' days I 'acted up: 2/24 +. 3/9. Total blind side when I got 'the letter,'" an apparent reference to the letter revoking his MoMA membership.

It continued: "It wasn't SCREAM 6 at MoMA it was poke poke poke wake-up call."
Note he's claiming he's being framed, and then also justifying the stabbings as a "poke poke wake-up call."
Multiple people close to Cabana said they noticed a shift in his social media presence at the start of the pandemic, as his musings shifted from critiquing films to posts filled with anger directed at tourists who did not follow COVID protocols, as well as Trump, whose leadership Cabana said allowed the pandemic to worsen.

"His politics are liberal," Varney said. "He'd get more worked up about them than I would choose to."

Later the article notes:
"COVID hit him hard as far as loneliness," Blair said. "Nobody was able to visit him."
50 anger directed at tourists who did not follow COVID protocols,

**

This was quickly glossed over, but this is normal people behaving normally. No masks, no masks on their kids, just happy people living life.

Remember, this is what they wanted.

It worked.
Posted by: Moron Robbie - Nothing's Built, Nothing's Back, Nothing's Better
He stabbed the workers repeatedly but, thankfully, non-fatally.
The two 24-year-old victims, a man and a woman, were stabbed in the lower back, back of the neck, and collarbone. Both were taken to Bellevue Hospital with non-life-threatening wounds, police said.
He worked as a theater usher and would rant and rave about people not being masked. Covid shut down Broadway for almost two years, so that contributed to this bent leftist lunatic's dissolving sanity.
Even Gothamist undersells it; he's not just a "passionate Trump critic," he's using social media on the run to threaten to kill the (real) president.
Think we'll see any media heavy-breathing about how unhinged political messaging and Misinformation can drive people towards violence?
Obviously, they won't; they like that their own demented conspiracy theories and red-meat political agitation drives their leftist allies to commit murder. That's the coward's way of fighting a war: typing up psyops propaganda to drive the mentally ill to do what the coward only dreams of doing.
This video of the attacks is disturbing.
Gavin Mario Wax @GavinWax

Nobody is reporting it but the brutal MoMA stabber is a crazy Covidian who hates "no-maskers" and "Repubs".

See his social post below:
He also says he wants "2 BEAT THE REPUBLICANS 2 THE PUNCH" and start his own insurrection before they do.
He also vows to "DOUBLE-CAP" Republican "Virus Zombies."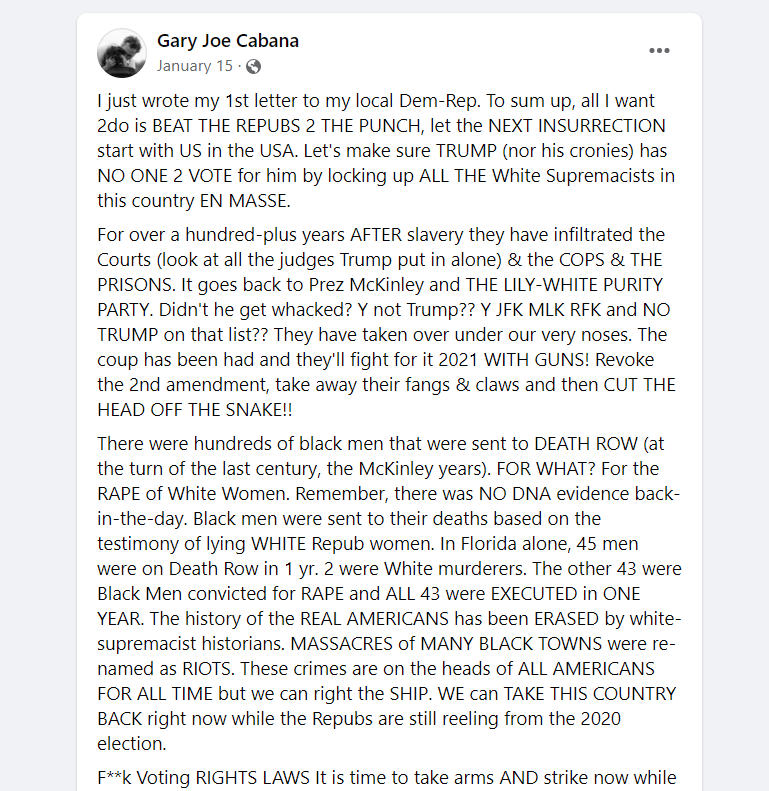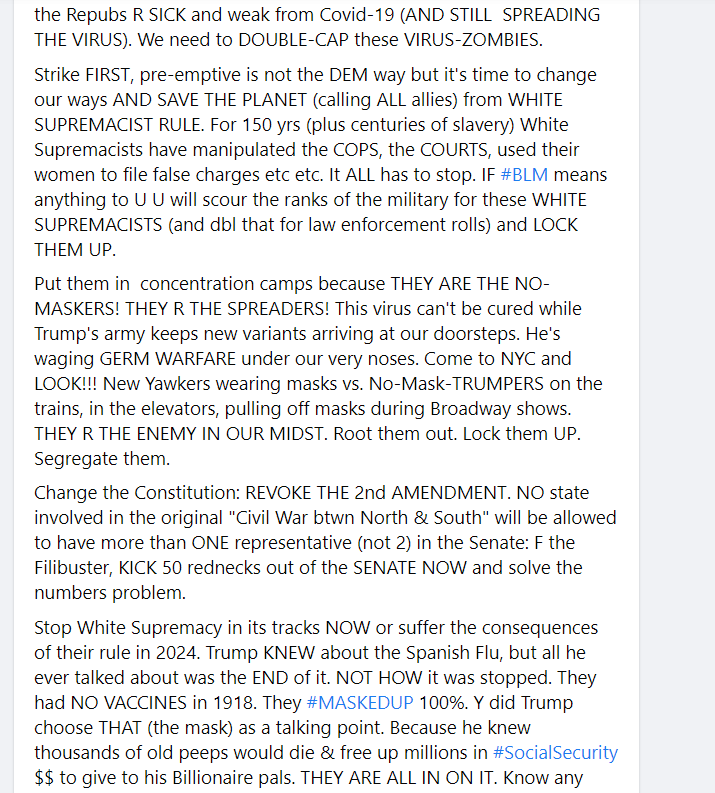 In this post, he talks about shooting Trump through a window ("BOOM BOOM") and then about using his knife to "cut the head off a fat snake."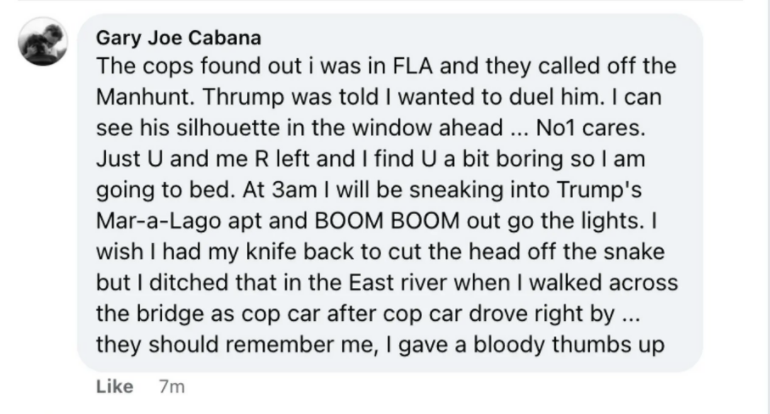 CNN has other things to report on today.

posted by Ace at
03:15 PM
|
Access Comments