« Drag Queen Scheduled to "Entertain" Democrats at Retreat #Cancelled
|
Main
|
Hawk Lord Cafe »
March 14, 2022
Quick Hits
After bizarrely shouting "I am not suicidal! I am not suicidal!" after his sentencing, Jussie Smollett somehow ended up in the psych ward.
Must be some more anti-black/anti-gay racism from a psychiatric staff who hates Empire.
Jussie Smollett is being held in the psych ward at a Chicago jail -- and his brother is flipping out.

The 39-year-old "Empire" actor, who remains at the Cook County Jail after being sentenced to five months behind bars for staging a hate crime, was thrown into the ward because of a paperwork snafu, his brother claims.

"What's very concerning is that there was a note attached to the paperwork today, and it said on the front of his jail cell ... that he is at risk of self-harm," Jocqui Smollett said on Instagram.
They tend to put that note on your file when you start screaming about how not-suicidal you are.
"I want to just make it clear to folks that he is in no way shape or form at risk to self-harm and he wants to let folks know that, that he is very stable, he is very strong, he is very healthy and ready to take on the challenge that ultimately has been put up against him," the sibling said in the post Saturday.

Speaking of mentally stable: Karen has a new hysteria.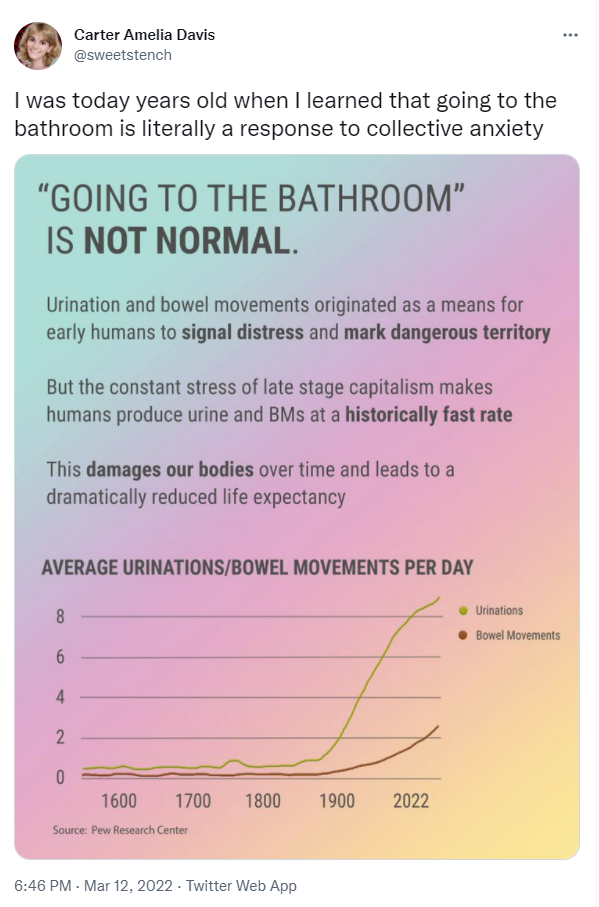 Carter Amelia Davis @sweetstench

Some people seem upset by this post, and that's okay. Reality can be hard to accept, but that doesn't make it any less real. I am calm and happy and haven't made a BM in days.

I collected this peer-reviewed data into a graphic in the hopes of raising awareness of this disturbing trend. But y'all are so scared of facts that you'd rather urinate and make your little BMs forever. What a shame
Is this a troll? Could be. I'll include it just as comment fodder.
While this could be a troll, be aware, hysteria and delusions have become fashionable again among women and a certain type of woman is always looking for the next "original" identity-defining psychosis to latch on to. Some women are now claiming that they have "tulpas" inside of them.
If you watched Twin Peaks, you might recognize the concept of a "tulpa" -- an supernatural clone of yourself. Though they claim these "tulpas" are inside their heads.
But they're not alternate personalities-- that wouldn't give them the cache of originality in their delusions they're looking for. These are 100% not just boring old alternate personalities, but a whole new thing.
So when you say "This has to be a troll" -- does it? Does it have to be?
Jen Psaki claims that Russia "hacked" the 2016 election.
But this is not misinformation that will get her twitter account suspended.
She also claims, Adam Schiff-like, that there is classified information to prove this that they have not released for some reason.
Charlie Spiering @charliespiering

Jen Psaki tells the Tik-Tok influencers in her briefing that Russia "of course hacked our election here" in 2016.

Full Psaki quote from
@TaylorLorenz audio: "If you look back at 2014, and frankly even 2016, when Russia invaded Ukraine and then in 2016, when they, you know, of course, hacked our election here, we did not do that, we did not declassify information."

A jury refused to indict the officer who shot the black girl who was in the process of stabbing another black girl. Jonathan Turley notes the leftwing media once again sprang into action to defame this man.
I wrote earlier that I believed that the shooting was justified under departmental rules and legal precedent. Nevertheless, the shooting of the teenager was decried as murder in the media. "The View" co-host Joy Behar insisted that, when the officer saw Bryant moving to stab another girl, he should have shot in the air. The grand jury clearly disagreed and refused to indict Officer Nicholas Reardon.

At the time of the shooting, various media outlets like NPR posted misleading accounts of the shooting, which fueled anger in the city. (NPR later corrected its original account):

The Daily Beast also ran misleading coverage, including a quote from "local Columbus activist K.C. Taynor of Exodus Nation" that "the latest police killing made it impossible to celebrate the Chauvin verdict. It's another murder. They're animals. They treat us like animals."

Such hair-triggered coverage has become the norm where public anger is fueled by false accounts or claims by media, including the Rittenhouse case and Sandmann controversy where the subjects later sued the media.

As we previously discussed, politicians and commentators often have a distorted view of the standard and realities in these cases. President Biden has long maintained that police officers should shoot armed suspects in the leg. However, there is a reason why police manuals do not say "aim for the leg" or "try to shoot the weapon out of the suspect's hand." It is called "imminent harm," the standard governing all police shootings. The fact that many of us describe such shootings as "justified" is not to belittle these tragedies but to recognize the underlying exigencies that control the use of lethal force.
The ignorant, unprepared, unpositioned for success Kamala Harris proclaimed that "the United States stands firmly with the people of Ukraine in defense of the NATO alliance," thus perhaps moving the doomday clock closer to midnight by announcing to the world that the Vice President now believed that Ukraine already was part of NATO.
The White House scrambled at damage control, adding an "and" into their official transcript of Moron #2's remarks:

Top "Republicans" will be out in force to fundraise for neocon Democrat Liz Cheney.
So many "top Republicans" have RSVP'd to her fundraiser that the hosts had to move it to a larger venue.
Both George W. Bush and Romney, the two living Republican presidential nominees besides Trump, have raised money for Cheney's reelection effort, connecting her directly to their broad donor networks.

Among the others on the fundraiser's invitation are several luminaries of the pre-Trump GOP and veterans of past Republican administrations, including Cheney's parents, former Vice President Dick Cheney and Lynne Cheney, and her sister, Mary, and Mary's wife, Heather.

Also expected to attend are former Oklahoma Sen. Don Nickles, former Homeland Security Secretary Michael Chertoff, former Dick Cheney aide Scooter Libby, former presidential candidate and ex-Hewlett-Packard executive Carly Fiorina, former Solicitor General Ted Olson, conservative lawyer Miguel Estrada and former Massachusetts Lt. Gov. Kerry Healey, who served under Romney when he was governor of the Bay State.
Speaking of "Top Republicans" and Mitt Romney, Mitt Romney's former campaign manager and current Lincoln Project fellow Stuart Stevens is all in with the Biden spin that the record inflation which sparked off 2021 was actually caused by Putin's invasion of Ukraine which began February 24, 2022.
He thinks any suggestion to the contrary -- any claim that time moves forwards and not backwards (on the macroscopic level, at least) -- is, you guessed it, #WorkingForPutin.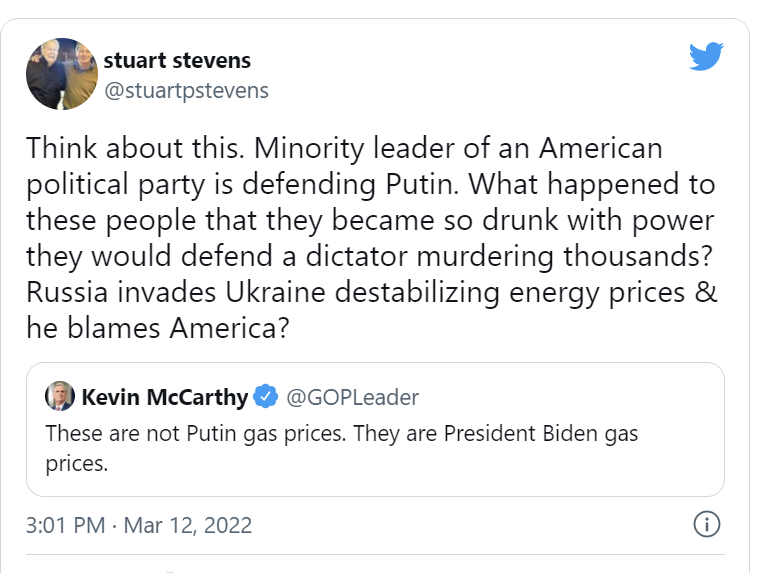 Question: How did so many hard leftwing Democrats wind up being such senior, senior aides to the "Severely Conservative" Mitt Romney?
That doesn't make much sense, does it?
This kid with Downs syndrome got a ride from his teacher he'll be talking about for years.
Noted RussiaGate conspiracy theorist Michael McFaul decided it was time to repair Hitler's image a bit. He claimed that Hitler wasn't so bad, at least compared to Vladimir Putin:
Great -- more Regime propaganda!
Abigail Marone @abigailmarone

our taxpayer dollars paid for the WH to lie to a bunch of influencers so they could spread the lies on a Chinese app. classic.
A Chinese intelligence service app.

posted by Ace at
06:04 PM
|
Access Comments