« Fighting in the GOP Ivory Tower [TJM]
|
Main
|
Mass Effect Cafe »
March 11, 2022
Mitt Romney: "Send These MiGs... Enough Talk. People Are Dying. Send Them The Planes That They Need. They Say They Need MiGs... They Want MiGs. Get Them the MiGs."
That's real. It sounds made-up, but it's real.
The Adults Are Back in the Room.
Noted Softcock Jonah Goldberg has got his War Boner back, baby!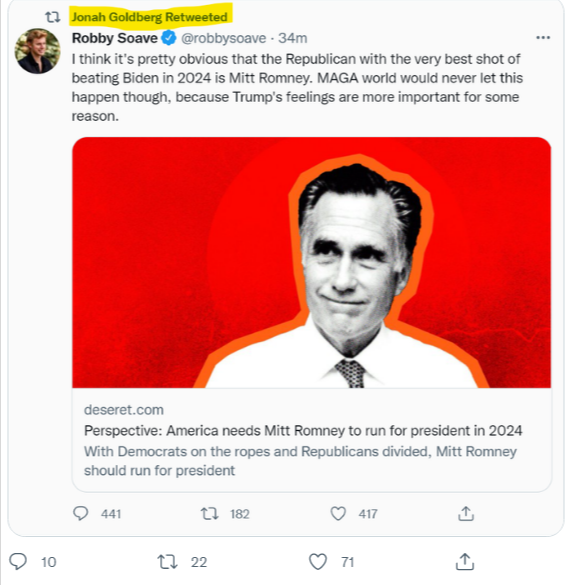 Robbie Soave, a lemon-chiffon liberal who, like many of them, brands himself a "libertarian" (yet always finds himself on the left side of political disputes), is rah-rah for Romney.
The current junior senator from Utah, former governor of Massachusetts and 2012 GOP presidential candidate is less loved by some Republicans than he was a decade ago because the hardcore MAGA crowd considers him a traitor to Trump. But among non-Republicans, his star has never shone brighter. He has burnished his credibility as an independent-minded politician who is not afraid to challenge Trump: He is the only Republican senator who voted to convict the president in both impeachment trials.

This would be a massive liability in the Republican primaries, of course, but it's a huge asset in a general election.
Yeah... Republicans wouldn't like him but he'd do well with independents and RINOs. Sounds like what you're really calling for is for Romney to play spoiler and run as an independent to take away votes from Republicans and get another disastrous Democrat elected.
I have this crazy notion that when Soave had the chance to support Romney over Obama in 2012, he... somehow didn't find Romney quite so compelling.
But absolutely, yes, Romney will in fact run as a spoiler independent if Trump wins the nomination. This is a problem. Romney's already 80% a Democrat anyway; he'd love to throw the election to a Democrat to defeat Trump. He'd pretend that's the equivalent of an actual presidential win.

Utah is a supposedly a Republican state, but they practice a different kind of "Republicanism" there:
Utah Gov. Spencer Cox pledged to veto legislation that would have prevented biological males from participating in female sports in his state.

The same Republican governor who defended racism as long as it's against white kids now wants to erase women's sports by letting males who claim they are females participate.

"Anyone that's interacted with the transgender community understands how amazing they are and how difficult it can be for them. I don't want to make things harder for them than they have to be," Cox said.
Below, the Adult In the Room Romney rabidly calls for the massive escalation in the proxy war with Russia that even Joe Biden was cogent enough to decline.
You know who else is running, right?
Amid Russia war on Ukraine, Bill Clinton relaunching Clinton Global Initiative Clinton Global Initiative opening 'new chapter' By Tyler Olson | Fox News
Start collecting those checks! We've got to get "Our People" working for us again!

posted by Ace at
06:24 PM
|
Access Comments