« The Deep State's Embed at Fox News Jen Griffin Continues to "Report" By Reading Statements Delivered to Her by Her Pentagon "Sources"
|
Main
|
Smollet Sentencing: 150 Days in Jail, 30 Months Probation
Smollett Screams, "I AM NOT SUICIDAL! I AM NOT SUICIDAL!" »
March 10, 2022
Governor DeSantis: Weird How the Disney Is So Passionately Opposed to the Anti-Grooming Bill But Can't Find Its Tongue to Say a Word About Its Business Partners In China
First, he tried diplomacy: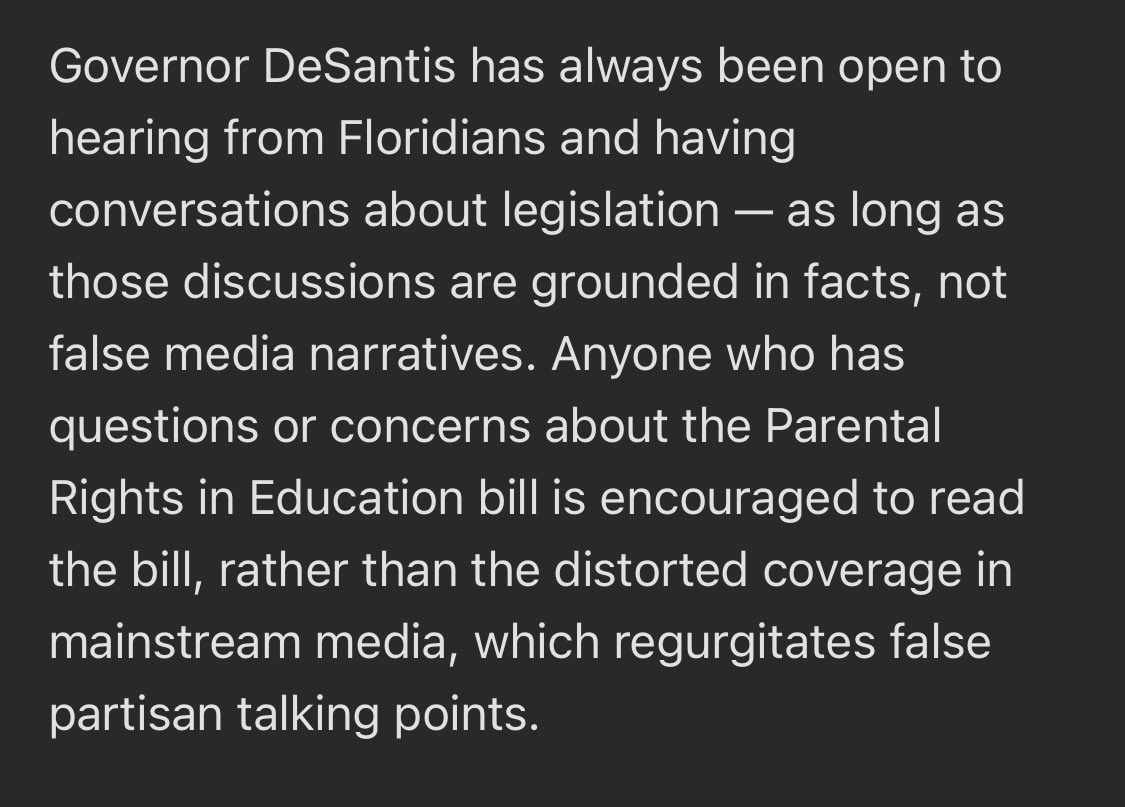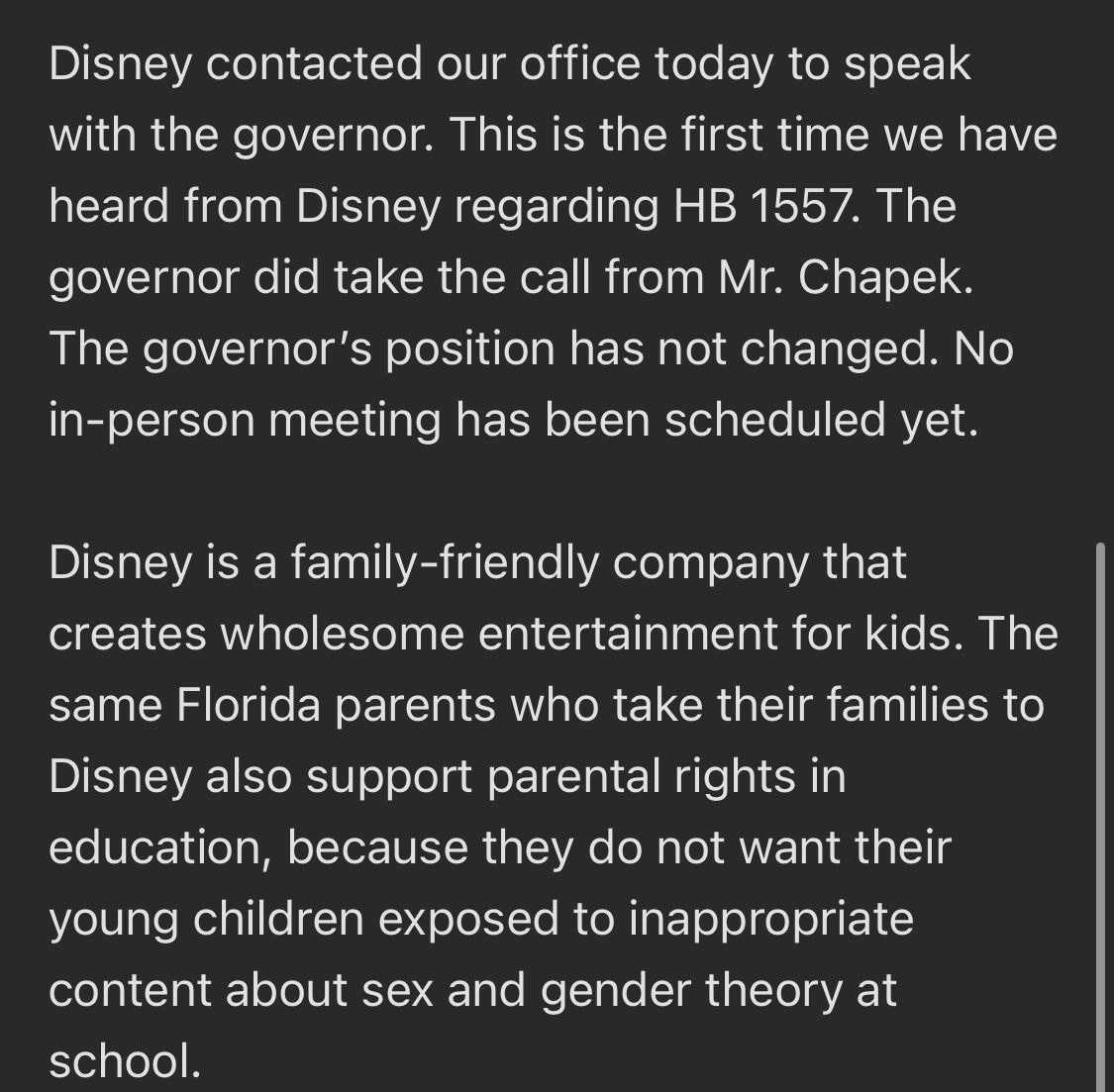 Personally, I think he should have just come out of the meeting saying, "I don't think that children aged five through nine should be groomed in sexuality and gender ideology. The Disney Corporation disagrees.... passionately. With an unsettling intensity, as a matter of fact. I'll leave it to Florida's voters and Disney's customers to decide who is right."
But he wanted to be nice.
But the Groomer Corporation Disney did not back off.
So he got tougher:

Christina Pushaw

@ChristinaPushaw

Gov. DeSantis on Disney: "How do they possibly explain lining their pockets with their relationship from the Communist Party of China? Because that's what they do, and they make a fortune, and they don't say a word about the really brutal practices at the hands of the CCP."

"Companies that have made a fortune catering to families should understand that parents don't want this injected into their kid's kindergarten classroom. Our policies will be based on the best interest of Florida citizens, not the musing of woke corporations."

Chadwick Moore makes a devastating point: the Groomer Corporation Disney's business partner the Chinese Communist Party literally has a straight-up No Gays Allowed rule.
They've imposed a "No Sissy Men" rule for TV, movies, the internet, advertising, everything.
China forbids depicting effeminate-looking -- "gay" looking -- men anywhere.
But the Groomer Corporation Disney says nothing about China's obviously anti-gay censorship policies.
Chadwick Moore @Chadwick_Moore

19m
Wait didn't China ban "sissy men" from TV? Waiting on that condemnation from
@Disney employees.

I'm afraid you'll have to wait a bit longer, Chadwick.
The Groomer Corporation Disney has two parks in China, and are building a third. They edit their movies to make them "China Friendly" to get the Chinese Communist Party to approve them for exhibition in China.
If Disney's physical presence in Florida compelled it to speak up about the Anti-Groomer Bill, why doesn't Disney's parks in China compel it to condemn China's Don't See Gay policy?
Video of DeSantis telling Bob Chapek to go piss up Chinese rope below.
Chris Rufo is meanwhile unloading on the Groomer Corporation Disney.
Christopher F. Rufo @realchrisrufo

SCOOP: The Walt Disney Corporation claims that America was founded on "systemic racism," encourages employees to complete a "white privilege checklist," and separates minorities into racially-segregated "affinity groups."

I've obtained internal documents that will shock you.

Those documents are present in the thread, which I'm omitting. I'm just copying the text.
@realchrisrufo

According to a trove of whistleblower materials, Disney has launched a "diversity and inclusion" program, called "Reimagine Tomorrow," which includes trainings on "systemic racism," "white privilege," "white fragility," "white saviors," "microaggressions," and "antiracism."

Next, participants are asked to complete a "white privilege checklist": "I am white," I am heterosexual," "I am a man," "I still identity as the gender I was born in," "I have never been raped," "I don't rely on public transportation," and "I have never been called a terrorist."

Finally, participants are told they must "pivot" from "white dominant culture" to "something different." The document claims that "competition," "individualism," "timeliness," and "comprehensiveness" are "white dominant" values that "perpetuate white supremacy culture."

Disney recommends that employees read a how-to guide called "75 Things White People Can Do for Racial Justice." The article tells readers to "defund the police," "participate in reparations," "decolonize your bookshelf," and "find and join a local 'white space.'"

Finally, Disney has launched racially-segregated "affinity groups" for minority employees, with the goal of achieving "culturally-authentic insights." The Latino group was named "Hola," the Asian group was named "Compass," and the black group was named "Wakanda."

The article about that, published last May, is at City Journal.
Maybe that's what Disney is really mad about: because the Florida legislature just outlawed the teaching that any race, including White Devils, have a racial guilt for any past crimes.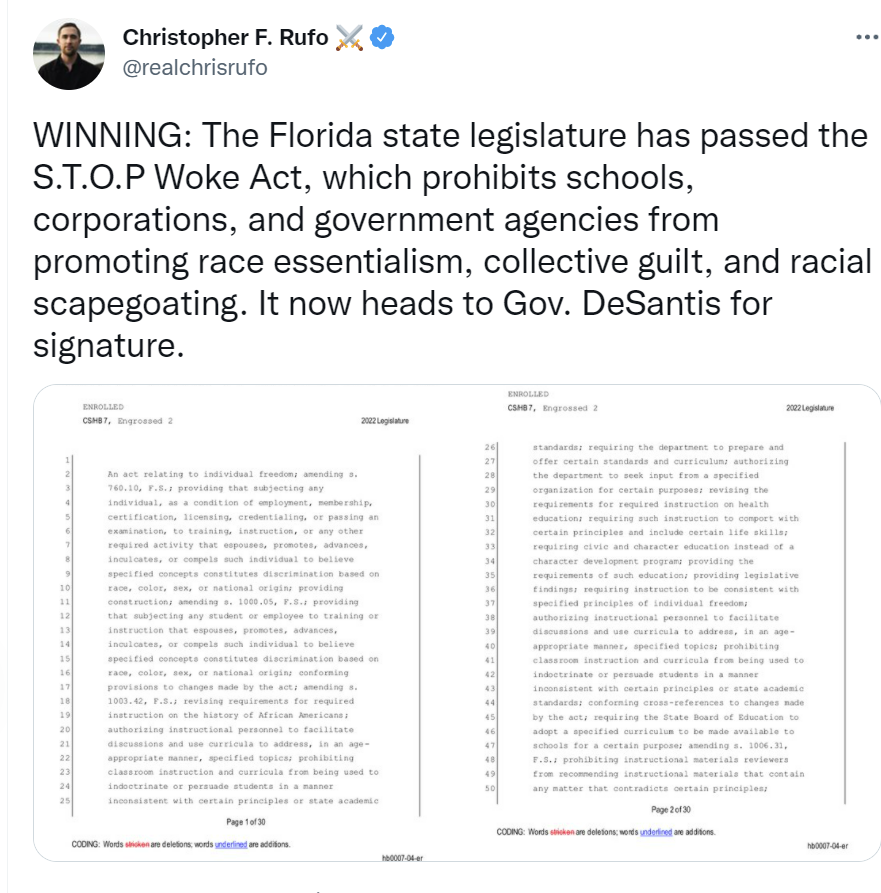 Ooooh, Groomer Corporation Disney, that's got to sting.

posted by Ace at
05:33 PM
|
Access Comments