« Governor DeSantis: Weird How the Disney Is So Passionately Opposed to the Anti-Grooming Bill But Can't Find Its Tongue to Say a Word About Its Business Partners In China
|
Main
|
Dumbdevils Cafe »
March 10, 2022
Smollet Sentencing: 150 Days in Jail, 30 Months Probation
Smollett Screams, "I AM NOT SUICIDAL! I AM NOT SUICIDAL!"
Jussie was sentenced, I think, to 150 days of jail time, and is now ranting he is not suicidal, which I think is intended to suggest he is suicidal, and therefore the judge must undo the sentence, or otherwise he's responsible for the suicide.
I think this asshole has rolled right into his next hoax.
He's going to immediately run to the jail psychiatrist and claim he's having thoughts of self-harm and all the other Warning Signs he rehearsed after looking them up on Google MD and start making fake suicide attempts.
Anything to get his sentence suspended on a mental health mercy pass.
He also shouted that he did not commit the crime, but added, "If I did [commit the crime], I put a fist into 400 years of oppression against blacks and the LGBT community!" or some such self-justifying lunacy.
150 days in jail, plus 30 month probation. Plus some fines and restitution he won't have any problem handling, alas. Though he might dearly miss that money in the future!
Matt Finn
@MattFinnFNC

BREAKING: Smollett sentenced to 150 days in Jail. 30 months felony probation. $120k restitution. $25k fine.
...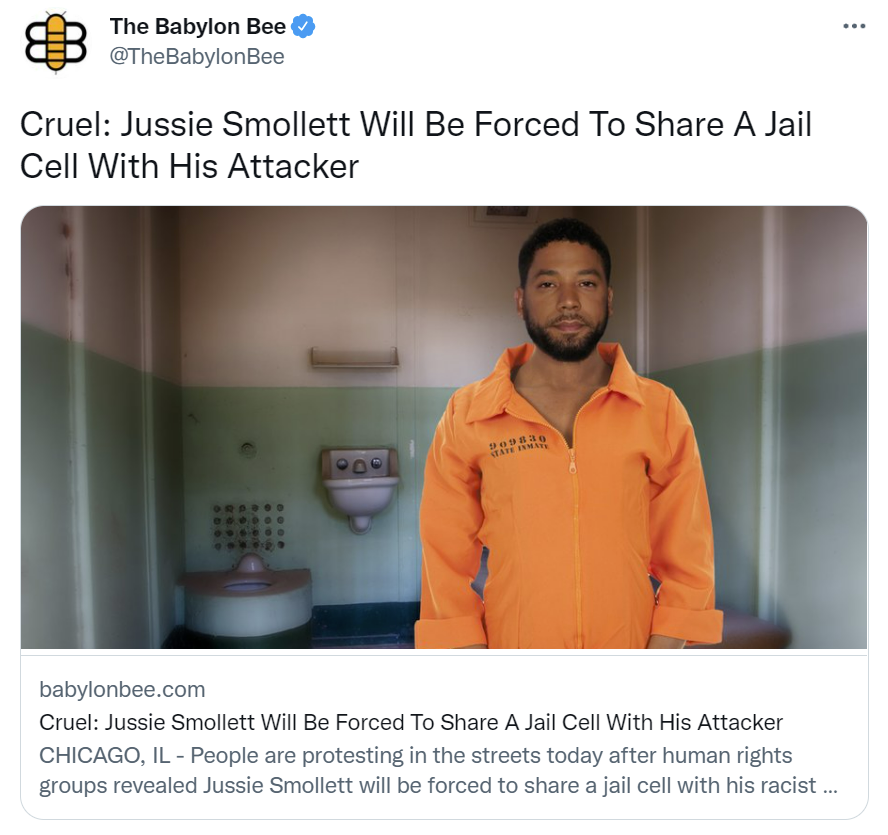 Earlier, before the sentencing:
Heather Hunter @heatherhunterdc

Jussie Smollett cries in court as his brother and 92-year-old grandma plead with judge not to send him to jail: Empire actor's family cites Ukraine war and COVID as reasons for light sentence because 'we are collectively worn down but it's not his fault'
A lot of us are worn down; do we get to stage a Free Hate Crime, too?
And again, it was a hate crime, not a hate crime hoax; it was a legitimate hate crime, in which he sought to direct hate and violence towards white people. The fact that he did so through deceptive, false-flag means does not mean it's not a real hate crime.
If this is not punished with prison, then let's officially make "hate crimes" which do not involve actual violence legal. Enough with the charade.
Update: The prosecutor has not sought prison, so that's out. At most, he'll get some jail time in county jail. Like 30 days or something. I guess that's what I meant.

The judge has already thrown out Jussie's meritless motions to vacate the guilty verdict.
The defense attorneys also should have had a chance to question potential jurors, Glandian argued. That would have been a break from Linn's usual trial practice, in which he is the only person asking questions, but Glandian argued that the overwhelming negative publicity brought Smollett into court with a "presumption of guilt," and so attorneys should have been able to participate in the process more actively.

Linn broke in during her argument and asked if she was saying he should have asked jurors every single question the defense proposed.

"You wanted me to ask the (potential jurors) 'What kind of animal would you like to be?'" Linn said. " ... Or, 'Superman or Batman, what do you prefer?' You really think I was supposed to ask (that)?"
I'm heading out for my daily run/walk so I'm probably going to miss the sentencing.
The defense lawyer just argued that because Smollet has "suffered," "it's enough," and he should get no punishment.
"We've all made mistakes, judge."
By the way, Smollett continues to lie and refuses to express remorse for his crime.

Update: No allocution from Smollett. An allocution is a statement from the accused narrating the facts. Usually confessing guilt. I suppose here Smollett could, theoretically, allocute that he's totally 100% innocent again.
Smollett is refusing to make an allocution and confess his guilt.
Once again, he's offered the chance to state his remorse, and once again, he tells the court "Fuck you."
The endless, endless babbling. He says Jussie is now an adverb for lying, which suggests to me he does not know what an adverb is.
But just to extend this endless monologue, he's going to get out a chalkboard and diagram a sentence to show what an adverb is and then say, "You see this Jussie? This is you now."
"We're at the end now"

LIAR

Here's the live feed. I changed the feed because the CBS one kept crapping out.
This longer video has the sentencing, Smollett's "I'm not suicidal" screaming, and then his absurd black power fist posturing on his way out.