« Energy Secretary Jennifer Granholm Demands Energy Companies Do Their Part and Start Producing More Energy
Flashback: "If you drive an electric car, this would not be affecting you"
|
Main
|
Governor DeSantis: Weird How the Disney Is So Passionately Opposed to the Anti-Grooming Bill But Can't Find Its Tongue to Say a Word About Its Business Partners In China »
March 10, 2022
The Deep State's Embed at Fox News Jen Griffin Continues to "Report" By Reading Statements Delivered to Her by Her Pentagon "Sources"
They're not her sources, they're her handlers.
She claims the biolabs that Victoria Nuland admitted to yesterday are just "Soviet era" labs, which the US has been trying to "clean out," her handlers claim, since the fall of the Soviet Union.
In 1991.
So she's claiming that the US has been trying, but failing, to "clean out" these laboratories for over 30 years. And they're still filled with biological weapons -- so filled with biological weapons that Victoria Nuland explicitly set down the pre-spin that if any of these weapons are released, Russia Did It.
It's been thirty fucking years of the US trying to "clean these Soviet era labs out" and they're still stocked to the top shelves with bioweapons?
Now, you have to be careful in dealing with bioweapons, but they're not like spent nuclear material -- you can destroy them. Easily. It just takes a lot of UV light.
Or, even simpler: A pit and a lot of kerosene.
Still simpler: bleach.
Posted by: Deplorable Jay Guevara
Right. This is very literally Not Rocket Science. Yes, you have to be careful in handling the material, but it's not exactly a state secret regarding the destruction of the stocks.
These are nonsenselies but Jennifer Griffin dutifully reads from her script. Glowing with pride as she proudly serves her Pentagon Masters.
Even more appallingly, she then claims that anyone who questions this script is repeating Russian Disinformation aimed at these labs.
Here's a version of The Cover Story I could buy:
After the fall of the Soviet Union, the US wanted to create make-work projects for former Soviet missile and nuclear scientists so that they did not sell their expertise to Iran and North Korea making missiles and nuclear bombs.
So we spent a lot of money on stuff like the International Space Station and the heavy lift rockets (built in Russia) to get it into space.
We overspent on low-priority projects because the real priority was keeping these guys paid in jobs that were not a threat to us.

So I could believe that, since the fall of the Soviet Union, the US has paid these Ukranian former-Soviet bioweapons scientists to run non-weapons research for us.
Maybe, maybe that's what it is.
So why wouldn't they say so?
Well, possibly because they've been among the labs contracted to do the dangerous gain-of-function virus research that the fucking lunatic supervillain Anthony Fauci is so keen on.

And of course the government would not admit that -- all they do now is lie to a populace who they are convinced will do nothing about these constant lies.
Alternately: Maybe Ukraine feels exposed, having been pressured to giving up its nukes, and has maintained the bioweapon labs to have, at least, a biological deterrent.
But they don't want to admit our Ukranian Heroes would ever do something like that.
So they just lie. And lie some more. And lie and lie and lie and lie and lie and then when people say "These are all obviously lies, and not even crafty ones," you call them Russian Disinformation Merchants.
And then they send out Jennifer Griffin to read senseless bullshit from a "fact sheet" and Fox News calls it "reporting."
I bet the leftwing news industry gives her awards for her "service."
Bet me if you think I'm wrong.
Update: Huh.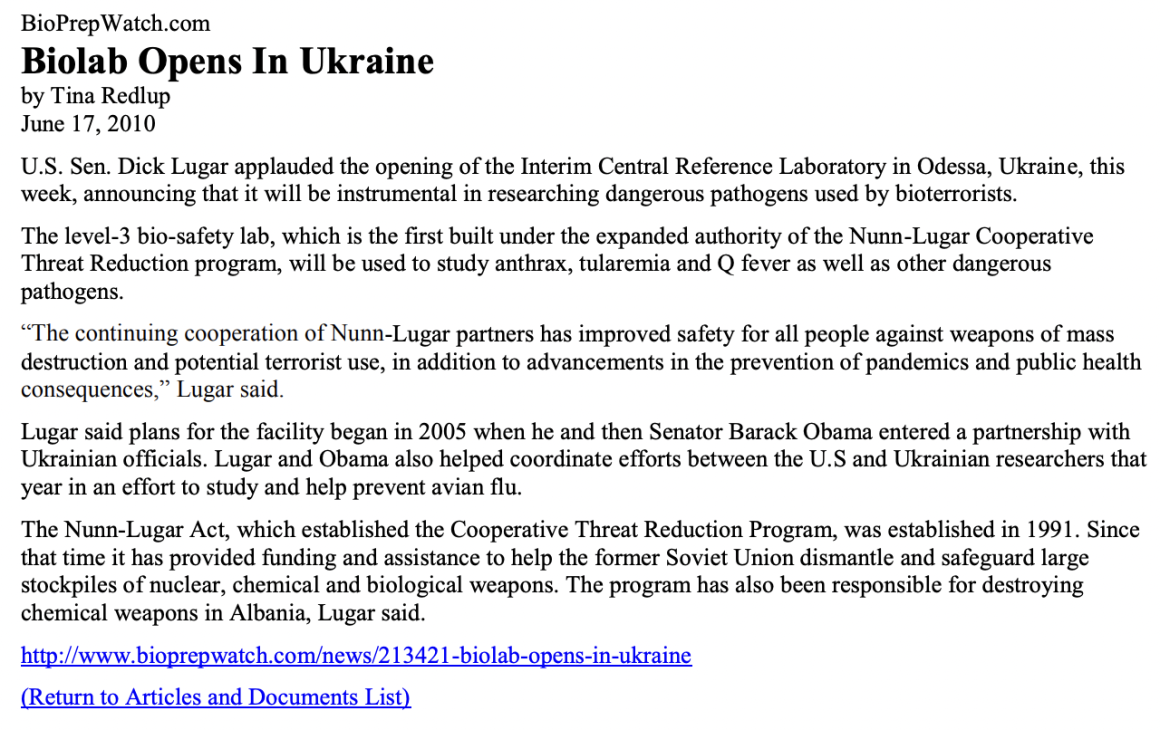 I guess Jen Griffin's "fact sheet" was missing a few facts.
Thanks to flounder.
How many absurd, insulting lies from the Government-Media Regime am I expected to pretend to believe in order to be considered a Patriot who is not a Russian Agent?

posted by Ace at
04:31 PM
|
Access Comments