« The Morning Rant Misanthropic Style
|
Main
|
Ho, Hum, Inflation Sets Another Record, Hitting the Highest Level in 40 Years »
March 10, 2022
Adam Andrzejewski of OpenTheBooks: I Wrote About Anthony Fauci's Finances for Forbes. The NIH Then Began Pressuring Forbes for "Corrections" For Things That Were Already Correct.
And Then, Surprise Surprise, Forbes Fired Me.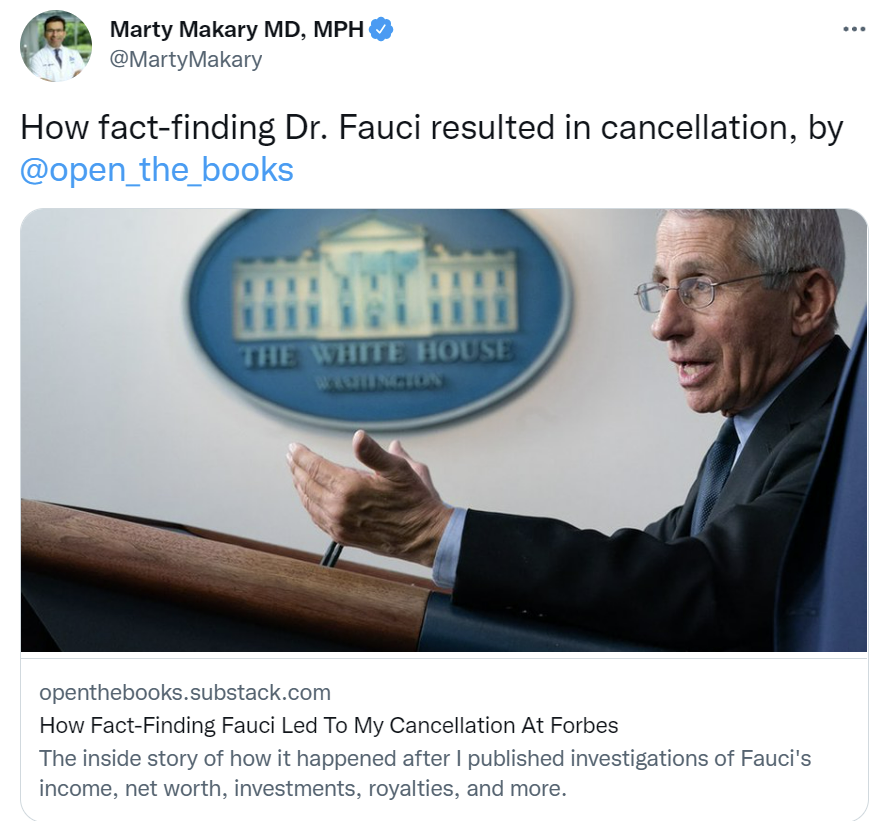 Gangster government, Fixer media.
Oh, and take note, National Review-- the government is totally not already telling media companies what they can and cannot write about.
The controversy surrounding Dr. Fauci's finances reached a fever pitch in January of this year, and my column at Forbes was right in the middle of it.

In the Senate hearing on January 11, 2022, U.S. Senator Roger Marshall (R-Kan.), cited my Forbes article in his questioning of Dr. Fauci's salary and his financial disclosures. First, Fauci claimed his financials were "public knowledge," then, the hot mic caught the doctor calling the senator a "moron."

It was Fauci's code red moment and one of the top national news stories of the day.

As reported by The Washington Post, when Fauci went back to NIH, he admitted, "Maybe the senator has a point. Maybe my financial investments, though disclosed and available, should be much easier to see."

In fact, Fauci's financials were not available and I had firsthand knowledge.

Immediately, I published the evidence behind the lack of transparency at Forbes on January 12: No Fauci's Records Aren't Available. Why Won't NIH Immediately Release Them?

During an entire year, NIH had refused to produce Fauci's job contract, job description, non-disclosure agreement, conflict of interest, financial disclosures, ethics agreements, and royalties subject to our OpenTheBooks FOIA request. In October 2021, we sued NIH with Judicial Watch and we still hadn't received the 1,200 pages promised by the agency.

PolitiFact fact-checked Sen. Marshall and Dr. Fauci on their statements during the hearing, Fauci said all you have to do is ask for his financial disclosure. Yes, but it could take a while. PolitiFact cited my Forbes column as "Primary Source Material" for their Truth-O-Meter analysis.

In one of the top national news stories of the week, the fact checkers used my original reporting to hold both sides accountable in the heated U.S. Senate hearing.
Andrzejewski did the work that literally no other reporter saw fit to do and FOIA'd the government for details of Fauci's financial compensation.
Working through the night, I dug through the 178 pages of disclosure and published the breaking investigation at Forbes on Saturday, January 15 at 3:03 pm ET, Disclosures Show Dr. Fauci's Household Made $1.7 Million In 2020, Including Income, Royalties, Travel Perks And Investment Gains.

Our findings included:

Net worth: The Fauci household net worth exceeded $10.4 million.

Earnings and gains: Salaries, benefits, royalties, investment gains in the Fauci household exceeded $1.7 million in 2020.

Fauci's wife: Christine Grady, the chief bioethicist at NIH made $234,284 in 2020.

Royalties: Fauci made between $100,000 and $1 million as an editor and board member of McGraw-Hill.

Awards: In 2021, Fauci was awarded a $1 million prize for "speaking truth to power" from the Dan David Foundation in Israel.

These were newsy findings.
Indeed. Forbes should be excited about the scoop, you'd think.
But no.
Then at 4:22pm ET, I received an email from Caroline Howard, the executive editor at Forbes -- a person who I had never spoken to or met during my nearly eight years as a contributor:



His "error"? He had written a single number wrong in the title of the article but had written in it correctly in the body of the article. This number was changed to the accurate number when the article still only had 305 viewers.
See the article for NIH's article complaining about an "error" that was actually not an error. (They apparently didn't know about the brief mistake in the number in the title, so they found some trivial matter to demand a correction over.)

There needs to be a reckoning, in government and in the media.
Jay Bhattacharya
@DrJBhattacharya


This story is something else. An accomplished journalist at Forbes found out about Dr. Fauci's financial holdings and earnings through FOIA requests. The NIH retaliated by successfully pressuring his editors to fire him. Since when did the NIH start acting like the mob?
Exit thought: People used to go into government to get rich in ancient Rome, too.