« Media, Democrat Fanatics (But I Repeat Myself) Turn Up Hysteria to 11 on Parental Rights Bill
Breaking: Disney Corporation Demands Grooming for Children
|
Main
|
Just the News: FBI Waited a Full Year to Probe Their Network of Informants to Try to Discover the Identity of the Alleged January 5 "Pipe Bomb" Bomber »
March 09, 2022
Incompetent Anti-American Secretary of State Tony Blinken Flip-Flops on Poland's Plan to Transfer All of Its MiG-29s to Ukraine
Bear in mind: Poland is a NATO member.
So this is a NATO member transferring warplanes to a country fighting a war with Russia.

On Sunday, Blinken gave the "green light" for Poland, a NATO member, to transfer 28 Russian built but NATO-owned warplanes to Ukraine to fight Russia.
But Poland insisted that the US and other NATO countries had to be involved in the transfer.
Specifically, they wanted to fly the planes to the US base at Ramstein, Germany. There, Ukrainian pilots would collect them and fly them to the Ukraine.
And now, after having signaled his support of a transfer, Blinken reverses himself and says "No."
Any supply of fighter jets to Ukraine must be done jointly by NATO countries, the Polish prime minister said on Wednesday, after Washington rejected Poland's offer to fly all its MIG-29 jets to a U.S. airbase with a view to them being given to Kyiv.

Asked about the offer of Polish MIGs, the Kremlin described it as a potentially dangerous and undesirable scenario. read more

Ukraine has pleaded with Western nations to provide it with fighter jets to counter a Russian invasion that has forced more than two million refugees to flee the country, and U.S. lawmakers have responded by pushing President Joe Biden's administration to facilitate the transfer of aircraft.

On Tuesday, Poland said it was ready to deploy all its MIG-29 jets to Ramstein Air Base in Germany and put them at the disposal of the United States, urging other NATO members to do the same. The Pentagon later dismissed the offer as not "tenable".
Now, why did Poland want to do it this way?
Here's my speculation: Poland wanted the US involved because they feared a Russia attack if they supplied Ukraine with the jets. And they also feared the US would fail to come to their defense as Article 5 of the NATO charter demands we must.
You know, because America is Back, Baby! Because Biden has totally regained the trust of the world.
So they wanted the US directly involved in this operation so that the US would have ownership of it and could not walk away from it if Russia attacked Poland. So that the US could not claim, "Poland in effect attacked Russia by transferring those planes without NATO's blessing, so in effect Poland was the first attacker, Russia was counter-attacking, not attacking, and therefore Article 5 does not apply and we do not owe collective self-defense action to Poland."
And I think that's exactly the reason Blinken refused to be part of Poland's transfer scheme -- because he wanted the ability to walk away from the scheme and claim that Poland's transfer severed the US's obligation to come to their aid.
Blinken wanted Poland to act "unilaterally," so that the US would not have to back Poland's play if things went sideways.
And what are the odds that things would go sideways under Brandon...?
So Poland is not going forward with the transfer. They know that Biden and Blinken are untrustworthy c*cksuckers.
I don't think that we should risk WWIII by getting directly involved with transferring warplanes to Ukraine while they're fighting Russia.
But put that aside for the moment. If my analysis is right, and it sure seems right, it would mean that Biden and Blinken were once again encouraging a Eastern European ally to get into a war with Russia while also making sure we had no obligation to back them in that war. Once again getting a country "a little bit pregnant with war" and then walking away.
They've been doing that forever.
They did that with Ukraine originally in 2014. They cheered on the Maidan Revolution, encouraged Ukraine to take a defiant no-compromises position with Russia, suggesting we had their back in the fight that would follow, and then we... disappeared.
Left them to twist in the red wind.
It's the Obama/Biden tradition.
Why do we keep doing this? Why do we keep baiting our allies to get into fights they can't win, falsely promising we will support them in wars we have no intention of supporting them in?
America's Back, Baby! The Adults Are in Charge Again!
But don't worry-- Biden's sent his Number One Fixer and Miracle Worker over there to smooth this all out.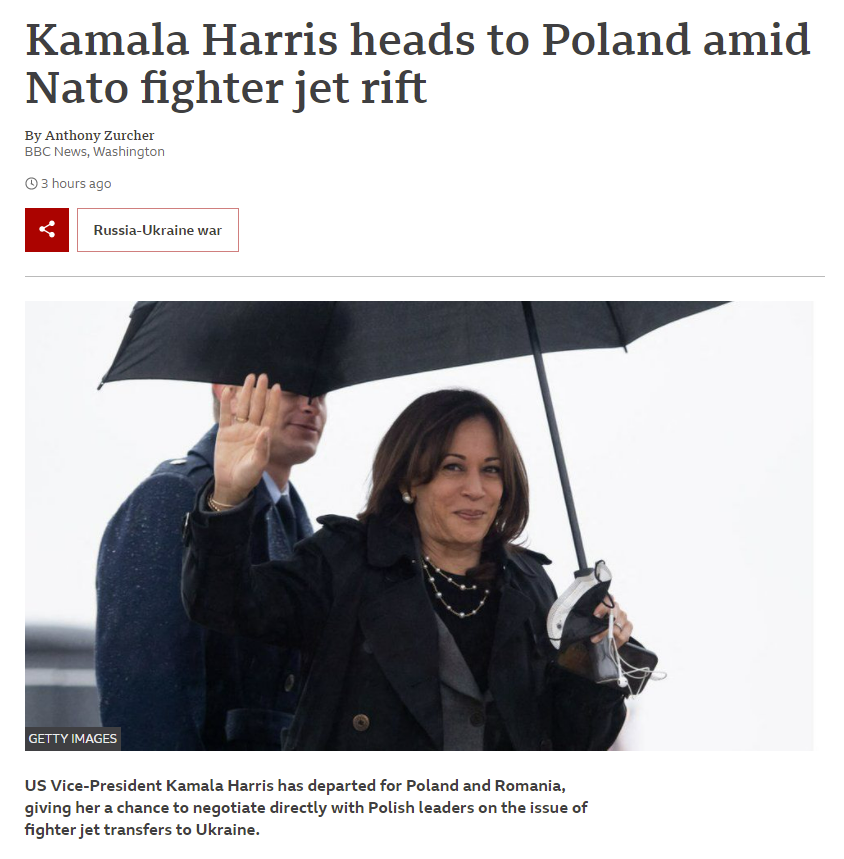 I have a feeling that Someone Has Failed to Position Kamala for Success Again, guys.
Update: From andycanuck:
Breaking911 @Breaking911 1h

Pentagon Press Sec. John Kirby:

"We do not support the transfer of additional fighter aircraft to the Ukrainian air force at this time, and therefore have no desire to see them in our custody either."
It's that last part that's the real crux of it: We don't want them in our custody. We don't want to be tied to this.
But Poland can go out on a limb and do it "unilaterally!"

posted by Ace at
05:12 PM
|
Access Comments