« Wreck of the Ill-Fated "Endurance" Found in the Waters Off Antarctica;
"The Finest Wooden Shipwreck I Have Ever Found, By Far"
|
Main
|
Incompetent Anti-American Secretary of State Tony Blinken Flip-Flops on Poland's Plan to Transfer All of Its MiG-29s to Ukraine »
March 09, 2022
Media, Democrat Fanatics (But I Repeat Myself) Turn Up Hysteria to 11 on Parental Rights Bill
Breaking: Disney Corporation Demands Grooming for Children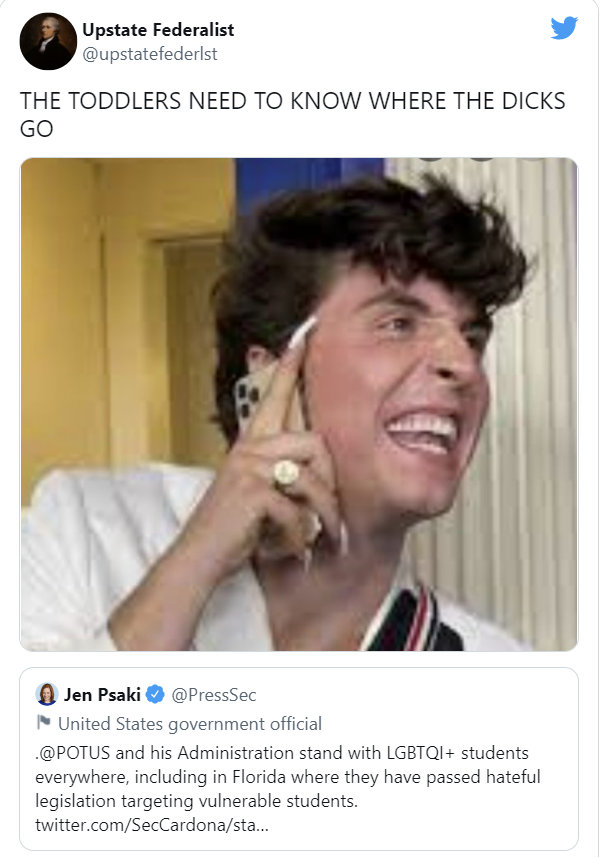 The "influencer" who Biden brought to
the White House to influence something or other
Florida's House passed the Parental Rights in Education bill.
The Democrat-Media Woke Complex -- which is now, basically, the Extremist Wing of the Transgender and Gay Lobby -- has gone into another hysteria.
As with abortion, they avoid saying what they want teachers to have the "choice" of teaching.
They should be forced to specify: They want teachers to be able to instruct pre-kindergardeners in transgender theory and homosexuality.
But they won't say that.
They just keep talking about "bullying kids."
No one's bullying kids. The only people even being issued a forbiddance here at all are adult teachers. And it's not bullying to tell people being paid by the taxpayers to do a specified job what the parameters of that job are, and are not.
If they don't like it, they can go work for the Sexy Sex Camp in Kentucky.
Breaking Update: The Groomer Corporation Disney of course has demanded that pre-K children, barely more than toddlers, be groomed in homosexuality and transgenderism.
Because of course.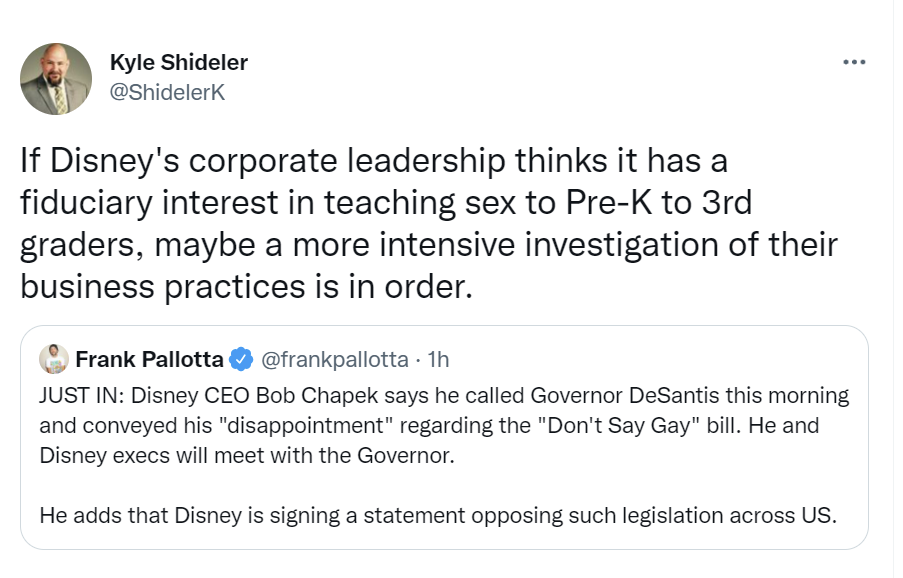 Old Disney: Children's Programming New Disney: Programming Children Posted by: 29Victor
The Groomer Kingdom.
Jen Psaki @PressSec

United States government official

@POTUS and his Administration stand with LGBTQI+ students everywhere, including in Florida where they have passed hateful legislation targeting vulnerable students.

Students are not "targeted." Students can say whatever they like. Adult teachers -- who are not, by the way, credentialed psychiatrists or mental health professionals (as if that would make it better) -- are forbidden to groom children into currently fashionable woke perversions.
libby emmons @libbyemmons

The White House is lying to you about this Florida bill. Read it for yourself. It prevents activist teachers from grooming elementary school students into gender ideology.
Emmons calls it the anti-groomer bill which is what I think it should be called and what I'll be calling it from here forward.
I'll sometimes call it, as the media does, "the so-called Parental Rights in Education Bill," but will officially call it "The Anti-Groomer Bill."
Emmons may have gotten that from Ron DeSantis' absolutely based social media manager Christina Pushaw.
Christina Pushaw @ChristinaPushaw

The bill that liberals inaccurately call "Don't Say Gay" would be more accurately described as an Anti-Grooming Bill.

If you're against the Anti-Grooming Bill, you are probably a groomer or at least you don't denounce the grooming of 4-8 year old children. Silence is complicity. This is how it works, Democrats, and I didn't make the rules.
This girl is so based the Florida National Guard wants to lease her.
The Partyman @PartymanRandy


"Kindergartners are going to kill themselves if I can't talk to them about sex."

@shevrinjones sounds like a junkie who will say anything to get a fix.
Spot on. But Groomers say whatever they need to say to get close to the kinder.
I think we're all getting tired of the argument that we have to completely subvert society and change all of the very normal 100,000 year old rules of sex segregation or else "Chastity Griffincub Nightshade" will kill "herself."
That's always the emotional blackmail argument, isn't it? "Do what I say or I'll kill myself."
Time to call the bluff. You can't empower someone who is always demanding you obey them with suicide threats. Giving in to such terroristic threats only encourages more terrorism.
And this whole "I'll commit suicide" threat is 1, made by people who are already diagnosably mentally ill, who are, 2, claiming, without the proper knowledge to diagnose themselves, what they believe will make them non-suicidal.
"If you just all pretend enough I'm the sex I pretend I am, I won't be suicidal."
Stats do not back this up. Transgenders commit suicide at just as a high rates post-transgender surgery butchery as prior to it.
You might say, "Well we don't know what would happen if everyone just pretended harder," to which I say, for what other mental illness is the "cure" to prescribe the rest of the entire world play along with the patient's delusions rather than teaching the patient himself the skills to toughen up and handle disappointment and challenge?
The idea that transgender "therapists" are now just going to write scripts to the rest of the world to all pretend really hard that transgenders are the sex they LARP as is insane. I'm not their patient, and I will not play. It's a stupid idea, it will never work, and it's insane to even propose such a nonsensical, nonviable, freedom-destroying notion as a "cure."
Transgenders will have to look inward for a solution, like all other mentally-ill people. The solution cannot be "the entire rest of the world will have to change their behaviors and undergo therapy themselves to accommodate the 1% of the population which is mentally-ill.
Hey, maybe they can force us all to undergo cognitive reprogramming where they show us pictures of what are plainly men and if we identify them as "men" we get an electrical shock. Only after we have been "detrained" from correctly identifying men as men and women as women are we considered "cured."

posted by Ace at
03:48 PM
|
Access Comments