« New York Times Reporter Admits There Were "Tons" Of FBI Informants Among Those Who "Attacked the Capitol" on January 6th; Mocks Reporters Who Claim They Were Traumatized: "Come on, you were not in any danger."
|
Main
|
Media, Democrat Fanatics (But I Repeat Myself) Turn Up Hysteria to 11 on Parental Rights Bill
Breaking: Disney Corporation Demands Grooming for Children »
March 09, 2022
Wreck of the Ill-Fated "Endurance" Found in the Waters Off Antarctica;
"The Finest Wooden Shipwreck I Have Ever Found, By Far"
The Shakleton expedition isn't very important as an expedition. It failed disastrously.
It's important as a story of what you do when you're up against the worst possible scenario.
Like your ship being absolutely locked in ice in Antarctica with no hope of any rescue (or any way to even let anyone know you need rescue).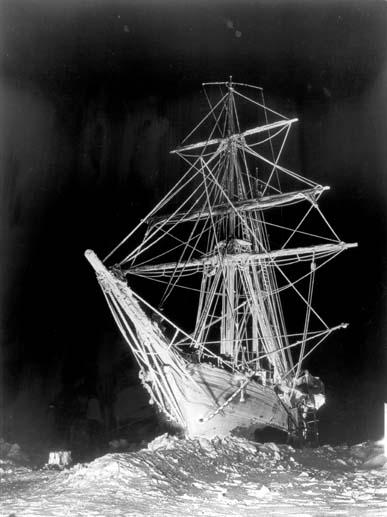 Here's a recap of the Shackleton expedition and evacuation (which I think is excerpted from Astonishing Tales of the Sea, by C. Kramer).

After being trapped in the ice for months, the crew evacuated their old quarters which were more exposed to the wind.
In mid-March, the officers and scientists moved from their exposed deck-house cabins to the better insulated after-hold. Winter temperatures would get as low as -30 degrees Farenheit excluding wind chill. The new quarters, consisting of two rows of cubicles with a long table in between, were nicknamed "The Ritz."

"7-14-15 A mild blizzard set in during the morning.... It is bitterly cold and no one is allowed away from the ship. We are not anxious however. The alluring cosiness of the Ritz being too enticing. All day the wind screams in our rigging."

- Frank Hurley, Diary
They were actually trapped from January 1915 through April 1916. At that point, they realized there was no hope of a thaw which would free their ship from the ice, and they made the decision to abandon it, to use the ship's smaller boats to try to reach the southernmost islands of South America.
The ship is in pretty good shape for having been locked in ice for years and then sunk for a century:
Maybe for later: