« "National Review thinks its job is to police the right. We think that our job is to defeat the left."
|
Main
|
Blessing of Liberty (TM): "Sexy Sex Camp" Is Worse Than It First Appeared »
March 08, 2022
Two Polls Show Brandon Got No Bounce From His Slurring, Incoherent State of the Union
On Friday, a very unlikely poll found that Biden had gained eight points in approval, Egg with Legs Chris Cillizza to wet himself in excitement: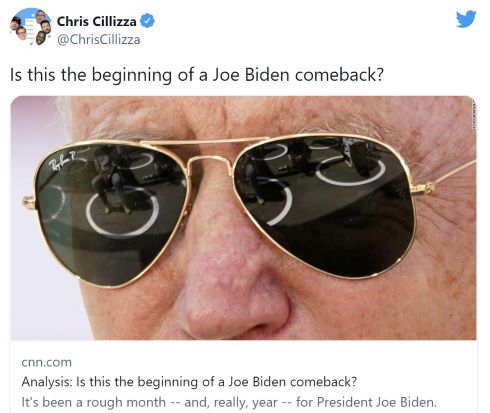 "m" points out that Joe's nose looks absolutely rekt in that photo.

A new NPR/PBS NewsHour/Marist poll suggests that all might be changing. Biden's overall job approval rating among Americans is at 47% in the survey, up 8 points from where he was in the same poll last month.
I didn't mention that because I try not to post bad news late on Friday and also because that poll had the stink of nonsense.
I mean: Eight points? Are you joking?!
Two other polls have now come out which say that poll was, in fact, joking. It was a fluke outlier.
An IBD/TIPP poll finds Biden gained a single point of approval, going from a low of 38% to 39%, owing solely to a gain among Democrats.
An IBD/TIPP poll conducted after the speech on March 1 found that, overall, 39 percent of respondents approve of the job he is doing as president, compared to 47 percent who disapprove.

This is a slight improvement from the 38 percent approval in February's IBD/TIPP poll--the lowest figure since Biden took office.

...

According to the IBD/TIPP poll for March, 74 percent of Democratic voters approve of the president's performance, with 15 percent expressing disapproval.

This is an improvement of 8 percentage points since February, when 66 percent of Democrats approved of Biden.
His approval from independents remains stuck at a woeful 27%. Though his disapproval from independents fell from 55% to 53%, if Brandon wants to hang his hat on that. (Note that the more you slice up a sample, the less likely these numbers are to be meaningful or accurate.)
The Quinippiac poll also finds Brandon stuck in a quagmire called Alzheimer's.
For his overall job approval, Americans give Biden a negative 38 - 51 percent job approval rating with 11 percent not offering an opinion. This compares to a negative 37 - 52 percent job approval rating a week ago.
rhenningantx points out this same poll points out:
As the world witnesses what is happening to Ukraine, Americans were asked what they would do if they were in the same position as Ukrainians are now: stay and fight or leave the country? A majority (55 percent) say they would stay and fight, while 38 percent say they would leave the country. Republicans say 68 - 25 percent and independents say 57 - 36 percent they would stay and fight, while Democrats say 52 - 40 percent they would leave the country.
So you know how much all those Ukranian flags in twitter profiles mean.
Gee wonder what the partisan breakdown of that would be.

posted by Ace at
01:35 PM
|
Access Comments