« Some of Brandon's Most Medically-Alarming Verbal Signs of Cognitive Crisis
|
Main
|
Balls-Out Goose Cafe »
March 02, 2022
Quick Hits
Illinois Democrat fixer and powerbroker: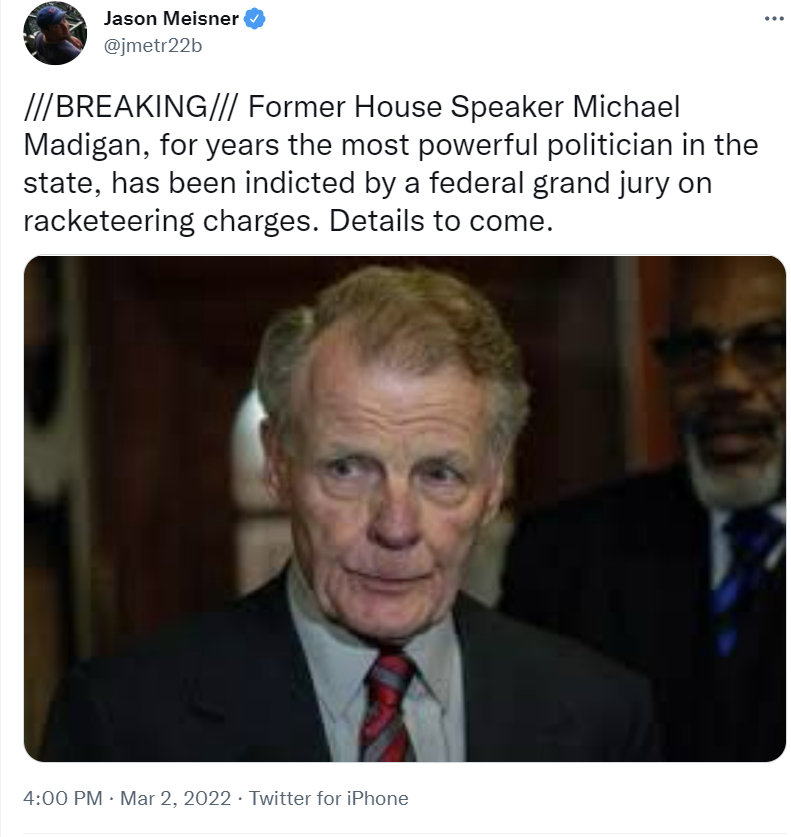 A friend of mine says: I just became a Ukraine supporter.
More Tape of Justice.

Mollie
@MZHemingway

With the country falling apart, and the media lying about everything day in and day out, I'm looking for politicians who understand what time it is and can cut through the propaganda. And that time is not 2002.
Trish Regan @trish_regan

Joe Biden.

The only president to create a crisis from every opportunity.
Two from BetaCvck4Lyfe:
Tim Miller @Timodc

The tone of this Reynolds response is gross.

Disagree with Biden on issues, of course, but to not even spend a minute offering a commitment to stand with President Biden and NATO in the face of Russian aggression sends the message that partisanship has replaced patriotism.
Posted by: BetaCuck4Lyfe
Ah yes: "Supporting Ukraine" requires, coincidentally, pledging support to the party that butters your biscuit, Tim.
It's so great when one's political and financial interests align so neatly.
But that's always been the case for the socially-left mercenary neocon grifter class, hasn't it?
Tom Nichols @RadioFreeTom

This isn't a response to Biden's speech so much as it is a kind of white Republican airing of grievances
7:40 PM Mar 1, 2022
Not sure what this means but it's awesome:
214 If you've ever wondered what lipstick on a fartclam would look like, have a look at Sloppy Choppers.

Posted by: Drink Like Vikings
For fun: Indian TV might be a tad on the melodramatic side.
From a soap opera called Begone! Begone From Me, Fartclam Temptress!


posted by Ace at
06:55 PM
|
Access Comments