ę Kamala Harris Explains the Ukraine Situation
Plus: The Great Nepot Meghan McCain Calls People Traitors Again
|
Main
|
Axis of Heaven Cafe Ľ
March 01, 2022
Quick Hits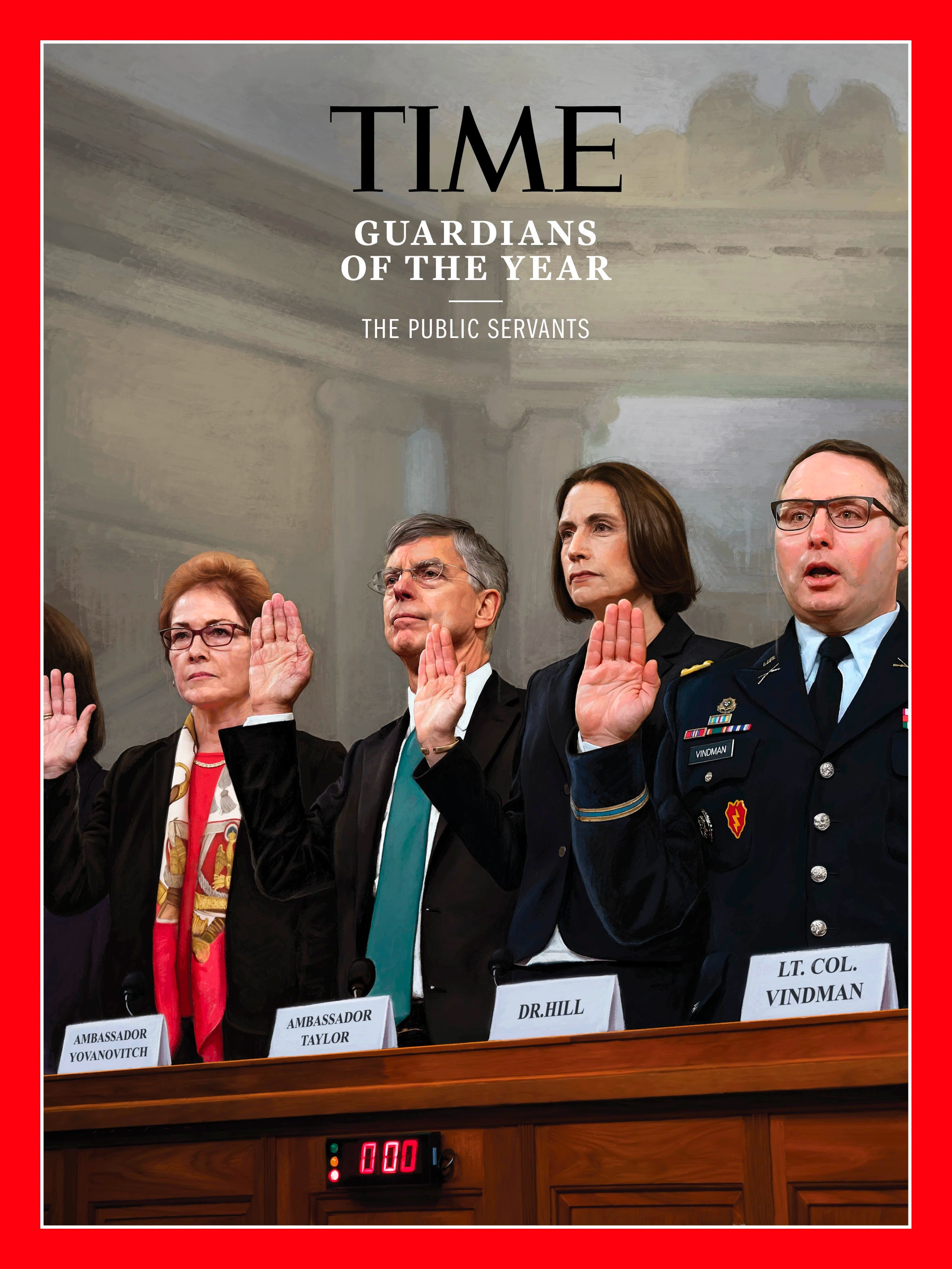 NBD, just a Democrat Senator rushing out of a classified national security briefing on Ukraine to rock up to twitter and tell everyone what he learned:
What if I were to tell you that the people called our "Elites," were not?

Chris Murphy
@ChrisMurphyCT

Just leaving classified briefing on Ukraine crisis. A few takeaways that I can share:

1/ Confirmation that the Russians have fallen behind their timeline. Ukrainian resistance has been fierce and there have been multiple Russian equipment and logistics failures.


2/ DoD and DHS are pressing hard for Congress to end the continuing resolution and get a budget passed. There is no way for our national security agencies to be nimble enough to support Ukraine if they are operating on the 2020/21 budget.

3/ The ability to keep supply lines running to Ukraine remains alive, but Russia will try to encircle and cut off Kiev in the next several weeks. The fight for Kiev will be long and bloody and Ukrainians are rapidly preparing for street to street combat.

4/ The U.S. and allies are coordinating to not only freeze the assets of Putin and his oligarch allies, but to seize those assets as well. This is likely a further step than Putinís inner circle anticipated.

I suppose broadcasting it to the public on Twitter is better than the usual method of dissemination, which is passing it to Regime favorites in the corrupt propaganda media, which gives those apparatchiks economic and social currency.
Oilfield Rando @Oilfield_Rando

US Senator just walks out of a classified briefing and fires up a tweet thread about what they talked about.

What a time to be alive.
I've noticed this too -- Where is Fauci, now?
Monica Crowley @MonicaCrowley

16h

Fauci was everywhere, all the time.

He'd go to the opening of an envelope.

Now he's in the witness protection program.
Is he now disappeared because he disagrees with Brandon's politically-motivated Covid Mission Accomplished moment, or because he's so politically unpopular that disappearing him is part of the Covid Mission Accomplished moment?
James Lindsay, not altogether on anybody's side @ConceptualJames

18m
When it's Taiwan instead of Ukraine, we won't see Taiwanese flags all over establishment everything.
I saw someone else make the same point -- it's astonishing what the woke corporate press and woke media will do against Russia.
What have they done against China? Absolutely nothing. They endlessly cover for China.
Taiwan, I'm afraid, is lost.
And it will be silently lost. The "Elites" will not make any noise as China takes it. "Oh well," they will say with a shrug. "Nothing really anyone could do."
Because they have a lot of money in Chinese businesses.
If Russia had had a much larger population, and thus a larger market to exploit, our Noble Elites would also be very quiet as he took the Ukraine, too. It's only because they don't have many business dealings with him that they can find their Moral Courage.
Brandon's going to need a different Wag the Dog gambit: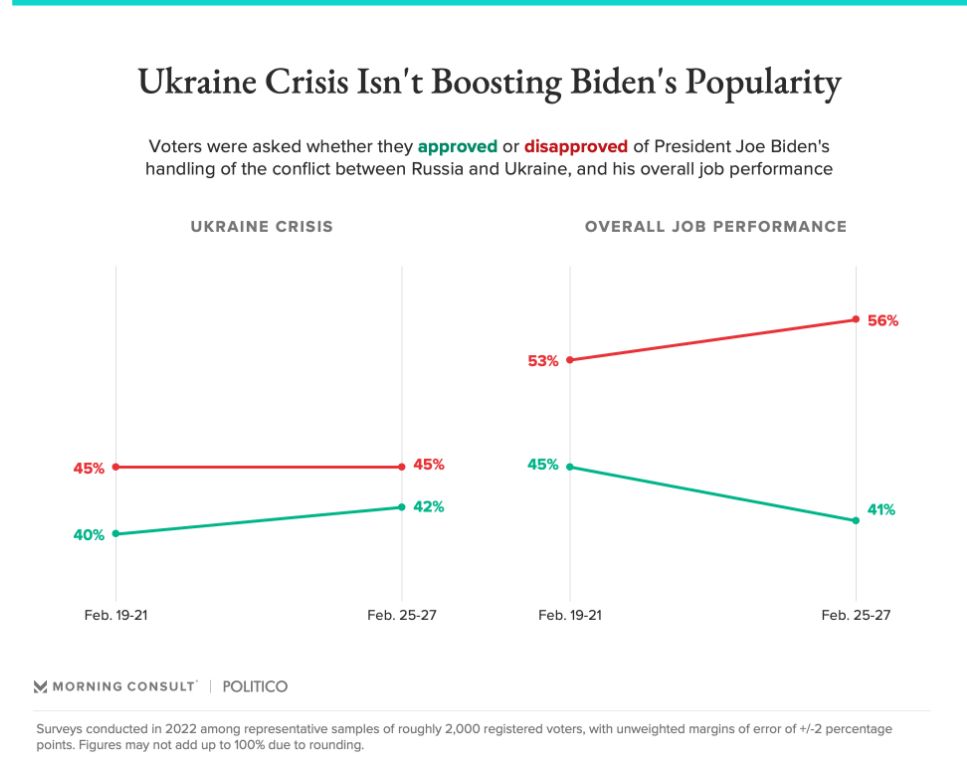 Be on the look out!
Thanks to BertG.
Their Programmers just have to give them something to Shout Self-Righteously about every few weeks: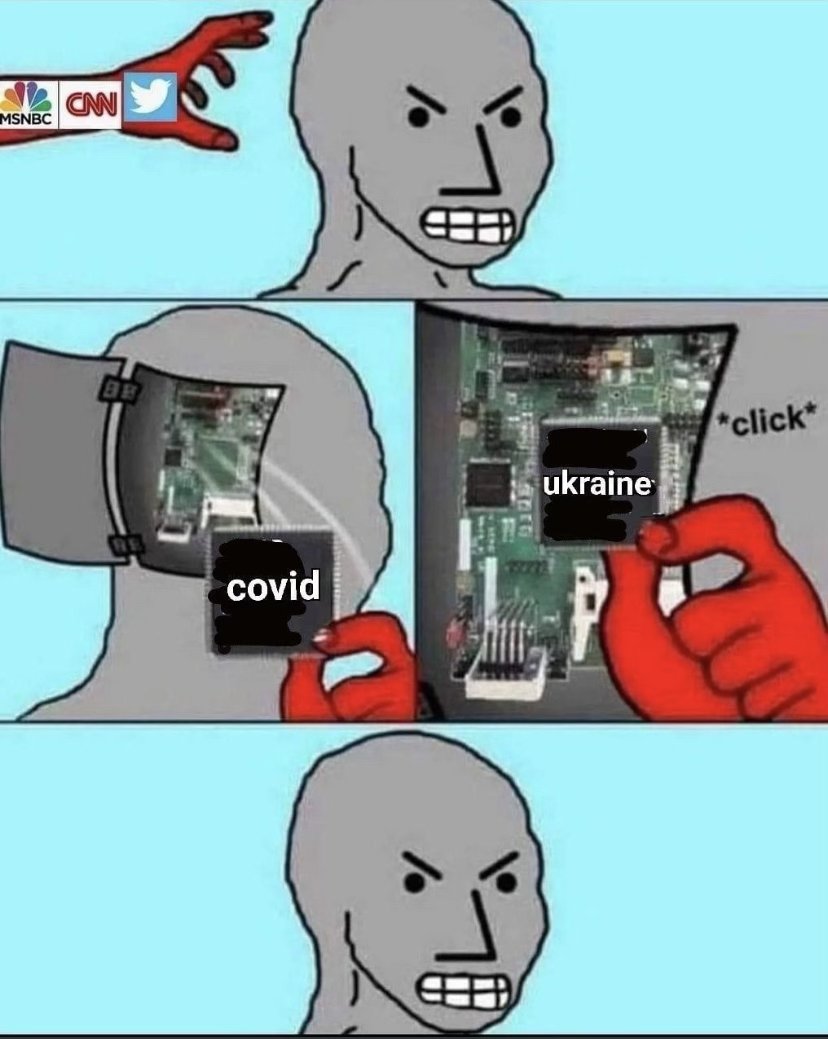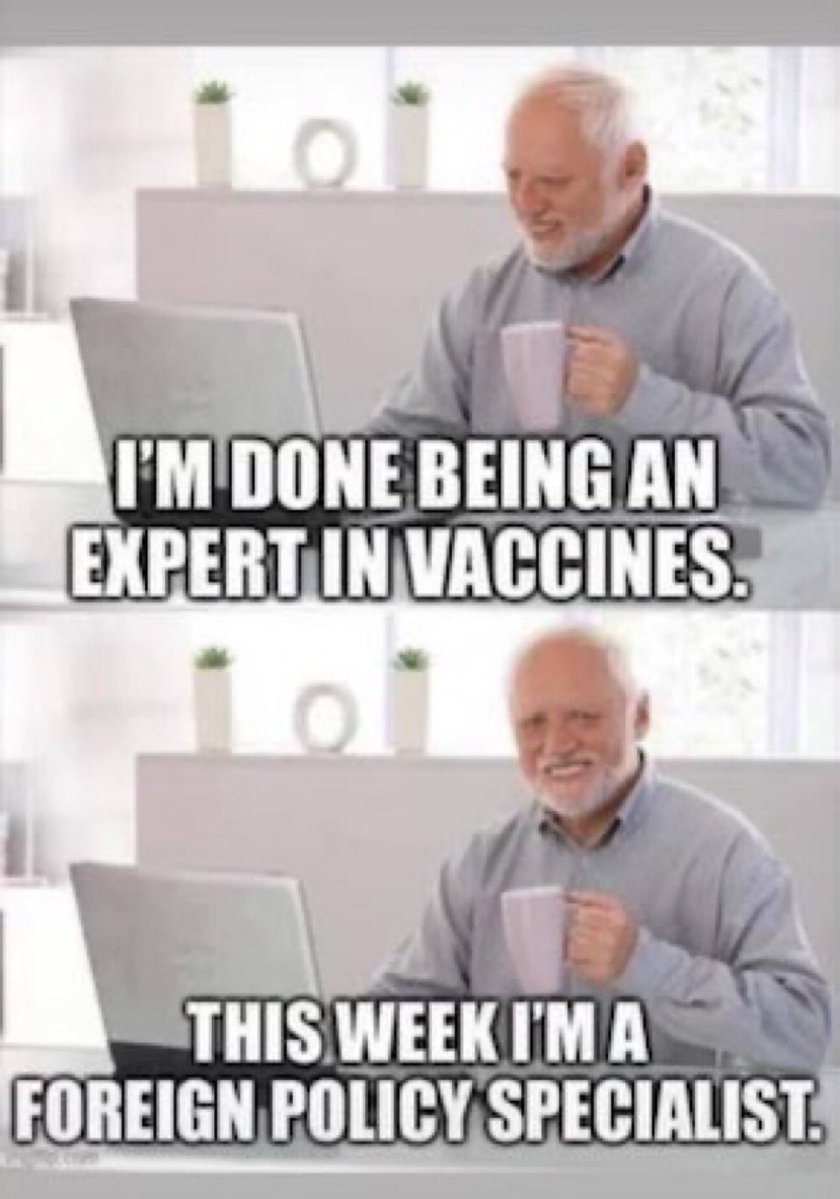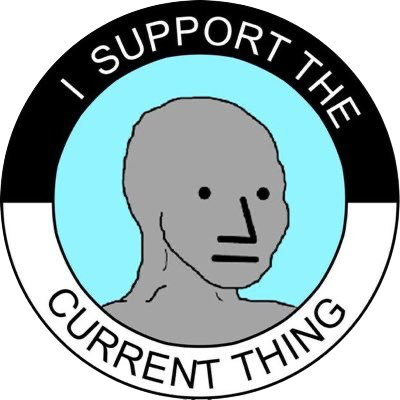 Only traitors support that old current thing.
Here's the new current thing that patriots support: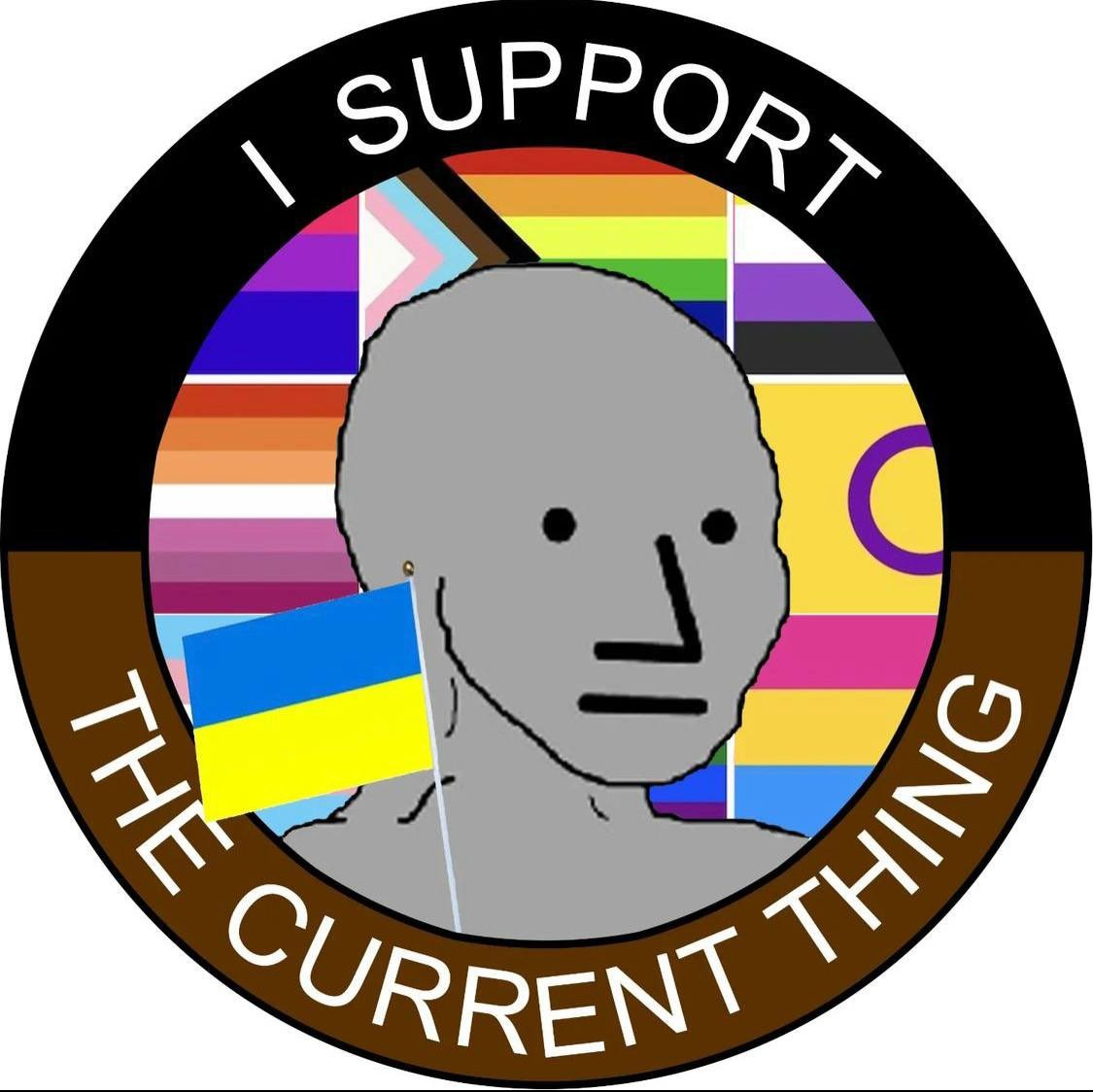 By the way, no knock on anyone who supports Ukraine. I support Ukraine myself. (At a "4" level.)
I'm just sick of the Meghan McCain types, and David Frum Treason-Hunter types.
"I feel so proud that I'm coincidentally always perfectly aligned with the Twitter consensus!!!"
Just saying, there are some people who COINCIDENTALLY are always part of the consensus.
and then they start using shaming/deplatforming tactics against anyone who isn't Applauding Loud or Long Enough.
Which is, of course, the whole point of the exercise. Not to support the cause, but to find heretics who don't agree enthusiastically enough and who can be hanged.
Good point:
78 "I support Ukraine myself."

I have no way of 'supporting' them. I pity them. Their history is so sad.
Yes, words matter. And this is kind of my point, too, so I shouldn't have blundered in the language.
No, I'm not supporting Ukraine by just... rooting for them. And that's what I'm doing. Rooting for them. A little.
Meghan McCain is also not doing anything to support them. She's just tweeting. But she wants you to know she's TWEETING WITH PASSION.
Which of course is also not doing anything.
If she wanted to do something, she'd get her immensely fat ass on a plane and join the International Legion and fight for Ukraine, but of course: She really doesn't.
She just wants to yell at people for not TWEETING about Urkaine as PASSIONATELY as she does.
She's a stupid entitled cunt with a low IQ and poor impulse control. Including an ungovernable temper problem, part of which she inherited from her father, himself a rage-filled man of low impulse control and low character (witness the serial adulteries and Keating 5 corruption), and part of which is probably caused by emotional problems spurred by insulin dysregulation caused by her morbid obesity.
Sorry not sorry.
JOY
BEHAR
WAS
RIGHT

@DefiantLs on Natural Immunity: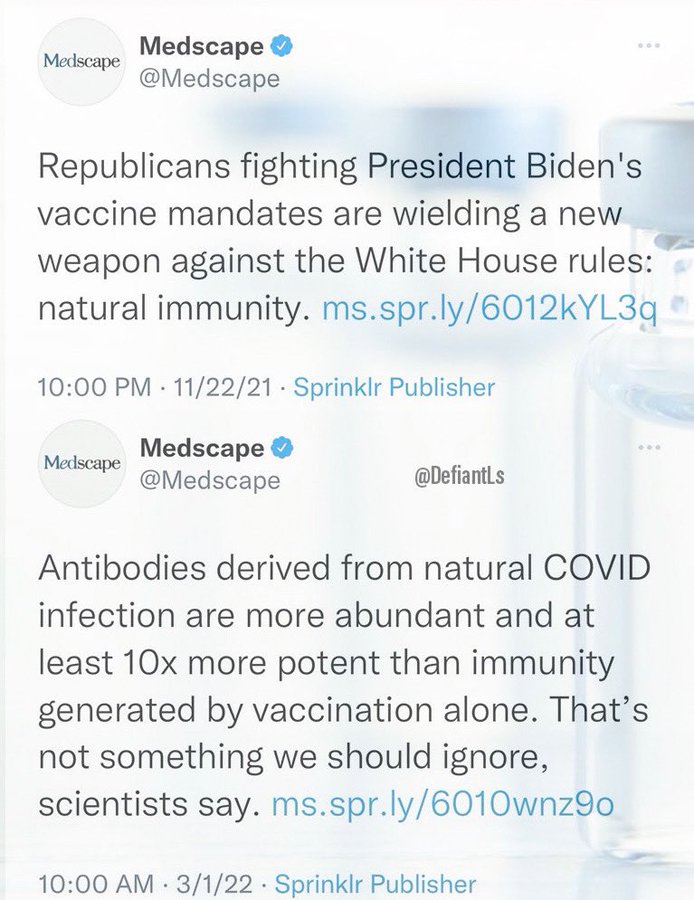 DefiantLs was banned from Twitter a few weeks ago. All DefiantLs does is post other people's tweets with no commentary and no editorializing. They just catch you making inconsistent or hypocritical statements, and they pair those statements together.
They are extremely effective. They embarrass the shill corporate media and the lying Democrats and grifter NeverTrumpers daily.
So of course Twitter banned them. The reason? Unspecified! The real reason is that the bothered and embarrassed Twitter's pet shills and propagandists, and that's not allowed.

posted by Ace at
07:15 PM
|
Access Comments