« Food Thread: Sometimes A Sausage Is Just A Sausage, But Not This Time!
|
Main
|
Sunday Overnight Open Thread (2/27/22 »
February 27, 2022
Gun Thread: More February Edition!
Howdy, Y'all! Welcome to the wondrously fabulous Gun Thread! As always, I want to thank all of our regulars for being here week in and week out, and also offer a bigly Gun Thread welcome to any newcomers who may be joining us tonight. Howdy and thank you for stopping by! I hope you find our wacky conversation on the subject of guns 'n shooting both enjoyable and informative. You are always welcome to lurk in the shadows of shame, but I'd like to invite you to jump into the conversation, say howdy, and tell us what kind of shooting you like to do!
Looks like a trip to the farm is on the books for this coming week. Highs on a couple of days later in the week are forecast around 70F and little or no chance of rain. I'm really excited to get back down there and do some vigorous organic tree farming! I will definitely have a range report or two coming soon. Any special requests? A 1911 perhaps?
Also, I am still slowly catching up with my email so thanks for your continued patience.
With that, let's get to the gun stuff below, shall we?
******
2022 NoVAMoMe!
Although not exactly gun stuff, bluebell and I have a little announcement to make; the date for the 2022 NoVAMoMe is Saturday, June 11th! So if you are at all interested in an afternoon of fun, frivolity and wacky hijinks, please mark your calendars now! There will be a 'save the date' in the sidebar in the next few days, and although it's not available yet, we will again have a signup page probably by next Sunday's Gun Thread.
If you're planning to attend you can skip this next part, but I really want to encourage everyone who can come to do so. A MoMe, any MoMe, is a great time. Honest! If you're a scairdy-cat introvert, no problemo. There will be planty of chairs along the perimeter for the wallflowers, and even a few large potted plants to hide behind. For the more adventurous and the old-time NoVAMoMe veterans, lots of space to hang out and visit and eat and drink and be merry. I promise if you come you will not regret it.
Stay tuned for more details!
******
First up, our pal fd has a great looking 1911 to share.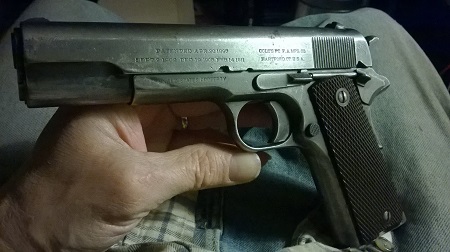 fd sez:

The discussion of 1911s last week prompted me to bring out this old war horse and fondle it. It belonged to my Grandmother's third husband, who had some escapades in Europe and Korea.
I have to say in a war gun I prefer to see the patina earned from years of use, and this one is perfect! Thanks fd!
******
When It Comes Time to Sell
So here's something that comes up from time to time - someone inherits or otherwise becomes responsible for a collection of firearms and needs or wants to convert them to cash. I recently received the following question from a Lurker.
Q: I have recently acquired a gun collection after a family member passed away. I am not sure what the best approach is to divesting of some of the weapons which are not of interest to me or other family members. Any simple advice to help guide me through where and how to post my collection online, avoid pitfalls and get the best value for the collection?
A: Most if not all gun shops have a consignment section and for a piece of the action will handle all aspects of the sale for you and write you a check, less an agreed amount, when the gun is sold. There are also a number of outfits who will simply buy entire collections outright. Bud's Gun Shop, Collector's Firearms, and Joe Salter are just three that come to mind and I am sure there are dozens more. You're going to take a beating on the price over going the Gun Broker/DIY route, but also won't have a lot of the hassle, which honestly probably isn't that much of a hassle. Let's see what the group thinks...
Group, what do you think? What are your recommendations? What have your experiences been with the various options? Let's help a lurker-brother out!
******
Next up our pal
MKY
has a question:
Got a new rifle that has an adjustable cheek piece. Never really thought about it before, so what is the method one should use to maximize its utility?
In a very short nutshell you want to find your Natural Point of Aim. Just start with a cheek weld that feels natural with your eyes closed, then open your eyes. You want the reticle to still be lined up with your eye and have good eye relief in the scope where the image fills the tube. Basically you're adjusting the stock to fit your face and eye and the optic. You will need to repeat the closed eyes/open eyes business about a dozen times to make sure you have it right. You do not want to be contortionist behind the rifle. It should feel comfortable and natural without scrunching or straining or moving your head.
Anyone have anything to add?
******
Next up, our pal
Igotnothing
finds an excellent use for masks.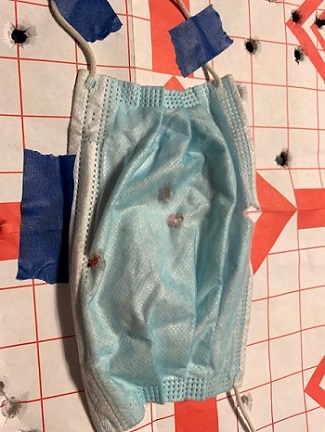 Was just feeling each recoil and watching for any sign of failure to feed or extract, or over-pressure of a case while working a progression up the powder charge. So that's my excuse for the bad groups. That and the awful lighting at the range. Had to hole punch my mask and share the photo with friends.
The one out on the left edge indicates your socks were too tight. Might want to work on that next time you're at the range. Try looser socks. Thanks Igotnothing!
******
Next up our pal Gref shares some ads from yesteryear.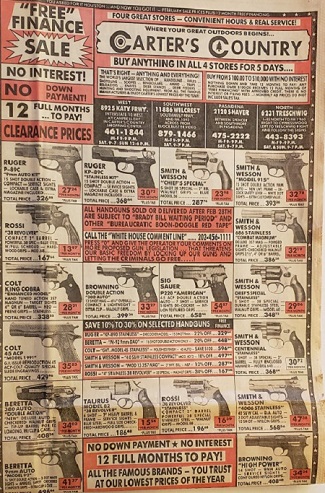 more bigly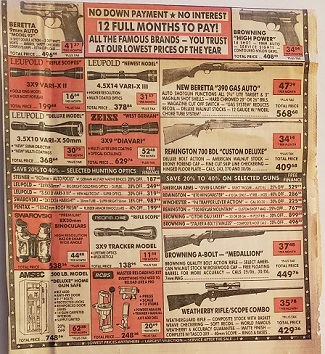 more bigly
Attached are two photos that together depict a February 3, 1994 ad in the Houston Chronicle by Carter's Country. It shows the prices twenty-eight years ago of a variety of items, some still in production, and some not (notably the Colt King Cobra .357 and Browning Hi-Power). Gun Thread readers of all ages may find the prices 28 years ago of interest.

Also in this ad is a reminder that the Brady Bill law mandating a five-day wait between purchase and pick-up of handguns was about to go into effect. That was a serious pain in the butt for ten years! A reminder of Clinton and Biden gun control efforts for older Gun Thread readers, and perhaps a revelation for younger readers.
Awesome Gref! Thanks for sending these in!!
******
We talk here a lot about carrying weapons, and occasionally the conversation involves holsters and such. But what are the pros and cons of the various concealed carry positions? In the video, Mas Ayoob bitch-slaps us with some knowledge.
What is your preferred carry position, and why?
******
Are you a larger gentleman? Allow me to present the Fat Guy holster.
I don't own one but this looks like a great product! I also like the fat guy's attitude. And that is not a gut. It's a sign of prosperity!
******
Full Auto Garand?
Interesting video sent by our pal Scuba_Dude
Nice find, thanks Scoob!
******
Gun Basics 101
The She Equps Herself girl has launched an online firearms course!
Here is a link to her Armed and Confident Academy. I will save you the effort, it costs $500, but based solely on her YouTube channel, I'm thinking it's well produced and full of good information. Is it worth $500? I don't know. It's really up to you to decide, but the course outline shown on the website seems very comprehensive. Check it out!
******
Cigar of the Week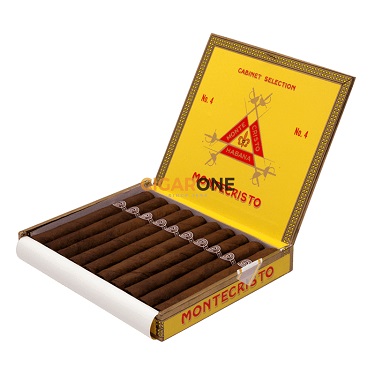 This week we have the Montecristo No.4 from Cigar One. Yes, boys and girls, it's the real deal, straight to you from Havana, via Switzerland. As expected, excellent construction and a nice, medium smoke. A typical sale price is around $160 per box (25) plus shipping.
******
Link-O-Rama
I'm really very seriously not kidding around anymore. Buy Ammo
AmmoSeek - online ammo search tool
GunBot - online ammo search tool
SG Ammo
Palmetto State Armory
Georgia Arms
AmmoMan
Target Sports USA
Bud's Gun Shop
***Mail Bag***
Our pal MisHum brings teh funny!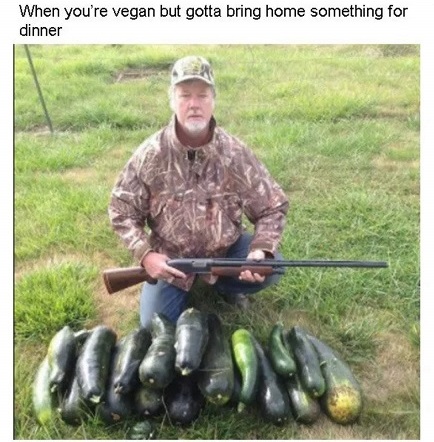 ******
Please note the new and improved protonmail account gunthread at protonmail dot com. An informal Gun Thread archive can be found HERE. Future expansion plans are in the works for the site Weasel Gun Thread. If you have a question you would like to ask Gun Thread Staff offline, just send us a note and we'll do our best to answer. If you care to share the story of your favorite firearm, send a picture with your nic and tell us what you sadly lost in the tragic canoe accident. If you would like to remain completely anonymous, just say so. Lurkers are always welcome!
That's it for this week - have you been to the range?


posted by Weasel at
07:00 PM
|
Access Comments