« Biden Badly Mangles a Statement Written For Him By Someone Else; NeverTrump Swallows an Entire Bottle of COPE and Blame Invasion on RUSSIAN AGENT Trump
|
Main
|
"The Science (TM)" Changes in Boston: Mayor Ends Vaccine Passports "Effective Immediately" »
February 22, 2022
Freedom Convoy Organizer Tamara Lich Denied Bail by Judge Who Once Ran for Office as a Liberal Party Candidate;
Canadian Deputy PM Announces That If You Want Your Bank Accounts Unfrozen, You Just Have to Stop Protesting the Government
Logan Hall @loganclarkhall Feb 21

wow. can't believe putin declared martial law, crushed protests, and seized opposition bank accounts.
via andycanuck.

Not only is protest illegal in Canada, not only is organizing a protest (as opposed to actually protesting) illegal, but bail will be denied after arrest.
Her crime: "Mischief."
Wow, that's almost as bad as "Parading."
So both the US and Canada are now applying "J6 Insurrection Rules" against dissenters to the regime.
Freedom Convoy leader and organizer Tamara Lich was denied bail by an Ottawa judge this morning. According to Marieke Walsh of The Globe and Mail and David Akin of Global News, Lich wanted to be released on $5,000.

Lich was denied bail because, in part, judge Julie Bourgeois believed that there was a risk that she would continue criminal actions. Bourgeois was a Liberal candidate for Glengarry-Prescott-Russell in 2011.

"There is a substantial risk you will continue these actions and will not abide by an order," the judge told Lich. "Your recent history in our city ... satisfies me that you're detention is necessary for the safety and protection of the public."

The judge also said that Lich was being "guarded" and that her attitude was "almost to be obstructive."
Oh, she's "guarded"? Oh lock her up without bail, then.
As Julie Kelly has extensively reported, judges in the J6 "insurrection" cases have routinely denied bail and imposed lengthy sentences based upon the protesters' political beliefs, such as their reservations about the purity of the 2020 elections.
American Democrats, of course, overwhelmingly support Trudeau's illegal crackdown on these Canadian Insurrectionists, 65% to 17%.
A recent poll has revealed that a majority of American Democrats approve of the Canadian Prime Minister's crackdown on the freedom protestors in Ottawa after he invoked the Emergencies Act early last week.

In a poll conducted by the Trafalgar Group and Convention of States Action obtained by The Daily Wire, it revealed that 55 percent of likely general election voters overall disapprove of Trudeau's handling of the protestors in Ottawa and beyond.

35 percent overall approved of Trudeau's crackdown, while 10 percent said they were unaware of what's happening to the US' northern neighbor.
Looking at Democrat likely voters alone, 65 percent said they favored Trudeau's crackdown on the protestors, and 17 percent said they disapproved.

Republicans, on the other hand, more strongly disproved of Trudeau's heavy-handed tactics, with 87 percent saying the disapprove and just 8 percent approving.
Of those who do not affiliate with a party, 74 percent said they disapproved of Trudeau's actions, while 21 percent approved.
Ottawa's police vow to "pursue" the protesters financially "for months to come," even after they go home:
Again: Just like the J6 persecutions.
So this is now the Western model for dealing with right-wing protests?
And the Establishment GOP cheered.
The Deputy PM, formerly an American "journalist," says that all you need to do to get back the money the government has illegally seized is... stop protesting the government.
Alliance Defending Freedom @ADFLegal

Pause and think about the implications of a Western government telling its citizens the only way their bank accounts will be unfrozen is if they stop protesting the government.
The Canadian parliament voted to not only bless this illegal use of the Emergencies Act -- formerly called the War Measures Act, because it's for use during a war -- but to extend it, even though Trudeau has now arrested the protesters and cleared the trucks from Ottawa. His reason for extending it? He wants to use Emergencies Act powers to harass and imprison the protesters beyond the usual allowances of the law -- he wants martial law to continue.
The vote was 185 to 151. Conservatives are objecting, at least.
[Conservative Member of Parliament Kerry-Lynne] Findlay argued that a bridge being "barricaded for a few days" is no justification for the emergency order.

"It doesn't meet the threshold. This is an extraordinary piece of legislation, which should only be used in the most extraordinary circumstances. That's why it hasn't been used before," she said.

To Findlay, Canada is now split, with Trudeau's government and its supporters on one side, and "working people" who she said "see Canada as united and proud" on the other.

"They sacrifice. They've done without. They suffered economically, physically, and in their mental health condition with lockdowns and restrictions. But they're still firmly patriotic and want to have a brighter future," she said of the working people who protested.

Trudeau has slammed the protesters as allegedly spewing "hateful rhetoric" and using "Nazi symbolism, racist imagery," but has not allowed for open dialogue on the coronavirus restrictions and vaccine mandates that the people are protesting against.

"Our prime minister, instead of saying, as you would expect of any good leader - 'Well, let's have a dialogue on this. Let's talk about this. Let's discuss it.' He called them misogynists and racist and said that they held unacceptable views. And they basically questioned: How long should we tolerate these people?" Findlay said.

Trudeau, however, has previously supported other protests, including Black Lives Matter in 2020 and knelt in support of the movement. Findlay said he didn't invoke the unprecedented emergency order for those protests due to his political ideology.

But for the current protesters, "he has gone to the most extreme measures to alienate them first of all, and then shut them down. And the mainstream media continues his narrative."

She argued that Trudeau's government sees the people supporting the protests as the "other" category of Canadians, and added the government now equates people "being anti this government with being anti-government."

Findlay said this is the first time she has felt "uncomfortable" in her own country, explaining that she has to show her ID in order to leave her apartment to get to her office amid police in riot gear patrolling Ottawa.

"This government has so much to answer for. People don't trust it. It's that simple. And that's only going to become more so the more heavy-handed they are, the more that they continue these lockdowns," she said.

When asked what the coming months will look like, Findlay said "punitive." She pointed to the Ottawa police chief "vowing to continue to hunt people down and punish them financially and lay more charges," and the "hack" of the donor list for the Freedom Convoy that has exposed "ordinary people" as spelling trouble for the coming weeks and months.
Dave Reaboi has thoughts:
David Reaboi, Late Republic Nonsense
@davereaboi

Should go without saying that Canada is more troubling for us than a faraway Slavic conflict because the mechanisms of tyranny used in Canada are the same as ours. Not only is the government/corporate alliance the same, the rhetoric and rationale is the same.


"But the Canadian government is accountable to the voters!"

Shut up, you pussy. The public/private ideological cartel bent on punishing the enemies of the regime--ordinary Americans or Canadians--doesn't get voted out. Your vote means shit now.

When you go to the polls and, by some fluke, elect an opponent of the ideological cartel, the government and corporate world expunge and destroy him. Even, as we've seen, the people charged with our national security. The whole edifice of modern liberal democracy is a sham.

BTW: if this thread makes no sense to you, you've got no idea how "liberal democracy" works today in practice. You are reading the manual of a Ford Model T for clues about running a new Lexus. Dangerously clueless.
David Reaboi, Late Republic Nonsense

Tech and consolidation have made it impossible to live a normal life free from the political and social decisions the ideological cartel has made for you.

The alliance between massive private companies and the government brooks no dissent. Now your Bill of Rights is just paper.
David Reaboi, Late Republic Nonsense

You will be depersoned, debanked, denied chance to make a living, and more. All of these decisions will be made for political reasons--because you are an enemy--and there will be (is) enough distance bet government edict and private industry to provide a fig-leaf for the tyranny.

It is THIS dynamic that's frightening to us, you miserable, soulless, idiots. THIS is what we see coming.

Meanwhile, you're jerking yourselves off under the illusion that the US is in any kind of position--morally, financially or militarily--to affect something in Ukraine.

Nope.


Dave's Substack, Late Republic Nonsense, is here.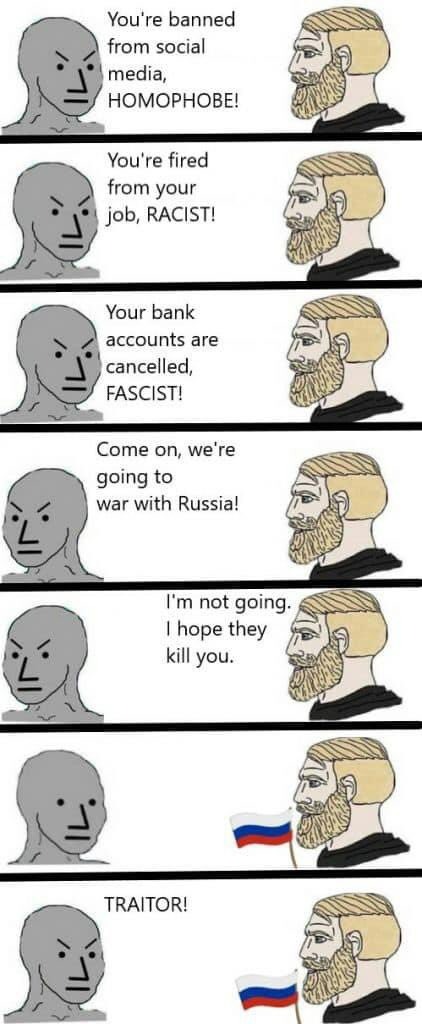 posted by Ace at
05:40 PM
|
Access Comments