« In California, Men Calling Themselves "Non-Binary" Were Permitted to Sleep in the Cabins of Underage Female Students on a Camping Trip
|
Main
|
Biden Badly Mangles a Statement Written For Him By Someone Else; NeverTrump Swallows an Entire Bottle of COPE and Blame Invasion on RUSSIAN AGENT Trump »
February 22, 2022
"This Is Full Panic:" LA's Soros DA George Gascon in "Major Retreat" from Decriminalization-of-Crime Agenda, as "The Science (TM)" of Law Enforcement Is Now Apparently Changing Too
Before getting to that: some Local Crime Stories.
Professional thief with 96 prior arrests busted for theft again-- and promptly released, without bail.
In NYC. Released by Alvin Bragg.
"She" is a career criminal and openly brags about living a life of crime.
And here "she" is.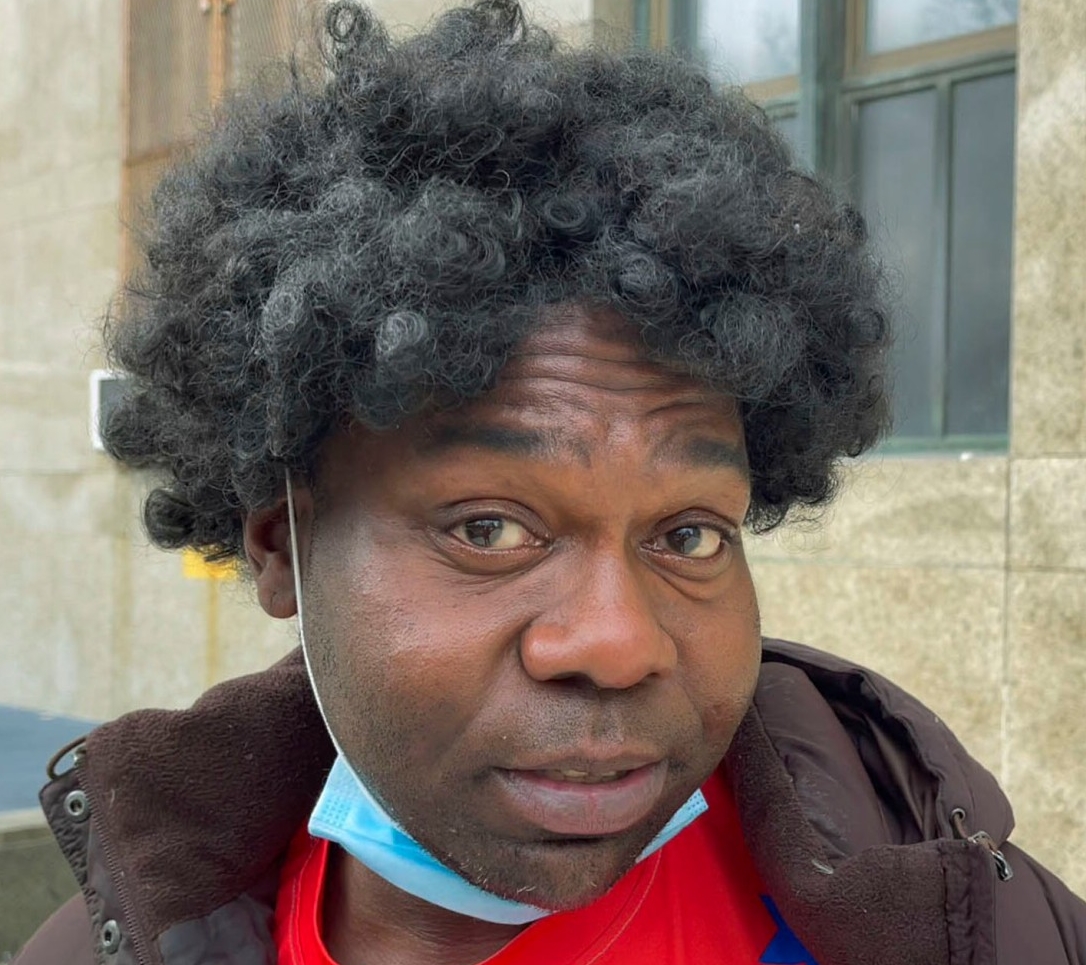 "She" stole my heart, you guys
How small and cramped do our lives have to be so that the unmedicated, uninstitutionalized mentally-ill can live lives to the full? Can we ask that question, and get a straight answer?
To be fair, New York law now says that you can't impose bail requirements on thieves, so.
A self-described "professional booster" with 96 arrests on her record was nabbed again this week for allegedly stealing from an Upper East Side Target -- and then released at her arraignment on Thursday, The Post has learned.

Michelle Mckelley, 42, allegedly boasted about her "hustle" at the store on Third Avenue near East 70th Street, telling cops, "I haven't got caught in a long time," after her latest bust Wednesday, prosecutors said in Manhattan Criminal Court.

"I'm a professional booster. Y'all are stopping my hustle," the serial shoplifter allegedly told officers.

Speaking to The Post after her hearing, Mckelley unabashedly described how she "professionally obscures" items -- including the red shirt she wore in court.

"I have to get a new outfit ... so I have to go work," Mckelley said when asked if she'd continue.

"I don't call it stealing, I call it professional boosting," she added matter-of-factly.

Police sources said Mckelley has 96 prior arrests, mostly for petit larceny, a misdemeanor that is not eligible for monetary bail under state law. She has at least four other open cases, one for robbery, a felony, and three for misdemeanors.

She was out on supervised release in another petit larceny at the time of the bust -- and also had seven open bench warrants, prosecutors said.
Meanwhile: An LA liberal has turned on Biden's DHS Secretary after his son is killed by an illegal alien.
Until Nov. 16, 2010, Los Angeles entertainment executive Don Rosenberg considered himself a lifelong liberal and supporter of the Democratic Party.

But the minute he picked up the ringing phone, his life changed forever. The caller was from San Francisco General Hospital. She told him that his 25-year-old son, Drew, a second-year student at Golden Gate School of Law, had been mowed down on his motorcycle by a car that, Rosenberg would later learn, was driven by an illegal immigrant without a license.

Roberto Galo, of Honduras, hit Drew, who was thrown from his motorcycle. Galo reportedly drove forward, rolling over Drew's body, and then backed over him as well. A bystander had to force Galo to stop his car, which, at that point rested on Drew's abdomen.<

"The coroner told me she didn't understand why [Drew's] main artery had ruptured and he had bled out," Rosenberg said. "She didn't realize the car had driven back and forth on top of him. He wasn't going that fast. He would have just had some cuts and bruises. It wasn't the hit that killed him. It was the run."


In the end, Galo served only 43 days in jail in 2012, on charges of vehicular manslaughter and driving without a license. Rosenberg was told Galo wouldn't be deported because "he had only committed one crime of moral turpitude."

Drew's death galvanized his grieving father. Rosenberg, now 68, became an advocate for people who are victims of crimes committed by illegal aliens. He was then angered by what he calls lax illegal immigration policies under the Obama and, especially, Biden administrations.
Rosenberg says that DHS Mayorkas lied about having consulted with his group before changing the deportation guidelines -- in a federal filing.
...

"DHS and Mayorkas included us in a federal filing saying that they had reached out to AVIAC to discuss the new deportation guidelines -- but they never did, not in the least bit," Rosenberg said. "I was outraged."

"Mayorkas is a psychopath," Rosenberg told The Post Tuesday. "He needs to be fired, and he needs to be tried for violating federal law and, if convicted, jailed."
On to LA.
LA's elites didn't care when the little people were being murdered by career violent criminals that Soros DA George Gascon put back on the street.
But after a socialite was gunned down, they got angry.
Gascón, who benefitted greatly from the largesse of George Soros, allegedly in the neighborhood of $2.5 million, is facing a challenge from a front he probably never expected: the Hollywood elites.

Los Angeles Magazine counts as supporters of the effort real estate luminaries such as Geoffrey Palmer and Gerald Marcil; Mike Medavoy, the co-founder of Orion Pictures and his wife; Clinton cronies such as Ron Burkle and Jordan Kaplan. You can also add George Clooney's producing partner Grant Heslov and ex-20th Century Fox Producer Grant Sheinberg. Throw in Sugar Ray Leonard and Rosanna Arquette, and there is no telling what could happen.

Frontpage Mag speculates that the impetus for the backlash may be the murder of Jacqueline Avant, the mother-in-law of Ted Sarandos, one of the people who helms Netflix. Avant, the wife of music mogul Clarence Avant, was shot to death in her Beverly Hills home in December of last year. Days later, 29-year-old Aariel Maynor, who also has a lengthy criminal record, was charged.
Suddenly Gascon is "backtracking," in a "full panic:"
James Queally @JamesQueallyLAT

Feb 18

FRIDAY NEWS DUMP: L.A. D.A. George Gascon is backtracking on his policies barring juveniles from being tried as adults and banning the use of life sentences against defendants, according to memos bouncing around the office this evening. Story coming ASAP.

James Queally
@JamesQueallyLAT


Texts coming in from prosecutors: "Major retreat." "This is full panic." "He changed ... everything."

Los Angeles County prosecutors can now seek to try juveniles as adults and pursue life sentences against defendants in certain cases, according to memos issued Friday by Dist. Atty. George Gascón, marking a major shift in his all-or-nothing stances on certain criminal justice reform issues.

...

The move comes as Gascón is facing increased criticism over his handling of juvenile cases and the political pressure of a second attempt to recall him from office.


The committee seeking to recall Gascón from office has already raised $1.8 million, more than the entirety of the money pooled to back a failed recall campaign last year. The union representing rank-and-file prosecutors is also expected to vote to support the recall early next week.

Critics were quick to accuse Gascón of playing politics with his policies.

"Over the past year, George Gascón and his policies have wreaked havoc on the criminal justice system and made all of us less safe," said Eric Siddall, vice president of the union representing line prosecutors. "Now he's abandoning his social experiment not because he's learned anything or wants to make us safer, but because he knows that the politics aren't in his favor."

Ex-LAPD Chief Charlie Beck, one of Gascón's lone supporters among police leaders, rescinded his support of the district attorney last week.
Below, a 26 year old "transgender" child molester who Gascon refused to prosecute as an adult, saying that the crime occurred when the child molester was a juvenile -- he molested a 10 year old -- and so got two years sentence in a juvenile facility, which is locking the chickenhawk up with the chickens.
Now, of course, Gascon is saying he'll consider these "juvenile" cases on a case-by-case basis, rather than declaring he'll never ever prosecute a juvenile as an adult.
Just in time for his recall.
I guess The Science (TM) of juvenile prosecutions changed.

posted by Ace at
03:47 PM
|
Access Comments