« Christian Website GiveSendGo Hacked and Donor Information Published Online; Canadian Broadcast Authority Begins Going Through the List and Demanding That the Donors Explain Why They Donated to the Freedom Convoy
|
Main
|
RIP P.J. O'Rourke »
February 15, 2022
Producer Price Inflation Rose 9.7% Year-to-Year
The PPI is the inflation level as experienced by producers, as opposed to the CPI, which measures inflation in prices for end-user consumers.
The PPI has been higher than the CPI, which -- and I'm no economist, I'm just spitballing -- seems to me to indicate that the CPI will be rising still further in the near future. That is, the PPI should be a leading indicator for the CPI.
Oh by the way, prices jumped an entire 1% in a single month.
Let's Go Brandon.
Wholesale inflation in the United States surged again last month, rising 9.7% from a year earlier in a sign that price pressures remain high at all levels of the economy.

The Labor Department said Tuesday that its producer price index -- which measures inflation before it reaches consumers -- jumped 1% from December. Excluding volatile food and energy prices, wholesale inflation rose 0.8% from December and 8.3% from January 2021.

Last week, the government reported that inflation at the consumer level soared over the past year at its highest rate in four decades, squeezing households, wiping out pay raises and reinforcing the Federal Reserve's decision to begin raising borrowing rates. The 7.5% price surge ranged across the economy, from food and furniture to apartment rents, airline fares and electricity.
In polling news, Civiqs just published state-by-state polling for Brandon's job approval, and the results are not pretty for the Democrats.
First of all, nationally, Brandon' approval is at the sick level of only 34%, with 56% disapproving.
Brandon is disapproved of by voters in all but five states. In one state, it's a tie; only in four states does his approval exceed his disapproval.
President Joe Biden's job approval numbers have continuously spiraled downward, showing the president underwater in 45 states, according to the CIVIQS rolling job approval average.

Forty-five states have the president with a higher job disapproval rate than approval, according to the CIVIQS rolling job approval poll, covering the president's job approval on a rolling basis since his inauguration. This is compared to only five states that show a higher approval rating for Biden.

Evidentially, California -- a typically solid blue state -- shows Biden's approval close to flipping, with only a two-point margin. Forty-five percent of the respondents from the state said they approve of Biden, while 43 percent disapprove.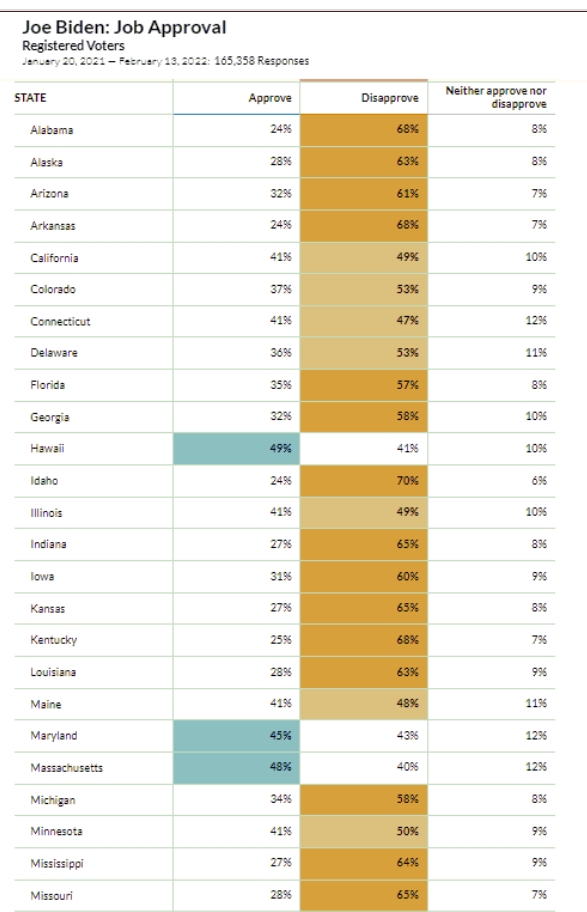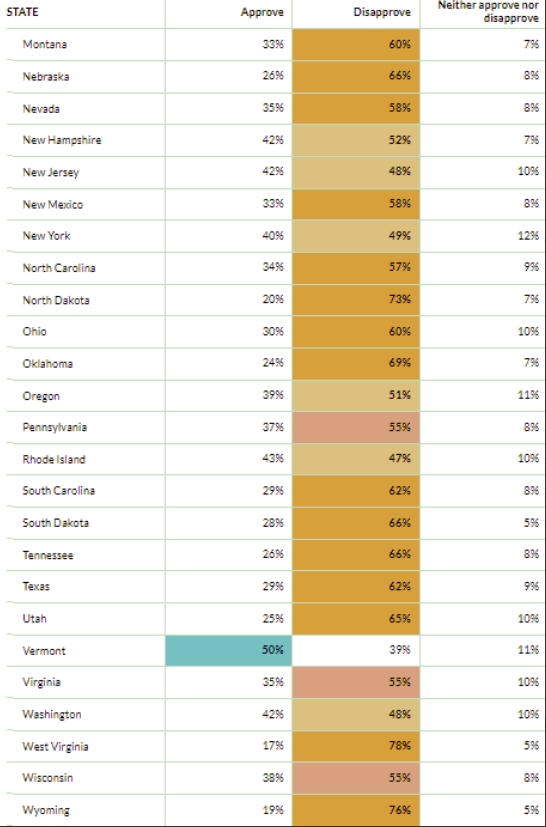 It's probably polls like that which have caused Democrats to want any other candidate besides Brandon in 2024.
Well, I mean, the actuarial tables say they're going to get that anyway, want or not.
More than half of Democrats want their party to nominate someone other than President Joe Biden in 2024, according to a CNN poll released on Sunday.

The survey, which was conducted by SSRS in January and February with 1,527 adults, found that only 45 percent of Democrats and Democrat-leaning voters want Biden to run for reelection. More than half -- 51 percent -- want someone else in the Oval Office. The margin of sampling error is ± 3.3 percentage points.

posted by Ace at
04:35 PM
|
Access Comments