« Alberta's Premier Announces an End to Vaccine Passport Program and Mask Mandates; Conservatives Call for End to Mandates Nationally; Fidel Castro's Fascist Get Justin Trudeau Heckled
|
Main
|
The ChiCom Olympics Are a Disaster and Communist-Adjacent NBC Is Losing Their Shirt »
February 09, 2022
70% of the Country Thinks It's Time to Throw Off the Tyranny of the Karens.
But The Party of Karens, Get This, Disagrees.
Brandon promised to be "president" (LOL) of all Americans, not just Democrats.
Like everything that comes out of his mouth, it's a lie.
He is the president of Democrats only. He is the president of Karens only.
And if Karen wants Masks and Mandates Forever, Karen's gonna get Masks and Mandates Forever -- no matter what 70% of the country wants.
Fully 70 percent of Americans agreed with the statement that "it's time we accept Covid is here to stay and we just need to get on with our lives" in a recent poll by Monmouth University. That survey found that support for vaccine mandates has dropped to just 43 percent from 53 percent in September, while support for masking and social distancing guidelines dropped to 52 percent from 63 percent over the same period.

The findings come at a possible turning point in the pandemic, as several Democratic governors announced intentions to ease some mask mandates over the next month. The growing frustration with pandemic restrictions may help explain some of those early announcements -- even as cases reach record levels.

The polls create a delicate challenge for the Biden administration, which never regained its political standing since the rise of the Delta variant dashed last summer's hopes of a return to normalcy. The growing unease with the pandemic seems to have added to the president's political woes, and may help explain why the public disapproves of Mr. Biden's handling of the coronavirus for the first time.

But a majority of Democratic-leaning voters continue to support a more vigorous response to the pandemic, potentially limiting how quickly the administration can readjust to public opinion.
I thought this was about The Science (TM).
Many Americans harbor serious concerns about the health risks presented by the virus; the Biden administration may not find it easy to bring them along, at least as long as cases and deaths remain at elevated levels.
You mean Democrats. You mean the teachers unions' stalwarts.
Not "Many Americans." You mean "The Americans who Count under Biden" -- the hardest core Democrats.
Here's more from that Monmouth poll:
Fully 7 in 10 Americans (70%) agree with the sentiment that "it's time we accept that Covid is here to stay and we just need to get on with our lives" -- including 78% of those who report having gotten Covid and 65% of those who say they have not been infected. The main difference in the sense that it is time to move on is due to partisanship -- ranging from 89% of Republicans and 71% of independents to 47% of Democrats.
The Democrats don't think that partisanship is the reason we're not moving on because they're the ones with a partisan interest in keeping the virus going forever. Their stupid little masks are Badges of Moronic Virtue. "In this Face we Believe..."
Only one-third of the public (34%) feels the country will get the outbreak under control and return to normal by the end of the year. In fact, more than 1 in 4 (28%) now believe a return to normalcy will never happen, which is up from 22% who felt this way in September and just 6% who were similarly pessimistic exactly a year ago.
Politico reported on Brandon's plan, which seems to consist of telling 70% of the country he plans to loosen restrictions while also reassuring Karen that he'll never loosen restrictions.
The White House is preparing to move on from Omicron.

Emboldened by falling case counts, the Biden administration is plotting a new phase of the pandemic response aimed at containing the coronavirus and conditioning Americans to live with it.


The preparations are designed to capitalize on a break in the monthslong Covid-19 surge, with officials anticipating a spring lull that could boost the nation's mood and lift President Joe Biden's approval ratings at a critical moment for his party.
Remember, this is all about "The Science (TM)" and public health and Saving Grandma.
Biden and his top health officials have already begun hinting at an impending "new normal," in a conscious messaging shift meant to get people comfortable with a scenario where the virus remains widespread yet at more manageable levels.

But it's a delicate operation. The White House is wary of declaring victory too early, only to get hit with another catastrophic variant, a half-dozen administration officials and others close to the Covid response said. Officials are also anxious that voters will be disappointed by the idea of living with an endemic virus under a president who once pledged to shut it down completely.
He shouldn't have lied. He shouldn't have been a scummy, lying cocksucker like he's been his entire life.
Again, remember, this is all about Public Health. And The Science (TM). That's all that matters.
And they realize that it will take vigilance -- and billions more dollars from Congress -- to prevent the nation from backsliding into crisis once again.
Oh great, more soaring inflation.
So what's Brandon's big plan with those new untold billions?
The same shit he's doing now -- more vaccinations, this time for children under five years old.
Something that Karen has literally been tearing her hair out for. Seriously-- Libs of TikTok routinely features Karens shrieking that they don't have a vaccine for their two year olds yet.
For now, Biden's Covid team is counting on an expanding supply of vaccines and therapeutics to accelerate the transition to the next pandemic phase, allowing people to safeguard themselves against Covid-19's worst effects before and after an infection. Regulators are expected to authorize the vaccine for children under 5 in the coming months -- a major milestone in building out the country's Covid protections.
I was just listening to Rand Paul on the Hill's Morning Rising. He noted that Brandon and Fauci, by deliberately not talking about therapeutics (in order to make people wrongly think that vaccines were the only medicine available), had killed thousands of people. If people just knew that there were effective therapeutics available but they are very time-sensitive -- you need them early in your infection; they will not help late in the infection -- a lot of people would have survived and had short, relatively painless illnesses.
But instead: They lied.
I'll link that video below.
...


That shifting outlook has dovetailed with rising urgency over the need to reverse Biden's flagging approval ratings.
Did I mention this is all about The Science (TM) and public health?
With a legislative agenda stalled and economic record clouded by generational inflation, Democrats now view an improvement in the pandemic over the next few months as the party's only clear shot at boosting their midterm prospects.

Among administration officials, there is similar widespread belief that Biden's popularity is closely tied to public perception of the health crisis -- and that as the Omicron surge recedes, so will voters' dissatisfaction with his administration.
That's just good sound The Science (TM) right there.

They're not going to change any of their mandates or "recommendations."
They're just going to tell people to "feel differently" about covid and their mandates and recommendations.
"We are moving toward a time when Covid doesn't disrupt our daily lives," said one senior administration official, who requested anonymity to discuss the internal deliberations. "But in order to get people to view the pandemic differently, they have to feel differently about the pandemic."
The media is, of course, a key ally in this Scientific Emotional Messaging Campaign:
"The best political strategy is not to have it dominate the news every day," said Leslie Dach, a former Obama-era senior health official and chair of the Democrat-aligned group Protect Our Care. "You want a felt experience in November, where you're back to leading a normal life and you feel like the president's accomplished things and addressed the issues you care about."
There's so much The Science (TM) here I have The Science (TM) coming out of my ears!
So what will they do besides asking the media to make the public "feel differently" about Brandon's failure to "shut down covid"?
Nothing. Absolutely nothing.
Yet even as it maps out the next stage, the White House has ruled out making a splashy show or major announcement regarding a hard pivot back to normalcy...
And though it faces pressure to back off some of its more notable -- and onerous -- public health policies, the administration is also unlikely to drop its indoor masking recommendations, which are seen as among the key tools for preventing new outbreaks.

Officials instead described plans for a more subtle shift over the next several weeks toward touting Biden's achievements in rolling out vaccines and treatments and emphasizing the everyday things that people can do again if they're vaccinated -- an approach that multiple individuals familiar with the response described as an attempt to convince people they'll soon be able to relax after two years ruled by Covid-19.
Far from a "hard pivot," this isn't even a "subtle shift" because it's not any shift in policy at all, but only another propaganda messaging campaign, touting Brandon's alleged "success" in not shutting down the virus he vowed to shut down, and trying to convince people that they just love living with covid and the covid deprivations of liberty.
"We can really get to a much more active, less fearful, more normal style of living" if cases keep declining, said one of the people familiar with the response. "We have to reset people's expectation that they can get back to joy."
Literally nothing here is about any changes in policy, it's all just about "resetting people's expectations" to make them "feel differently."
This is not science, this is just yet another propaganda campaign.
Which is what "The Science (TM)" (as opposed to actual science) always has been, of course.
Even leftwingers can see through this:
Nate Silver @NateSilver538

The White House's COVID messaging strategy sounds pretty incoherent. They want to "reset people's expectations" but they don't want to do a "hard pivot" and they also don't want to do anything substantive like revising mask guidance.
Josh Barro @jbarro

"an attempt to convince people they'll *soon* be able to relax after two years" hmmm seems like another instance of the Warren voters who staff the administration projecting their friends' mental states onto the median voter.
"Just hold on," they keep saying.
Hold On For Two More Weeks.
Meanwhile, Brandon the Weak has fallen below 40% in RealClearPolitics' average of job performance polls for the first time ever.
Yes, he's been under 40% in individual polls, but help from leftwing, Democrat-skewing polls has buoyed him above the political Mendoza line before.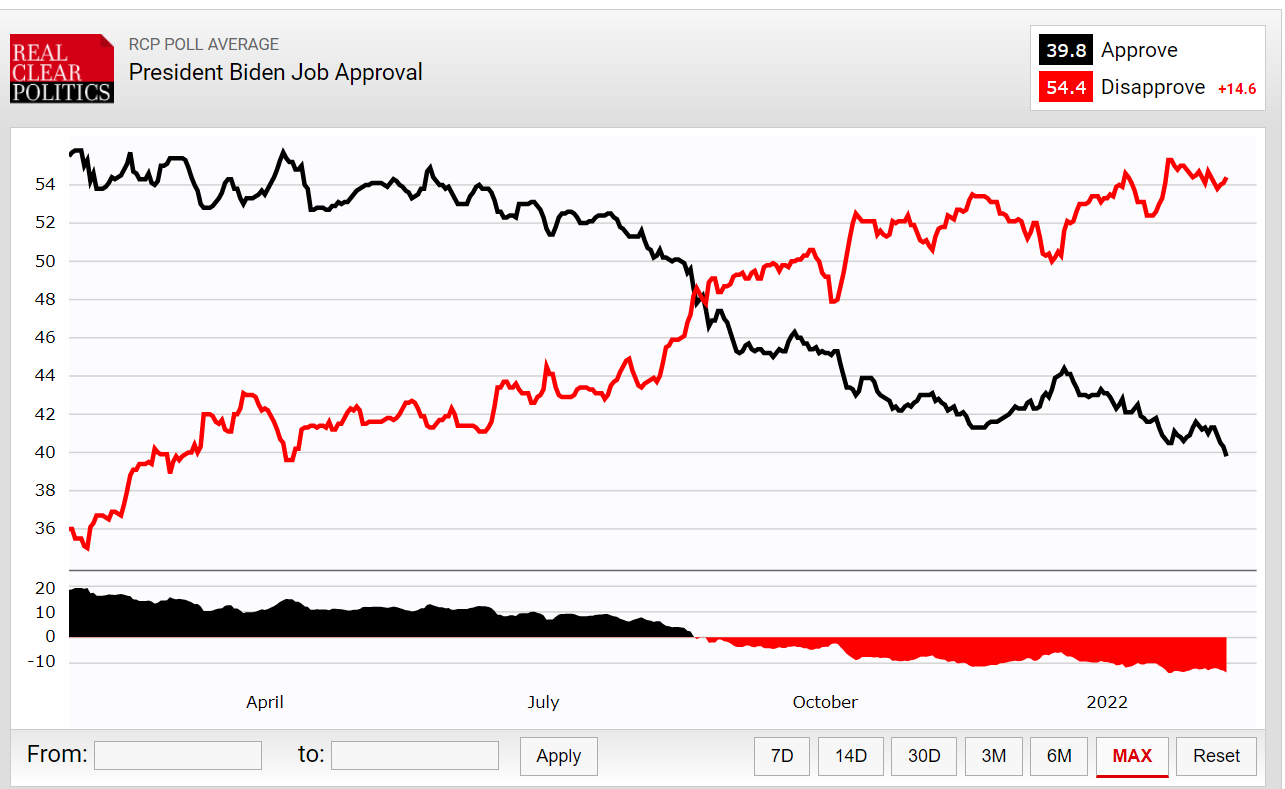 posted by Ace at
02:39 PM
|
Access Comments