« 70% of the Country Thinks It's Time to Throw Off the Tyranny of the Karens.
But The Party of Karens, Get This, Disagrees.
|
Main
|
Diversity is Our Strength [Joe Mannix] »
February 09, 2022
The ChiCom Olympics Are a Disaster and Communist-Adjacent NBC Is Losing Their Shirt
Ratings are "catastrophic."
The Winter Olympics Opening Ceremony in Beijing on Friday ended up a ratings dud.

The ceremony drew "nearly 14 million" TV viewers, according to a release from the network-- making it one of the least viewed in Olympic history.

Compared to the 23.8 million people who tuned into the last winter games ceremony in 2018 in Pyeongchang, viewership dropped 43 percent overall. Only 8.7 million tuned into primetime programming with NBC's Mike Tirico and Savannah Guthrie who led the coverage of the ceremony, which consisted of an extravagant display presented by Chinese President Xi Jinping.

The audience for the opening ceremony was also significantly lower than last year's Summer Olympics Opening Ceremony in Tokyo, which averaged 17 million viewers throughout the program.

Meanwhile, athletes are miserable in the ChiComs' Biosecurity Lockdown Bubble.
Life in the Olympic gulag: Athletes are 'crying like crazy' in hellish quarantine with miserable food where 'hope is dead' as DOZENS miss out on their events after testing positive and being carted off to isolation camps

...

Dozens of athletes thrown into virus isolation at China's zero-Covid Winter Olympics have laid bare their misery - describing 'crying like crazy' after being hauled out of bed at 3am before being fed miserable food in rooms too small for exercise.

Beijing is attempting to hold a virus-free event in the midst of a pandemic, cutting off competitors and their teams in a bubble where tests must be taken every day, with anyone who tests positive dragged off to isolation.

But conditions in isolation are reportedly dire. Valeria Vasnetsova, a Russian biathlete, claims she was served the same inedible meal three times a day for five days in a row - and that it left her so emaciated that her 'bones [were] sticking out'.


Head of German team Dirk Schimmelpfennig also blasted 'unacceptable' conditions for his athletes, saying isolation rooms are too small, not hygienic enough, the food is poor and PCR tests that athletes must take to free themselves are not being given.

Natalia Maliszewska, a Polish speed skater, described being repeatedly moved into and out of quarantine over successive days due to conflicting Covid test results, an experience she described as a 'trauma' that left her 'crying and crying'.

During one 'night of horror' she said officials dragged her out of bed at 3am in order to take her back to the athlete's village after ruling she was Covid-free - only to later say they made a mistake before taking her back into solitary.

'I was sitting in the ambulance. It was 3am. I was crying like crazy because I didn't know what was going on. I did not feel safe at all,' the 26-year-old said.

There are currently 387 people from the athletes' bubble in Covid isolation in China, though this also includes members of their teams and press. The exact number of competitors in solitary is not clear, but is thought to be in the dozens.

Here's what they're serving their inmates: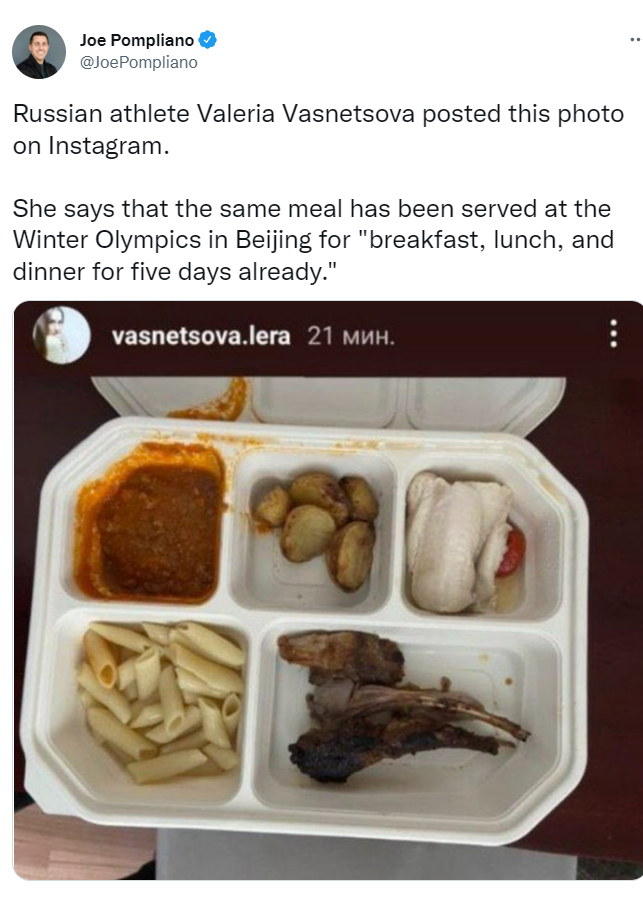 And here's life in the grim Covid Prison for Athletes: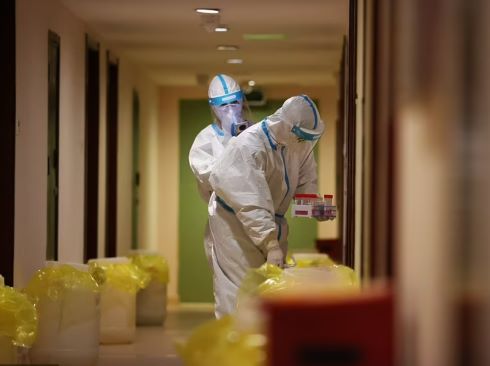 I'm sure everyone's thrilled they made the trip.
In a bit of sad news, Beverly Zhu, formerly a natural-born American citizen who renounced her citizenship to compete for China, face-planted twice and will not be advancing to the medal competition.
Note this is not Aliing "Eileen" Gu, a free-skiier who likewise is competing for China instead of her actual country, the US. Madame Gu, unfortunately, won the gold for the communist country she defected to.
US-born Chinese figure skater Zhu Yi falls AGAIN and breaks down in tears at Olympics... a day after being branded a 'disgrace' by her countrymen for finishing last after giving up American citizenship to compete for Beijing

Figure skater Zhu Yi, 19, was left in tears after falling again in the women's short program team event today

Yesterday she finished with the lowest score on day two of the event falling twice during her Olympic debut

Zhu, born Beverly Zu, decided to compete for China in Olympics and changed her name and US citizenship

But some people have also questioned why the California-born athlete was allowed to represent China

The American-born Chinese figure skater who gave up her US citizenship to compete for China at the Winter Olympic in Beijing was left in tears after falling again in the women's short program team event today.

Ah that's a shame.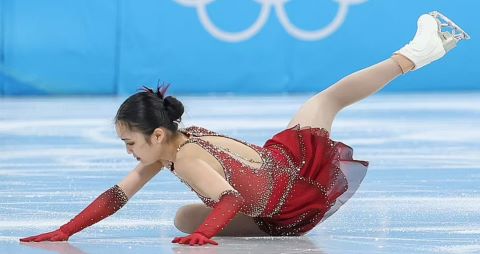 Don't worry, though. The Chinese sports authorities are very forgiving of failure.
Also, they're very forgiving of female athletes who dare to complain of being r@ped by Chinese party officials.
It's not as bad as it looks -- supposedly it's an "industry-themed entertainment park" (??!).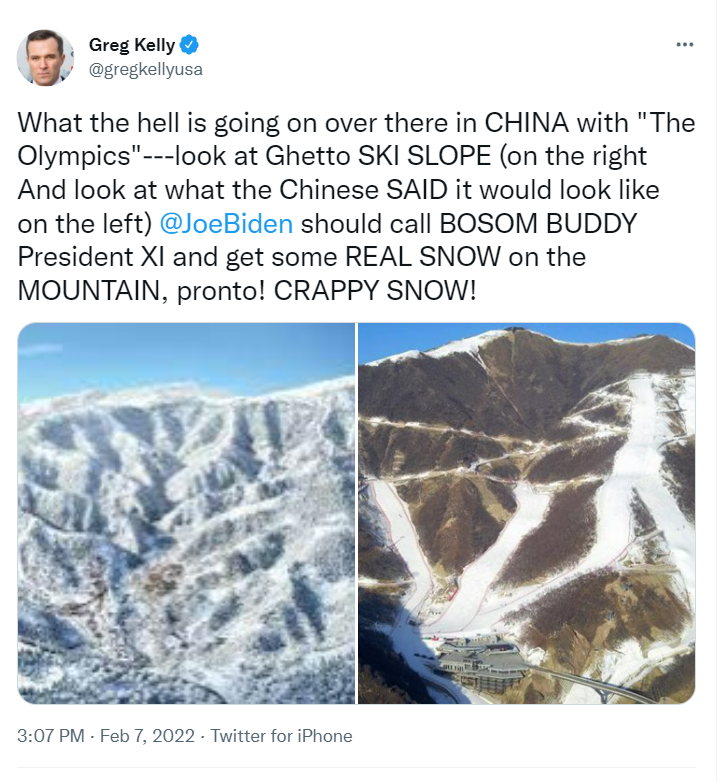 posted by Ace at
03:55 PM
|
Access Comments