« Brandon Hastily and Dramatically Assembles His Covid Team to Announce... We're Still Doing All the Stupid Shit We're Already Doing, Nothing That Happens Will Ever Change Our Policies
|
Main
|
70% of the Country Thinks It's Time to Throw Off the Tyranny of the Karens.
But The Party of Karens, Get This, Disagrees. »
February 09, 2022
Alberta's Premier Announces an End to Vaccine Passport Program and Mask Mandates; Conservatives Call for End to Mandates Nationally; Fidel Castro's Fascist Get Justin Trudeau Heckled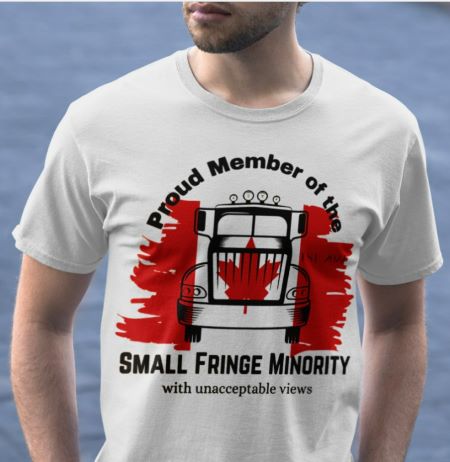 It's not a revolution without a t-shirt
Alberta Premiere Jason Kenney announced an end to many covid mandates, starting at midnight last night.
Albertans are waking up Wednesday to what could be the beginning of the end of COVID restrictions in this province, despite warnings that the government may be moving too quickly.

Alberta Premier Jason Kenney announced on Tuesday the province's COVID-19 vaccine passport program will end immediately.

At an evening news conference, Kenney said the restriction exemption program has served its purpose, but is no longer needed since Alberta passed peak of Omicron infections about three weeks ago.

"The threat of COVID-19 to public health no longer outweighs the hugely damaging impact of health restrictions on our society," said Kenney, adding his government would only move forward if it does not threaten the capacity of the health-care system.

Capacity limits were also nixed Tuesday at 11:59 p.m. for venues with capacity limits under 500, including libraries and places of worship.

Effective Sunday at 11:59 p.m., the province will no longer require masking for children and youth in schools, and for Albertans aged 12 and under in any setting.
Some other restrictions are planned to be lifted March 1. There would still be some restrictions remaining after that -- I think a requirement that government nurses must be vaxed is among those -- and those may be lifted at some point, but they don't have a date in mind for that.
It's progress.
And it was all sparked by some truckers who drove to Ottawa and honked some horns.
People will keep going along with the program until they realize they have another option. And until you kinda force them to actively choose -- instead of passively unconsciously "choosing" -- to continue going along with the status quo, or opposing it.
Note:
12 Ace I'm pretty sure Kenney was sparked by the border blockade at Coutts, not Ottawa. It's getting less press coverage, but it's there. Posted by: Hands
Ah right: Yes, I forgot. The truckers are blocking entry points into the US as well.
Yes, that would be more on the mind of the premiere of Alberta than what's going on in Ottawa.
File that under "You know what I meant even if I didn't."
The Mostly Entirely Peaceful Protesters in Ottawa have been playing a game with police, walking around with jerry cans to frustrate police's ability to enforce their "no fuel" policy.
Some of these cans are empty, some are filled with water. Some, presumably, are filled with fuel.
But the cops can't check them all.
Ottawa -- Water-filled gas cans are being used by "Freedom Convoy" protesters as part of a cat-and mouse game with police.

The efforts to frustrate police come as federal officials refuse to say when -- or if -- Ottawa would get the 1,800 extra officers it says it needs to end the demonstration.

With no end in sight for the entrenched protest, Ottawa police announced on Sunday they would be cracking down by arresting anyone giving "material aid" -- such as fuel -- to the protesters.

But on Tuesday, police revealed that demonstrators were trying to subvert officers by filling jerry cans with water, or just leaving them empty.

"It does provide a layer of logistical complexity to us," said Steve Bell, Ottawa deputy police chief.

He said the increasing number of gas cans being delivered to protesters presented challenges to conducting stop and searches.

"It identified a level of sophistication and a level of ability of this group to try and subvert police efforts," he said.

Bell told reporters that there had also been confrontations with police and there were fears for the health and welfare of children with the truckers.

"While attempting to seize fuel from demonstrators, multiple officers were swarmed by these same demonstrators," said Bell.

The police are, of course, acting as criminals, because peaceful protests are a human right in Canada. Cops are claiming that the truckers, by simply upsetting the leftists who live in Ottawa, are acting non-peacefully and therefore illegally.
Remember, the Canadian government officially supported the BLM rioters.
Ottawa police reminded that exercising Charter freedoms is not a crime

POSTED ON: FEBRUARY 8, 2022

OTTAWA: The Justice Centre has become aware that Ottawa police are seizing fuel that individuals want to donate to truckers who are part of the Freedom Convoy, and there are reports of truckers having been arrested.

"It is winter in Canada. Protesting publicly in freezing temperatures requires the truckers to have fuel to stay warm. Confiscation of fuel jeopardizes the personal safety of the peaceful protesters," states lawyer Jay Cameron, Litigation Director at the Justice Centre.

Section 2(c) of the Canadian Charter of Rights and Freedoms protects the right of all Canadians to gather and protest peacefully against (or in favour of) government laws and policies. Ottawa Police Chief Peter Sloly has stated publicly that the truckers have been peaceful, and have not caused any harm to Ottawa residents. Provided that the truckers are peaceful, their protest in a public place is expressly protected by the Charter.

In one video, it appears that Ottawa police are justifying their seizure of fuel by claiming that the peacefully protesting truckers are violating the Criminal Code, in particular section 430 which makes it illegal to destroy or damage property. Described as the crime of "mischief," section 430 also makes it illegal to interfere with the lawful use and enjoyment of property, and illegal to obstruct people when they legally use and enjoy property. The video features a claim, apparently made by an Ottawa police officer, that the truckers are violating the Criminal Code, and that anyone bringing fuel to these truckers is therefore facilitating criminal activity, which therefore justifies police taking the fuel, "as evidence" said the officer in the video.

"The Ottawa police seem to be rebranding the exercise of the Charter freedoms of expression, association, and peaceful assembly as criminal mischief under section 430 of the Criminal Code," notes lawyer Nicholas Wansbutter, counsel for the Justice Centre.

"The truckers in Ottawa have gathered in Ottawa to peacefully protest government lockdowns and vaccine mandates. Many reports indicate that the vast majority of the protesters have been peaceful and law abiding. The truckers are not obstructing people from moving about the city," notes Mr. Cameron.

"Ottawa police have the right to ticket people, including truckers, over seatbelt violations, illegal parking, and other traffic infractions. However, it is misleading and deceptive to label a peaceful protest in the nation's capital as a criminal offence," continues Mr. Cameron.
I know people are saying that a judge has ruled that the police must give the fuel back but I can't find any news stories reporting that, just stray claims on Twitter. If you have a news report, please link it.
This post claims that fuel has been returned to a distribution hub, but I just see food and toys. Alas, I cannot understand the French exchange. Except for "Il y a," which does not help. ("There is.")
This video does show fuel cans being unloaded at the site. But is this after the seizure of the fuel, or before? Again, there are no news reports noting a judge's order.
If you know of a news report about this supposed order, please link it. Right now I'm pretty sure this is all internet nonsense.
The protest has clarified the situation-- driving out a mealy-mouthed "conservative" leader who could not take a firm position against the Permanent Mandate State.
Politically, the protest has both helped topple Trudeau's main rival in the Conservative Party and exposed just how polarizing the Liberal prime minister's more than six years in power have been in Canada.

...

"They are not patriots. This is not about 'restoring freedom' but beginning anarchy," Carney, who was governor of both the Bank of Canada and the Bank of England, wrote in the Globe and Mail newspaper.
You know who's the greatest promoter of anarchic revolution right now? People like you, Davoisie scum.
Erin O'Toole had been the leader of the Conservatives but was booted. He attempted to vaguely support trucker as a general category of people while refusing to support the protests. The man now positioned to replace him, Pierre Poilievre, supports the protesters.
Meanwhile, The Great Resent conspiracy suspiciously continues all using the same playbook and same Inner Party catchphrases:
Former Governor Mark Carney described the unruly protest as "sedition" and called on authorities to cut off funding to the convoy.
Your protests are sedition/my seditions are protests.
Isn't it strange that the "anti-fascists" now routinely criminalize any dissent against them?
Below, Candice Bergen, the interim leader of the Conservatives, roasting Fidel Castro's bastard get.
I don't know if Justin Castreau is "breaking," but he does have an effeminate, whiny, "come on you guuuuuuys" tone.
As I mentioned, an "Internet Researcher," which is not real position and does not require any actual training, is claiming that the "Honk Honk" slogan is a Secret N@zi Dog Whistle.
No one seems to be able to spot these N@zi flags and white supremacist slogans Justin Castreau and his literally owned-and-operated State Media keeps claiming are just everywhere at the protests:

The Daily Mail also sent a reporter to verify Castreau's and the filthy Canadian Communist media's claims of "Nazis" and "racists" amidst the dancing truckers -- and found none.
'There is no racism, the truckers aren't vandalizing things,' he told DailyMail.com. 'Fringe groups coming in may be responsible but it's not the truckers themselves.

'We are not right-wing conspiracists, we are hard-working everyday Canadians who just want our freedom back,' said Doull, who lives in Grand Manan, New Brunswick.

Since DailyMail.com arrived in Ottawa last week we have seen no indication of violence or vandalism or any extremist political agenda. In fact, the demonstrations have shown the opposite.

Apart from the incessant honking of their horns, all has been peaceful. The truckers seem to have united the people of Canada in a common goal, to get rid of government mandates.

People who came out to support the protestors brought food, clothing and other supplies. Families came with their children in tow, some with newborns, in sub zero temperatures to show their support.

We have not even seen any arguments with the few counter protestors who were in attendance.

Every trucker DailyMail.com spoke with said they came to protest non-violently and their only reason being there was to free Canada of its covid mandates.

Truckers were conscientious of the public streets and kept them free of litter. They also shoveled snow and threw down de-icer making the streets and sidewalks easier to walk on.

Kids were welcomed by the truckers. On several occasions they allowed them to clamber up in their cabs and blow their air horns.
You know what they do have there?
Bouncy castles. Bouncy castles for kids to play in.
Which leftwing c*nts were actually complaining about as if they were... well, as if they were BLM fires or the like.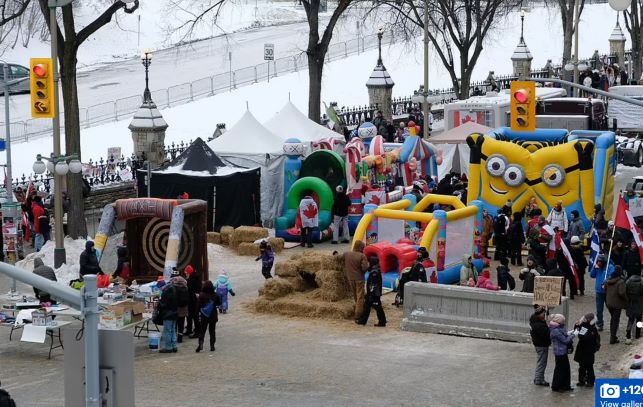 Insurrection is just a seat-drop away

posted by Ace at
01:10 PM
|
Access Comments