« Daily Tech News 8 February 2022
|
Main
|
Mid-Morning Art Thread »
February 08, 2022
The Morning Report - 2/8/22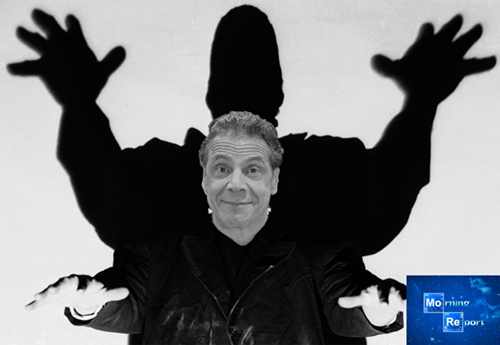 Good morning, kids. Tuesday and two items in the links are quite illustrative of the arrogance, tone deafness and complete hypocrisy that is the Left. First, delusional gasbag Stacy "Tank" Abrams, after getting called out for planting her royal fat fatuousness down in the middle of a classroom full of masked children while she herself was unmasked lashed out by shrieking - you guessed it - "racism!" Meanwhile, with the last of yet another crooked New York DA's office making the world safe for greasy groping goombahs to once again shove their diseased salsicce at the nearest set of tits, Andrew "Angel of Death" Cuomo, nipple clips fresh from the polishers, emerged from his hidey-hole, railing against his persecution and declaring himself vindicated and, get this, ready to run for office once more.
The absolute unmitigated, chutzpocritical temerity of both these turds is just beyond the pale. Especially Cuomo. But when you have a corrupt justice system and a corrupt media ready, willing and able to provide cover, and the complete lack of self awareness, let alone ethics and morality of everyone involved, this is what you get. Most egregious is the sweeping under the rug of the 12-18,000 nursing home residents (we'll never get a real accounting will we?) Cuomo sentenced to death by forcing their residences to take in other poor elderly souls infected with the General Tso's Sickness. And I'm not even including Whitmer, Murphy and the others who did the same with equally lethal results. He, and they, committed mass negligent homicide or quite arguably mass murder by their actions.
The sometimes estimable Conrad Black (his FDR worship makes what's left of my hair hurt) ponders what's to be done come a hoped for day of reckoning for this and all the other depredations we have suffered these past few years.
The [junta] has policy disasters mounting and multiplying at every hand: millions are pouring across the southern border; while Biden struts and ponces about increasing employment, he ignores not just rampaging inflation but the fact of a shrinking workforce following the shutdown of much of the economy, which the Democrats demanded in 2016. Iran has apparently won the issue on nuclear development and, as in Afghanistan and elsewhere, the [junta] has effectively capitulated—another unambiguous defeat for the United States, following the Afghanistan debacle and the professions of solidarity between Russia and China over Ukraine and Taiwan. . .

. . . The [junta's Chinese] COVID strategy, built upon the Democrats' and their media allies' terrorizing the nation in the last Trump year in order to promote a massive shutdown and economic recession, has been rejected by most Americans and is now being scientifically assaulted as having caused more deaths than it saved. As the lockdown was debunked, Black Lives Matter has been exposed as a scam, as well as a largely terrorist organization. (Warm congratulations to useful corporate idiots like Jamie Dimon who funded them with the shareholders' money.) . . .

. . . The Democrats will be hammered in the congressional elections in nine months and in the meantime the convalescence of Senator Ben Ray Lujan of New Mexico deprives the Democrats of their paper-thin majority in that chamber, apparently until April. The comparative absence of President Trump from the public's attention has, in itself, reduced the teeming atmosphere that his enemies had promoted throughout his presidential term . . .

. . . This raises the great question of how to complete the settling down of American public life after evicting the incumbents and conducting a comprehensive 180° turn on virtually all policies of the Biden [junta]. So great is the rot and failure of the system that Trump attacked in 2016 that not everyone can be punished for their complicity in it. It will be a little like the Liberation of France in 1944 when General de Gaulle, recognizing that a high percentage of the population had been collaborators, executed a few of the more conspicuous traitors and serenely declined to notice the failure and often the treason of the others.

The day is now not far off when wokeness, American self-hate, foreign appeasement, and the indulgence of criminal and corrupt organizations like Black Lives Matter will end. When that happens, only the most egregious should be prosecuted; the self-inflicted wounds involved in pursuing all those responsible for the horrible crash of American public policy would require a decade of recrimination. The escalated use of the criminal justice system to resolve political differences took off with Watergate; it is about to reach its climax and the national interest requires that the temptations of comprehensive vengeance yield to the necessity for a more civilized political atmosphere.
Two things, emphasis mine above, show both that Black almost gets what's going on and then just loses it. Yes the rot is so utterly pervasive, both in and out of government. But what's all this about "vengeance" and even more ridiculous "a more civilized political atmosphere?" America as founded is dead and gone. Where we are now is in some nebulous interregnum where the illusion of regular order vis a vis elections, confirmation hearings etc. etc. may occur, but the corruption that has been exposed is now plain as day for those with eyes to see it.
First of all, what's insulting is Mr. Black admonishing us to not seek vengeance, as if making some sort of moral equivalency between us and the bastards who stole an election and are now fashioning our chains from the wreckage they have wrought. No sir. We do not seek vengeance; we seek JUSTICE. Will we ever get it is something that I would not bet on, all things considered. For what has been inflicted on us, life in Leavenworth without parole is the barest of bare minimum sentences that I can think of for probably at least several thousand people. And given the nature of the crimes committed, capital punishment would be quite justified in more than just a handful of cases.
Meh. Wake up from that sweet reverie, Sefton, and face the real world. It's not just the leadership and the party. It's the base that vote for these people election after election, the dead or non-existent among Biden's "81 million votes" notwithstanding. So, we miraculously overcome Dao-Min Yen and win control of Congress and the White House. What then? There's still an entrenched bureaucracy that is the de facto government regardless of who holds office and it's 100% about destroying/enslaving us. Worse, there is still a large segment of this nation that are on their side. At the risk of invoking Godwin, we're going to need to deprogram millions of people to prevent what took nearly 100 years to accomplish from ever happening again.
But, all that aside, there is cause for hope. What's going on up in Canada as well as in school boards and community boards across the land means at least a sizable chunk of the population know what's going on and are not happy about it. We're just going to have to ride things out while at the same time resisting this crap individually and in larger and larger groups. What comes after that, or how long will this go on I can't say. Stay angry and engaged is the best I can advise you.
The End of America: 100 Days That Shook the World available here.



ABOVE THE FOLD, BREAKING, NOTEWORTHY
Richard Fernandez: "For some, an end to the pandemic signals the closing of a once-in-a-lifetime opportunity to remake the world."
Can Politicians Quit the Power Habit?

Steven Goldsmith, M.D.: "Since the onset of the [Chinese] COVID pandemic, many physicians have disgraced our profession."
What Happened to "First, Do No Harm?"

Christopher Rufo: "The Left's racialist ideologies threaten to transform America into a prison yard."
Prison-Gang Politics
CIVIL WAR 2.0: LEFTIST PERSECUTIONS, CAPITOL HILL BLACK WEDNESDAY PROTEST AFTERMATH, DEMOCRAT PUTSCH, AMERICAN DISSOLUTION
NOTE: The opinions expressed in some links may or may not reflect my own. I include them because of their relevance to the discussion of a particular issue.
ALSO: The Morning Report is cross-posted at CutJibNewsletter.com if you want to continue the conversation all day.
Follow us on Twitter: @CutJibNews
Follow us on Instagram: @Cutjibnewsletter

posted by J.J. Sefton at
07:38 AM
|
Access Comments