« Axios: Republicans Don't Think About National Review Any More
|
Main
|
Virginia (Prince William County) Mom Absolutely Destroys School Board: "If Masks Work, Why Don't They?" »
February 04, 2022
Johns Hopkins Study: Lockdowns Saved No Lives and Only Destroyed Jobs.
Strangely enough, Johns Hopkins buried this important study. They did not alert the press with a big press conference. I think I heard they did not even send out a press release under the university's banner.
It's almost like the official establishment knows that it has committed a grave, lethal error and does not want to draw attention to it.
Like it wants to hide its errors. Like it wants the public to continue believing bad science.
You know -- like real scientists always do!
"Lockdowns should be rejected out of hand," is the study's blunt topline finding.
First, the large amount of data they crunched:
This systematic review and meta-analysis are designed to determine whether there is empirical evidence to support the belief that "lockdowns" reduce COVID-19 mortality.

Lockdowns are defined as the imposition of at least one compulsory, non-pharmaceutical intervention (NPI). NPIs are any government mandate that directly restrict peoples' possibilities, such as policies that limit internal movement, close schools and businesses, and ban international travel.

This study employed a systematic search and screening procedure in which 18,590 studies are identified that could potentially address the belief posed. After three levels of screening, 34 studies ultimately qualified. Of those 34 eligible studies, 24 qualified for inclusion in the meta-analysis.

They were separated into three groups: lockdown stringency index studies, shelter-in-place order (SIPO) studies, and specific NPI studies.
The conclusion:
An analysis of each of these three groups support the conclusion that lockdowns have had little to no effect on COVID-19 mortality.

More specifically, stringency index studies find that lockdowns in Europe and the United States only reduced COVID-19 mortality by 0.2% on average.
0.2%.
For 0.2%, we locked ourselves down for a year and a half.
Two years, really -- we're still locked down.
SIPOs [helter-in-Place-Orders] were also ineffective, only reducing COVID-19 mortality by 2.9% on average. Specific NPI studies also find no broad-based evidence of noticeable effects on COVID-19 mortality.
Even shelter-in-place orders, actual orders to remain in your homes, only managed a 2.9% reduction in deaths.
While this meta-analysis concludes that lockdowns have had little to no public health effects, they have imposed enormous economic and social costs where they have been adopted. In consequence, lockdown policies are ill-founded and should be rejected as a pandemic policy instrument.
Remember those models that UK jive turkey Neil Fergusen panicked the world with? The ones showing, what was 2.2 million dead without his lockdown scheme by October 2020, but only 200,000 dead (IIRC) if we imposed the lockdown?
I remember AllahPundit being a huge, huge fan of Ferguson's models. I mean, you could see why he was impressed. There were numbers and such, and bar graphs, a few pie charts if you were feeling snack-ish, and an x-axis, and oh yeah, a y-axis to go with the x-axis.
It was really done up nice and proper, no fooling, real impressive and all. Looked pretty as a Sunday picnic.
And I mean, Ferguson took this so seriously he immediately looked at his models and said, "Hey, my models are telling me I should break lockdown and go to the home of my lover who lives with her completely different family group including her husband, and bang her."
And the model told him to do that, and so he did.
Models. Gotta love 'em!
I wonder if AllahPundit is a fan of the climate change models now, too.
Some of the countries that were the least locked-down had the lowest levels of morality:
Mandates only regulate a fraction of our potential contagious contacts and can hardly regulate nor enforce handwashing, coughing etiquette, distancing in supermarkets, etc. Countries like Denmark, Finland, and Norway that realized success in keeping COVID-19 mortality rates relatively low allowed people to go to work, use public transport, and meet privately at home during the first lockdown. In these countries, there were ample opportunities to legally meet with others.
Well I don't understand that. Ferguson's models said that most of them should have died.
So because Ferguson spent so much time on his models, probably took like a couple of weeks on them, and probably took a good few hours printing them out at Kinko's with nice clear plastic covers and colored tab dividers, real sharp looking stuff, all the Smart People decided that all of the rich people would isolate in their homes while all of the poor people kept working and delivering food and pleasure goods to the rich people except that the gyms and and "non-essential businesses" would be shut down, which meant that all of the poor people who didn't work delivering food and pleasure goods to rich people would lose their businesses.
It was a really really good plan and all the Smart People who owned stock in Amazon and Netflix made out like absolute thieves.
Everyone else, not so much.
But the Smart People all say it was the Smart thing to do and they had that neat looking model printed up, so.
Anyway, these researchers say that one of the reasons they launched this meta-analysis was that they couldn't help but notice that when countries imposed lockdowns, their death rates did not change very much -- in stark contrast to what Ferguson's precious models modeled that they would.
A third factor that motivated our research was the fact that there was no clear negative correlation between the degree of lockdown and fatalities in the spring of 2020 (see Figure 2).

Given the large effects predicted by simulation studies such as Ferguson et al. (2020), we would have expected to at least observe a simple negative correlation between COVID-19 mortality and the degree to which lockdowns were imposed.

You know, now that I think about it, weird thing about the models -- AllahPundit really believed in them, really believed that 2.2 million would die by October 2020 if we didn't lock down, but if we did lock down, only 200,000 would die.
Funny thing though: Sometimes Trump would rely on those models. Sometimes Trump would say, "They said if we didn't lock down, 2.2 million people would die. We locked down. Only 300,000 (or whatever the number was at the time) died. So I saved 1.9 million lives."
The math worked. If you believed the models, Trump was right.
But the weird thing is, AllahPundit, who really seemed to believe in the models when he was demanding we all adopt his shut-in, live-on-the-computer lifestyle, suddenly seemed to stop believing in the model's predictive capacity when Trump followed the model's predictions and said he saved 1.9 million people.
Suddenly Allah seemed to think the model was a total pile of lies whose numbers could not be trusted. Like it was just stupid to even talk about the numbers in the model. Like only an idiot would bring those numbers up and talk about them as if they had any relationship to reality.
Like, just some bullshit that some dumb horny nerd made up to get his sex partner alone more often.
I never understood that, how sometimes the models could be Oh My God You Guys This Model Is Totally Real I'm So Serious and other times it could be Just Another Trump Lie, It's Sulfurous Like The Devil's Farts.
Weird.
Maybe some copies of the model were incomplete. Maybe Kinko's screwed up Trump's copy. Maybe there was a collation error. I dunno.
I just know the numbers were real when Neil Ferguson or Anthony Fauci talked about them but were filthy lies when Trump referenced them.
But Allah was totally about The Science and not just taking increasingly deranged positions based on his psychopathic hostility to Trump and all Republicans who didn't want to vote for Hillary Clinton and then Joe Biden.
"What does the evidence tell us about the effects of lockdowns on mortality?" We provide a firm answer to this question: The evidence fails to confirm that lockdowns have a significant effect in reducing COVID-19 mortality. The effect is little to none.

The use of lockdowns is a unique feature of the COVID-19 pandemic. Lockdowns have not been used to such a large extent during any of the pandemics of the past century. However, lockdowns during the initial phase of the COVID-19 pandemic have had devastating effects. They have contributed to reducing economic activity, raising unemployment, reducing schooling, causing political unrest, contributing to domestic violence, and undermining liberal democracy. These costs to society must be compared to the benefits of lockdowns, which our meta-analysis has shown are marginal at best. Such a standard benefit-cost calculation leads to a strong conclusion: lockdowns should be rejected out of hand as a pandemic policy instrument.
Hey, speaking of Allah, I wonder who covered this at Hot Air -- John Sexton or Karen Townsend?
Nah, I'm sure AllahPundit will cover this. Like all good liberals, he "Loves The Science," and he surely wouldn't ignore a major finding just because of some unhinged partisan neener-neenerism. After all, he's also always telling us how much he abhors "tribalism," especially in his enemies. He's always telling us about the dangers of tribalism in every hot-button culture war issue he leaps at the opportunity with bloody single-mindedness to offer an Own the Cons Hot Take on.
So yeah, I'm sure his coverage will be forthcoming, and majestic.

Very related: Alberta, Sasketchewan announce an end to nearly all covid restrictions.
Not immediately, alas, but soon.
Canada's chief public health officer says provinces are going to have to find a balance between containing the virus with public health measures and returning to a sense of normalcy as the Omicron wave continues to crest.

Several provinces have signalled their intention to do away with some, if not all, remaining COVID-19 health restrictions.


Alberta Premier Jason Kenney says his government will announce next week a date to end Alberta's COVID-19 vaccine passport, as well as a phased approach to ending almost all COVID-19 health restrictions by the end of the month, provided the pressure on hospitals continues to decline.

Meanwhile Saskatchewan Premier Scott Moe says he's committed to ending all COVID-19 restrictions soon, even while COVID-19-related hospitalizations are at their highest level since the pandemic began.

Chief public health officer Dr. Theresa Tam said even a complete series of two COVID-19 vaccines offers little in the way of protection against infection from the Omicron variant, and boosters work against transmission only for a period of time.

She said vaccine mandates should be re-evaluated over time, but they must be weighed against the potential effect on fragile health systems and how many serious cases they can handle.
Exit question: Did the truckers win?
Exit answer: Yes.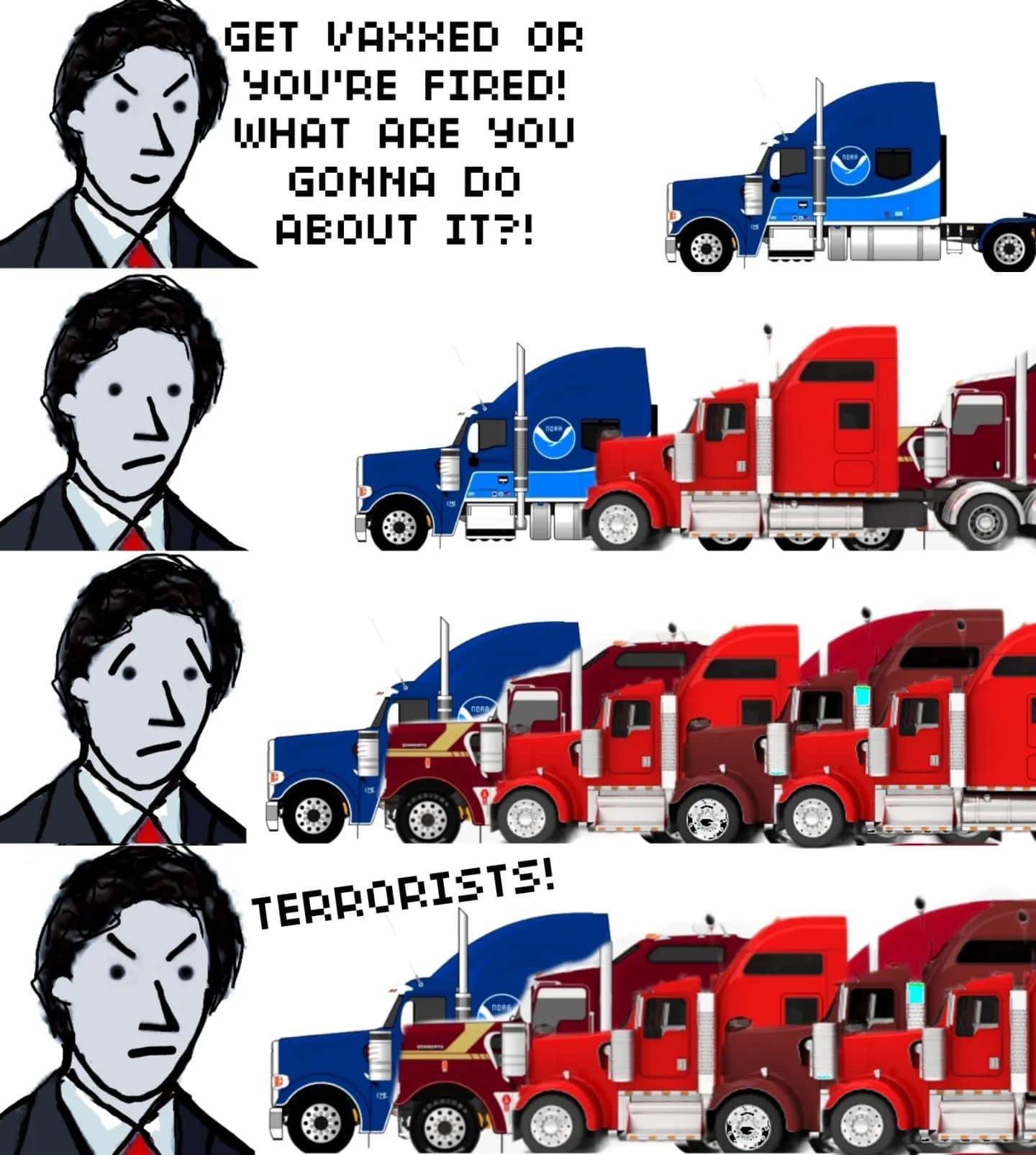 And that's bad because they're not The Smart People who have nearly an unbroken record of being completely 100% wrong on every major question for the past 30 years.
But they have majestically-creased trousers and this makes their astonishingly large list of serious, life-taking mistakes elegant and refined and sophisticated and urbane, which is infinitely preferable to the crude, boorish, vulgar correctness of the Deplorables and scruffy populists.

posted by Ace at
03:04 PM
|
Access Comments