« Christopher Rufo: Whoopi Goldberg Merely Spoke Aloud on Television the Messaging About "The Jewish Problem" That CRT "Scholars" Have Been Pushing For Years
|
Main
|
Quick Hits »
February 03, 2022
Fake Jake Tapper: If Fredo Ratted Out Zucker and Zucker Got Fired, Doesn't This Mean the Bad Guy Won?
Plus: Zucker Coached Andrew Cuomo On How to Zing Trump, and So Much More
As Instapundit said, "Fake Jake, you're at CNN. In any internecine struggle, the bad guy is going to win."
But but but wait -- I thought the eternally-preening moral scold Jake Tapper was so righteous and concerned about any bad behavior, and certainly an marital infidelity or grabass with a work subordinate, that he'd be glad that a Dirty-Bird Rule-Breaker like Jeff Zucker was fired?
And yet... no. Fake Jake, the Incorruptible Honking Goose of Snarkily Righteous Chyrons, is concerned the work-fornicator lost his job.
Interesting that Fake Jake is so concerned. Is that because Fake Jake, like Brian Stelter, is worried that with Jeff Zucker gone, the clownish, pugilistic, Twitter-beef clickbait outrage form of "journalism" Zucker encouraged -- and Fake Jake was only too eager to practice -- might become an embarrassment at The New CNN, and Fake Jake might be sent back to the minors at, say, Salon?
Or, who knows: Is he worried that Fredo Cuomo might have other Dirty Secrets Bombs to drop on CNN?
"Jason, if you could address the perception that Chris Cuomo gets fired by CNN, Chris Cuomo hires a high-powered lawyer who has a scorched-earth policy, who then makes it very clear to the world that unless Jeff gives Chris Cuomo his money, they're going to blow the place up," Tapper asked Kilar, according to a recording of the meeting obtained by the news site.
As you probably have read, CNN fired Cuomo with $18 million remaining on his contract and took the position that his journalistic misbehavior constituted cause disobligating them from having to pay that out.
Cuomo responded, it seems, with a blackmail threat and then a blackmail execution.
"Stuff starts getting leaked to gossip websites about Jeff and Allison... and then weeks later, Jeff comes forward, discloses this and resigns -- not willingly," Tapper continued. "An outside observer might say, 'Wow, it looks like Chris Cuomo succeeded," Tapper told Kilar during a tense staff meeting on Wednesday.

"He threatened, Jeff said we don't negotiate with terrorists, and he blew the place up."

Tapper then asked Kilar: "How do we get past that perception, that this is the bad guy winning?"

Kilar told Tapper in response: "When it comes to perception, all I can offer you, Jake, is: every minute of every day we've got what's on the screens [of CNN]. I believe that's what's going to define us going forward, far more than what's happened today and what you alluded to."
So what's going on here is that we have a changing of regime and the pissants associated with the old regime -- Jeff Zucker's toadies and incompetents -- are very worried about how they will fare in a Post Zucker Environment.
I mean, if there were any justice, they'd all be fired -- they're absolutely terrible as "journalists" and on top of that, their ratings are pitiful -- but the media is so incompetent that who knows. They might decide that this band of perennial basement-dwellers just needs some new bumper music and lighting.
Speaking of grossly incompetent toadies of the outgoing regime who should be very, very worried about their next paycheck:
There are calls coming for CNN to fire Brian Stelter -- for either knowing about the Zucker affair and concealing it, or not knowing about it and proving he's the least competent "journalist" in a field in which incompetence abounds.
What's amazing to me is that he's still acting as Zucker's loyal house-potato. It's like he just can't face the fact that his Meal Ticket is really gone.
"CNN is facing calls to fire its chief media correspondent, Brian Stelter, for not exposing the ongoing romantic relationship between Jeff Zucker and senior executive Allison Gollust.

Stelter, 36, the network's top media reporter and host of its "Reliable Sources" Sunday show, either dropped the ball by not exposing Zucker and Gollust or showed a stunning lack of awareness by not being privy to their romance, a CNN insider fumed to the Daily Mail.
Standard pause for everyone to say "Wait, he's 36?!" and then google "What was the thing benjamin button had but in reverse"
"The network needs to step up and fire Brian Stelter," the unidentified source said. "He is allegedly our top media reporter -- yet he failed to report on the scoop that everyone in the office knew. And if he wants to say he didn't know, he is truly terrible at his job."

...

The cable news vet who spoke to the Daily Mail insisted the same fate should await Stelter.

"Brian Stelter should be calling his agent to start looking for another job," the source said. "He's been Jeff Zucker's water boy for years and no one believes he didn't know about all of this."
Gunga Dim.
...

"He's been sitting on his moral high horse doing Jeff's bidding and ripping Fox and every other media outlet that Jeff tells him to while his ratings crash and burn," the source told the Daily Mail. "Where was he on the biggest story at his own network after chastising everyone else?"
Other extremely useless CNN employees are also very worried about their jobs.
"Jeff is a remarkable person and an incredible leader," [Alysein] Camerota said. "He has this uncanny ability to make, I think, every one of us feel special and valuable in our own way, even though he is managing an international news organization of thousands of people."
Janice Dean pointed out that Alysein (or whatever porn spelling she uses) used to talk about Fox being a den of iniquity but now she's all about Zucker and his Mistress.
And here's another absolute no-talent who must surely know she's on her way out with the old regime:
Ana Navarro-Cardenas - 6h

Grateful that during merger w/ATT, which required government approval, when Trump people pressured #JeffZucker to fire me and other Trump critics, he basically told them to fuck off. He steadfastly defended CNN and had his people's back, even when it was hard and brought consequences.
You're a low-functioning, low-class psychopath and your IQ is squarely in the subnormal range. You look like you smell like a circus's run-off. Shut the fuck up and go back to beating rugs with your misshapen peasant club-feet and giving spastic hand-jays to undiscriminating rat-catchers, you hideous bestial bloated-milk-sausage-shaped She-Tard.
Thanks to Jane D'Oh for that.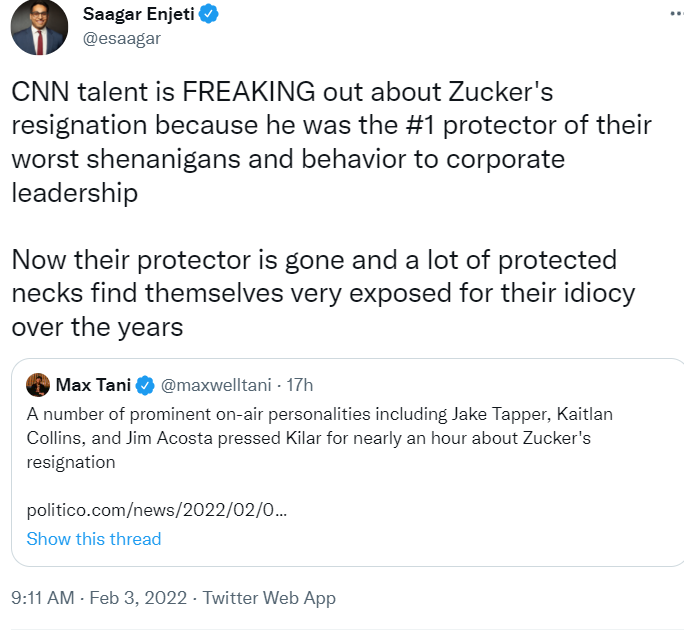 Yeah I just told them all that, Dum-Dum.
Say, you know how Allison Gollust claimed their affair began during the pandemic? Because if she admitted it started earlier, it would look like her entire career of promotion after promotion after promotion was just due to dick-riding the ugliest Weeble in the box?
Well, let's say it started earlier.
Let's say it started... much earlier.
Megyn Kelly @megynkelly

38m

Rolling Stone:

- Zucker's affair w/Gollust began in *1996* when she was a TRAINEE at NBC & he was EP of Today. Their statements that it began recently are "total bullshit." They lied to Warner "over & over again."

-w/in one year she went from trainee to Sr Publicist for Today
But sources who worked closely with Zucker and Gollust dating back to their days at The Today Show in the mid-Nineties dispute their statements in the memo. In reality, these sources tell Rolling Stone, Zucker became romantically entangled with Gollust back in 1996, when she was a trainee in NBC's corporate communications group and he was the married executive producer of The Today Show. "It was the worst-kept secret, but Jeff was seen as untouchable," says one insider. "And their statements [in the memo] are total bullshit."
When Allison Gollust said "our relationship evolved during the pandemic," she meant they started doing Boris and Natasha Role-Play Scenarios. And pegging.
So... every single promotion was awarded while standing watch on the hurricane deck of the good ship Zucker.
So, okay, Gollust will not be remaining at CNN. I read yesterday, I think maybe Megyn Kelly retweeted it, that women at CNN are demanding she goes.
Women especially don't like other women dick-riding their way to promotions.
Jeff Zucker must be really kicking himself for letting Gollust pillow-talk him into doing favors for I Fratelli Cuomo. CNN is investigating this relationship.
CNN boss Jeff Zucker and his paramour Allison Gollust had an inappropriately close friendship with former Gov. Andrew Cuomo -- personally calling him to do news segments with his brother Chris Cuomo and even coaching him on what to say during his infamous COVID briefings, The Post has learned.
Zucker is always telling his stupid meat-puppets what to say on-air. Fake Jake Tapper is just his ugly marionette.
They all are.
Gollust and Zucker -- the latter of whom dramatically quit CNN Wednesday after their affair was exposed -- also gave Andrew Cuomo endless positive coverage because of their relationship, sources said.

"While those 11:30 a.m. daily briefings by Andrew were across every network, they boosted ratings in a poorly performing slot for CNN," one source said.

According to a source [close] to Cuomo, "Zucker and Gollust even advised Andrew what to say -- how to respond and particularly how to hit back at [President Donald] Trump to make it more compelling TV.
Why don't people trust CNN?, fat sack of fat Brian Stelter asked for the hundredth time.
"No network head should be coaching an elected official," the source added. "It's absolutely the antithesis of CNN's standards of business."
LOL, you're adorable.
Zucker also wanted more Andrew Cuomo appearances on Fredo's show:
Zucker also directly reached out to Cuomo at least once to urge him to keep coming on his brother's show, according to the source.

"They wanted more appearances," the source said.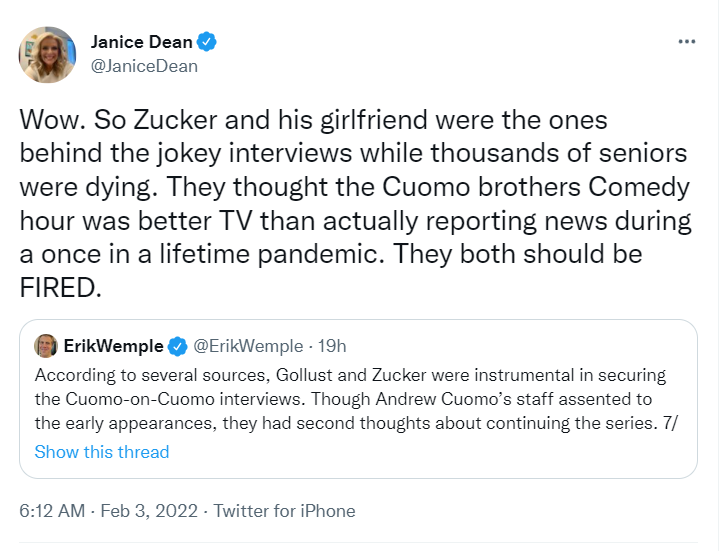 BTW, here's how the affair was revealed:
Zucker was asked about his closeness to Andrew Cuomo by the law firm Cravath, Swaine & Moore which is in the process of doing an independent probe into Chris Cuomo's efforts to help is governor brother battle sexual misconduct allegations.


Zucker was interviewed by the law firm last week, during which details of his affair with colleague Allison Gollust emerged, forcing him to step down from CNN.
And CNN isn't investigating idly -- Rolling Stone says that CNN has enough dirt, they think, to deny Zucker any severance payment. The more dirt they dig up, the more solid case they have for the eventual lawsuit.
By the way: Now that it's clear that Zucker and Gollust were behaving completely unethically with Andrew and Fredo Cuomo, we know that it wasn't Fredo Cuomo's unethical journalistic behavior that got him fired.
Which means it must have been... the sex charges against him that came to light during the review of Fredo's behavior.
So maybe Zucker has his own bomb to drop on Fredo.
Remember, John Malone had already been angling to "evolve" CNN to a pre-Zucker state.
This might have been a good pretext to get rid of the old regime while also not paying off the remainder of the old regime's contract.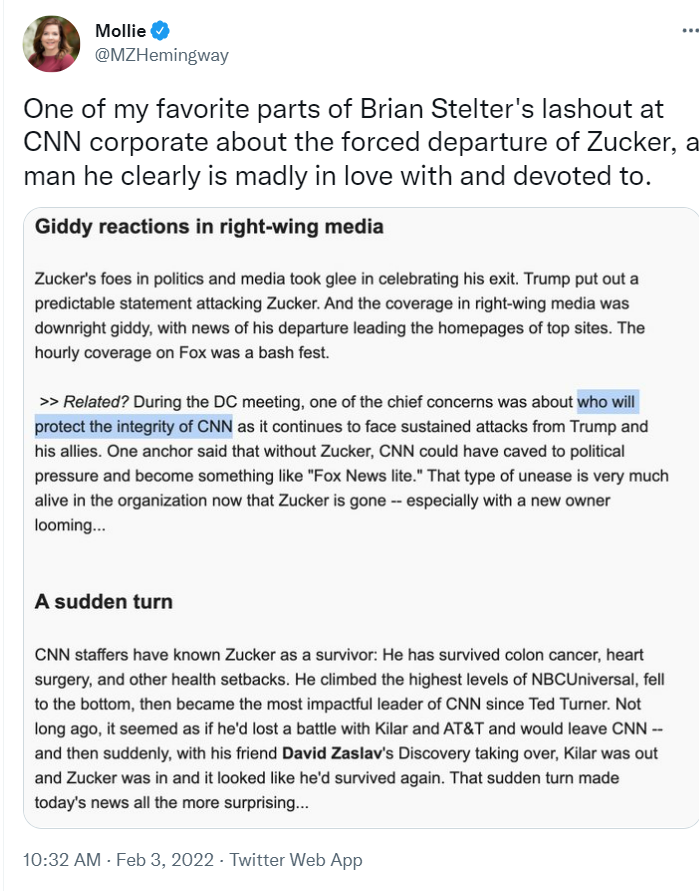 No but seriously when Tater looks at Zucker he sees
Swanson Hungry Man Meat Loaf Deluxe Frozen TV Dinner
Tater doesn't eat without Zucker.
And Tater likes eating.
Where does Tater go after this?
Whither Tater?

posted by Ace at
04:51 PM
|
Access Comments