« The Washington Redskins Have a New Name and It's...
(drum roll)
...it's...
(drum roll continues)
...it's...
... Fucking Stupid
|
Main
|
Beaver Olympics Cafe »
February 02, 2022
One Day Before That Radar Online Article Exposed the Zucker-Gollust Affair, Jeff Zucker Sent Out His Political Disinformation Officer Brian Stelter to Run a Hit Piece Against Radar Online
Plus: Is This a Fredo Revenge Porn Op?
CNN, everyone. The most trusted name in " " " news. " " "
How does Tater keep his job after this?
The Radar Online article everyone's linking, the one that "scooped" the story that literally everyone in the corrupt media knew about the Zucker-Gollust affair, came out a month ago.
One day before, Zucker's obese, clownish "Media Reporter" contrived a pretextual reason to call them "liars" that avoided mentioning the Zucker-Gollust affair story.
But obviously, he was sent out to lie on behalf of Jeff Zucker.
This has literally been his job for ten years -- lying at the order of Jeff Zucker.
How does he keep his job in a company not headed by Jeff Zucker?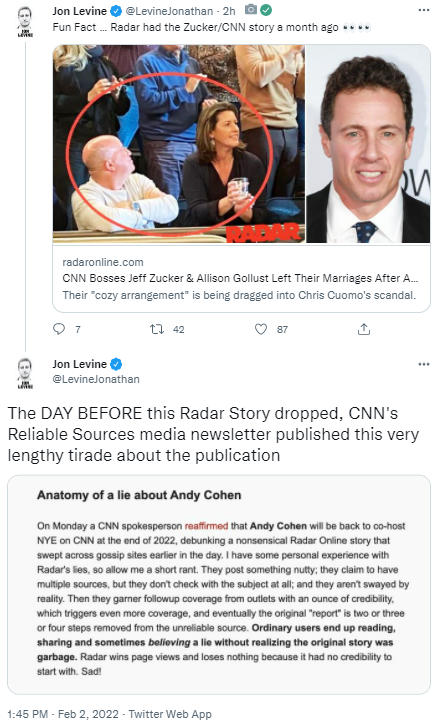 Here's that hit Tater ran: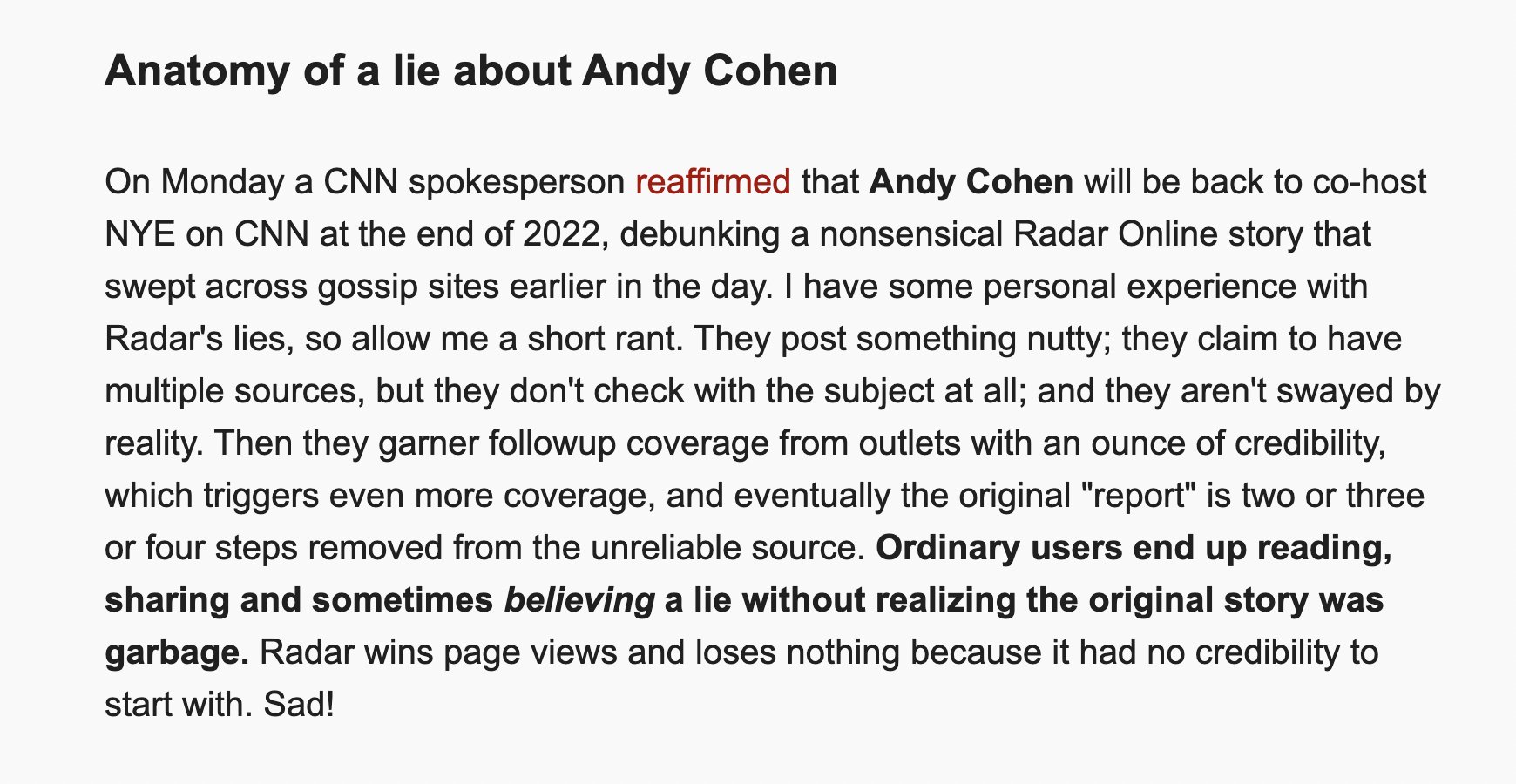 Brian Stelter has essentially been acting as the comms director for an ugly, squat toadish Political Machine Boss named Jeff Zucker, who runs constant political campaigns against his political enemies, and political support campaigns on behalf of his political allies.

Janice Dean
@JaniceDean

My friend @megynkelly @MegynKellyShow going all in on the @CNN Zucker story


"An open secret in the media world. No one would touch it. (Zucker) was vindictive.

"This is just the beginning. This is going to be a huge mess for @CNN" reporter from @radar_online who broke the story.
What could they mean? Well, who knows. But bear in mind that they had someone feeding them information. Yes I know the breadcrumbs were out there but people in the media are lazy and even when they're not lazy, they'd like the confidence of having a strong source when they're about to post something that would be defamatory without the defense of truth.
And that someone feeding them dirt on Zucker just might have been...
Fredo Cuomo, who was fired by CNN and Zucker after having been protected by them for a year.
And Chris Cuomo is now demanding that CNN retain all correspondence involving Zucker and Gollust as part of his wrongful termination lawsuit.
Matthew Belloni @MattBelloni

Potentially important: I'm told CNN received a litigation hold letter recently from Chris Cuomo lawyers, demanding, among other things, preservation of all communications between Zucker, comms chief Allison Gollust, and Andrew Cuomo.
If this is Fredo's work -- what a nasty, vindictive piece of shit. You'd think that protecting you for a year would enough, but nah. He wants to get paid for being a creep, so he's outing the guy who protected him, and the woman who protected him, to get him that money.
And, since I wrote this, even Tater is now acknowledging: Yes, Fredo might be trying to burn the place down:

Your Moral Exemplars, everyone. Please stand up and applaud the Moral Paragons who instruct you as to how you are to live and think on a nightly basis. Please keep applauding. Don't mind your hands turning red, just keep applauding these Heroes.
Question: Did Zucker and Gollust protect Fredo precisely because they knew he was a vindictive, blackmailey piece of shit and would burn them down if they disciplined them, just because he's a spiteful piece of shit?

Megyn Kelly's show just went up. She interviewed the reporter of that Radar Online piece. The reporter makes it sound like Fredo was not her source, saying that she had multiple sources at CNN, and it was an "open secret" and all that.
But Kelly had another guest on who said that both Cuomo brothers have the reputation of being vindictive f***s who love using blackmail-type information to punish and discipline their enemies.
By the way, can NeverTrump drop the fainting couch act about Trump violating the precious norms of DC now? NeverTrump are mostly political/media operators living in DC and the media echo chamber who knew all this shit and chose to remain silent about it. They also probably all knew about the Cuomos' love of using blackmail-type information to punish information.
And they're fine with all that. But how they pretend to be scandalized by Trump's connections to the National Enquirer. Oh, their virgin ears, their innocent eyes...!
Fuck you, you lying monsters.
One more important point: Kelly points out that Allison Gollust might have a big important reason to lie about when the affair began, beyond maintaining whatever fictions she crafted in her divorce proceedings. Just as it was against corporate rules for Jeff Zucker to continually promote his sex partner above other employees over years and years and years, so was it wrong for Allison Gollust to sleep her way to the C-suite.
She doesn't want to admit she basically dick-rode her way to Chief Marketing Officer, so she's claiming she didn't start sleeping with Zucker until after her last promotion.
I don't know if she faces any legal problems over that, but certainly it reduces her social and corporate standing. I can't imagine Discovery is looking at her like "Whoa, what a hot corporate prospect this up-and-comer is!"
NPR's media reporter -- their Media "reporter" -- doesn't think that Fox should be covering this media story so much. I guess he think they should move on to other stories.

The media reporter doesn't think this media story deserves coverage, guys.
Maybe he's angling for Tater's job.
And just coming over my transom...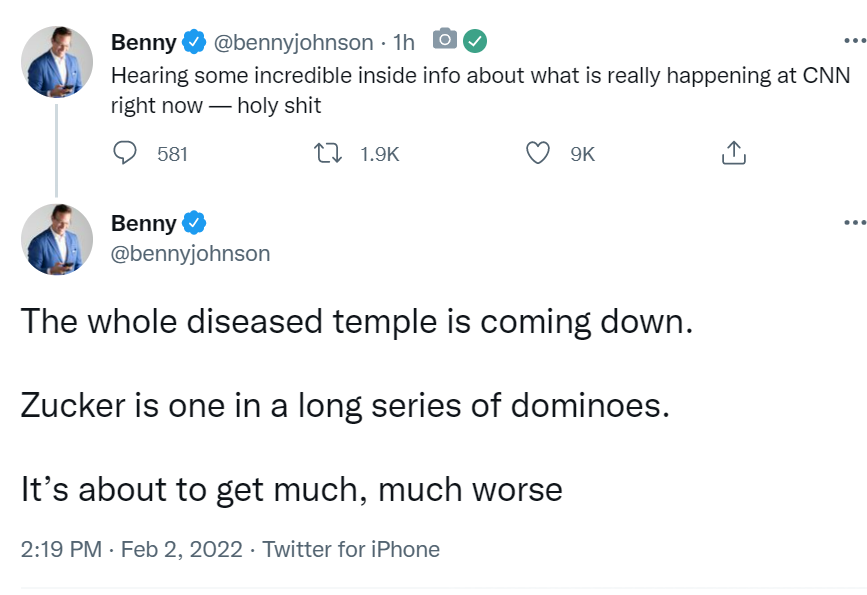 Bill Kristol's --
dirty sext-tweets--
are not nearly as sexiful---
as "the diseased temple" ---
coming down--
in my pants ---.

Related: Tater thinks it's bad and wrong that Joe Rogan has people's trust and CNN doesn't, and someone should do something about this!!!!
Gee I wonder why people might think that CNN is a nasty, bitterly personal, agenda-driven score-settling untrustworthy self-interested political smear operation...?
Exit question:
What's Zucker's next job, do you think?
Podcast, right? Ryan Long is always saying that every guy who gets #MeTooed out of a job, or who just can't get work any more because he's White and Male, starts a podcast.
So a podcast.
With his producer and co-host, Allison Gollust.
The Real Exit Question:
Seriously there's no way that Tater can keep his job, right? He's a clown and he's now exposed as a worse whore for Zucker than Gollust.
His credibility can only be mapped with imaginary numbers.
There's that old saw, "too closely associated with the outgoing administration." Tater is a Renfield to Zucker. He is the most embarrassing, cringing servile toad-creature to Zucker.
CNN cannot go forward, cannot claim to be "The New CNN," cannot attempt a revamp, with toxic reminders of the Zucker years like Tater on staff.
Or, for that matter, like Oliver Darcy.
Or Alysin Cammerota.
Or Breanna Keilor.
Or Don LeMon.
Or Anderson Cooper.
Or Jake Tapper.
Let's face it, there's gonna have to be real bloodbath if Discovery really wants to turn the page on the Zucker disaster and attempt a "This is the new CNN" re-brand.

posted by Ace at
06:36 PM
|
Access Comments