« Whoopi Goldberg: The Holocaust Had Nothing to Do With Race
|
Main
|
Justin Trudeau Flees Ottawa Residence as Freedom Convoy Rolls Into Town »
January 31, 2022
Virginia's New AG Jason Miyares Issues Legal Opinion Ruling that Virginia State Universities Cannot Require the Covid Vaccine as Condition for Enrollment or In-Person Attendance
Maybe we should talk about being "gray-pilled:" you used to be black-pilled, but you are willing to consider the possibility that some politicians are good actors who may do some genuine good.
Jason Miyares
@JasonMiyaresVA

BREAKING: I've issued my first ever Attorney General opinion -- Virginia state universities cannot mandate the COVID-19 vaccine as a condition for enrollment or in-person attendance.
His opinion notes that while the Virginia General Assembly has had two years to pass a law requiring vaccines for enrollment or attendance at its state schools, it has chosen not to do so. It also dispenses of any argument that somehow the schools' enlistment by the VA Department of Health in helping to distribute vaccines somehow empowered them, or directed them, to require mandates through penumbras and emanations.
"As recognized in the prior opinion, '[t]here is no question that the General Assembly could enact a statute requiring the COVID-19 vaccine for in-person school attendance.' As of this writing, it has not done so. Over the course of the COVID-19 pandemic, the General Assembly has amended other statutes to address pandemic-related issues," Miyares said.

Miyares adds that although the General Assembly specifically authorized public universities to assist the Department of Health and local health departments in the administration of the COVID-19 vaccine, the legislation did not grant them the power to impose vaccine requirements.

In an interview with NBC12 on Friday, Attorney General Miyares addressed this legal opinion and reasoning behind issuing this by referring to this section listed in the Code of Virginia.

"Section 23.1-800 lists six very specific vaccines that you're required to take or you're required to have prior to attending a Virginia four-year college," Miyares said.

Miyares believes this comes down to following the law.

"There's a mechanism in place .The mechanism is you go through General Assembly and you change the Code of Virginia and you add it to those six vaccine that are required under the law," he said. "I'm vaccinated, my whole family is vaccinated, and I'm boosted and I'm very pro-vaccine, but this isn't what I say about the vaccine, this is about what the law says."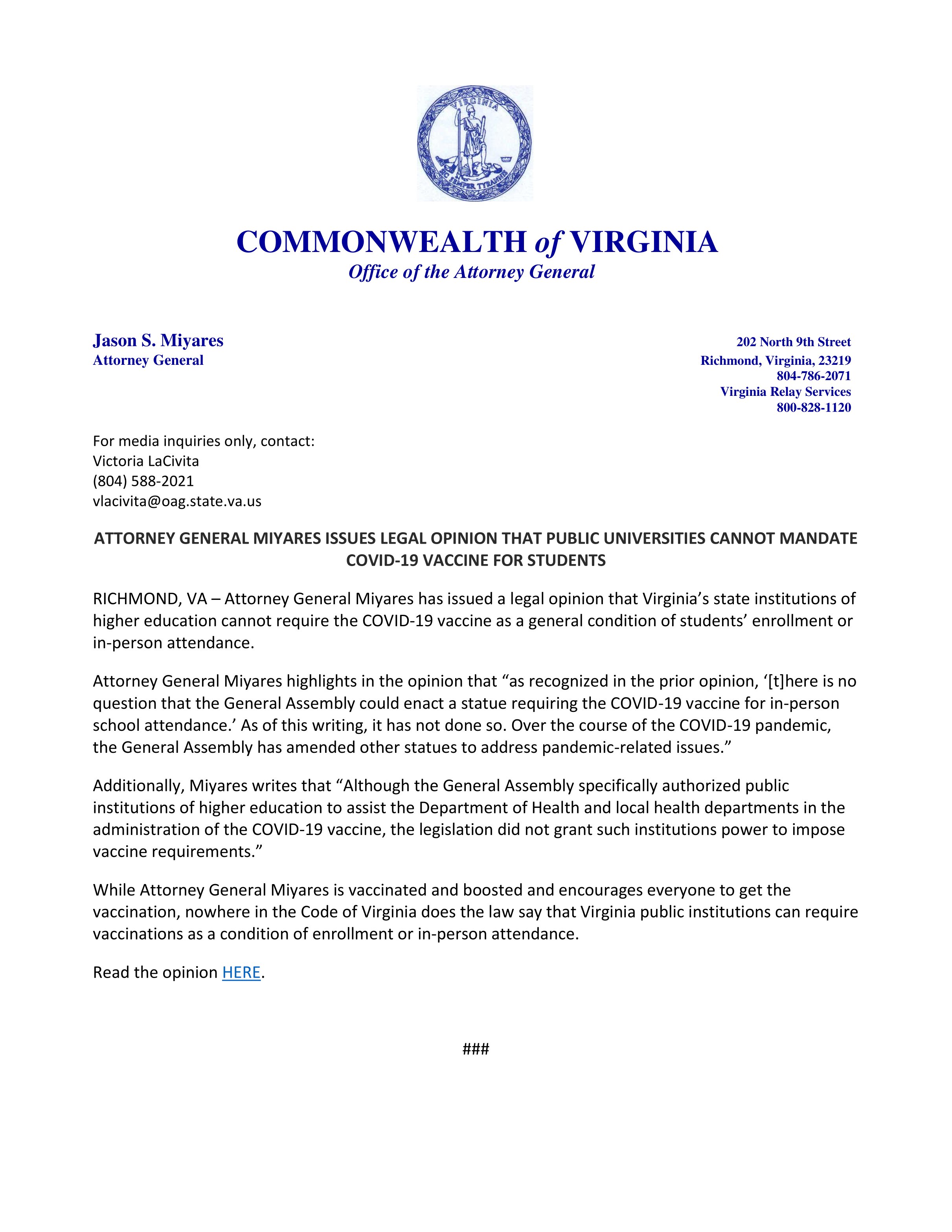 He seems to already be building a resume for a higher office. And why shouldn't he?

posted by Ace at
02:22 PM
|
Access Comments