« The Morning Rant: Los Angeles Ports Are Now Handling Less Volume Than Before Biden Announced His Fix
|
Main
|
Whoopi Goldberg: The Holocaust Had Nothing to Do With Race »
January 31, 2022
ABC Poll: Americans Have "Sharply Negative" Reaction to Biden's Vow to Discriminate On Basis of Sex and Race in Filling Supreme Court Seat
Biden's promise to appoint a black female Supreme Court Justice if he became president (or, as it turns out, " " " president " " ") was a quid pro quo for getting the endorsement of influential black congressman Jim Clyburn.
As the New York Times reported:
Mr. Biden made the promise at a debate in February 2020, just days before facing his Democratic rivals in the South Carolina primary, where Black people make up a large portion of the party's voters. At the time, his campaign was struggling amid losses in two of the early presidential contests.

"I'm looking forward to making sure there's a Black woman on the Supreme Court to make sure we in fact get everyone represented," Mr. Biden said that night.

The promise helped Mr. Biden secure the support of Representative James Clyburn, a veteran Black Democrat from South Carolina, just days ahead of the party's contest in that state. Last year, Mr. Clyburn confirmed a report in the book "Peril," by Bob Woodward and Robert Costa, that he had urged Mr. Biden to make the promise during the debate."
Biden is now delivering on that gross political quid pro quo, but Americans are not happy about it.
76% want him to consider "all qualified candidates," not just black female ones.
During the spring 2020 presidential primaries, days before his set of big wins on Super Tuesday, Biden pledged to nominate the first Black woman to the Supreme Court, if elected. Now, with the chance to do so, just over three-quarters of Americans (76%) want Biden to consider "all possible nominees." Just 23% want him to automatically follow through on his history-making commitment that the White House seems keen on seeing through.

Although the poll's sample size was not large enough to break out results for Black people, only a little more than 1 in 4 nonwhite Americans (28%) wish for Biden to consider only Black women for the vacancy. Democrats are more supportive of Biden's vow (46%) than Americans as a whole, but still a majority of Democrats (54%) also prefer that Biden consider all possible nominees.

The poll finds low ranks for Biden in all other areas, of course.
A glaring weak spot for Biden is inflation, where 69% of Americans disapprove of his handling of this key issue....

Troublingly for the White House, only 1% of Americans view the state of the nation's economy as "excellent,"and only 23% say it's "good." Three out of four Americans said the state of the economy was "not so good / poor."

Biden sees other troublesome disapproval numbers surrounding his handling of gun violence (69%), crime (64%), immigration (64%), the situation with Russia and Ukraine (56%) and the country's economic recovery (56%.)

The country is split on his handling of the coronavirus pandemic, with 50% approving and 49% disapproving.
Democrats continue turning from him as well:
And while support from Democrats trends higher than the population as a whole, Biden's support within his own ranks is softening. In August, 91% of Democrats approved of Biden's handling of the pandemic. Now, that figure has dropped to 82%. The drop in support among Democrats around Biden's handling of the economic recovery is even clearer, from 89% in August to 73% now.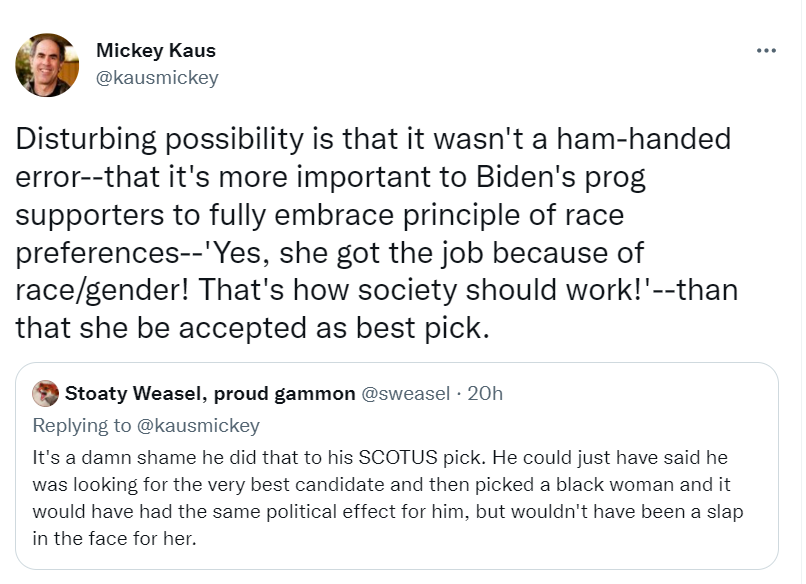 posted by Ace at
12:25 PM
|
Access Comments