« The Morning Rant - Woke Corporate PR Campaigns As Purposeful Distractions From Ugly Problems
|
Main
|
Biden Administration Has Turned ICE Into an "Unofficial Travel Coordination Agency" for Illegal Aliens, Many With Criminal Records
Biden Infiltrates Man on Terror Watch List Into US, Then Helps Him Vanish »
January 28, 2022
Pennsylvania Commonwealth Court Strikes Down Lawlessly-Imposed 2020 Mail-In Ballot Scheme as Unconstitutional
Want to see how upset the leftwing propaganda press is about this?
A statewide court declared Friday that Pennsylvania's expansive two-year-old mail-in voting law is unconstitutional, agreeing with challenges by Republicans who soured on mail-in voting after then-President Donald Trump began baselessly attacking it as rife with fraud in 2020's campaign.
Not so baselessly now, eh?
The decision, by a five-judge Commonwealth Court panel of three Republicans and two Democrats, could be put on hold immediately by an appeal from Gov. Tom Wolf's administration to the state Supreme Court.
Here's Newsweek, full of cope:
With the Pennsylvania Supreme Court ruling that the state's 2019 law to expand mail-in voting is unconstitutional, former President Donald Trump has praised the decision.

Trump has been an outspoken detractor of mail-in voting, having claimed that mail-in ballots were fraudulent and cost him the 2020 presidential election. Lawsuits against ballot counters that took these ballots were also filed, although nothing has come out of them as of 2022. After multiple investigations and independent findings, the vast majority of mail-in ballots were legitimate, despite the former president's repeated claims of voter fraud.
Oh, the vast majority? I'm so reassured. I'm so reassured that only about 5% of votes were faked in an election decided by less than 5% of votes.
And they always ignore the fact that they deliberately made it impossible to determine which votes were fake by deliberately turning off even the most basic security measures, like signature and address matching. They're saying "There's nothing in the record to prove these votes were fake" when they took every deliberate step to eliminate the record completely.
So yes, "there's nothing in the record." You destroyed the record.
According to a Commonwealth Court filing released Friday, the court ruled that Act 77, allowing residents to vote by mail in Pennsylvania, violates Article VII, Section 1 of the Pennsylvania constitution.

The Commonwealth Court denied the Pa. Department of State acting secretary's application for summary relief.

In the ruling, Commonwealth Court President Judge Mary Hannah Leavitt wrote, "If presented to the people, a constitutional amendment to end Article VII, Section 1 requirement of in-person voting is likely to be adopted. But a constitutional amendment must be presented to the people and adopted into our fundamental law before legislation allowing no-excuse mail-in voting can be 'placed upon our statute books.'"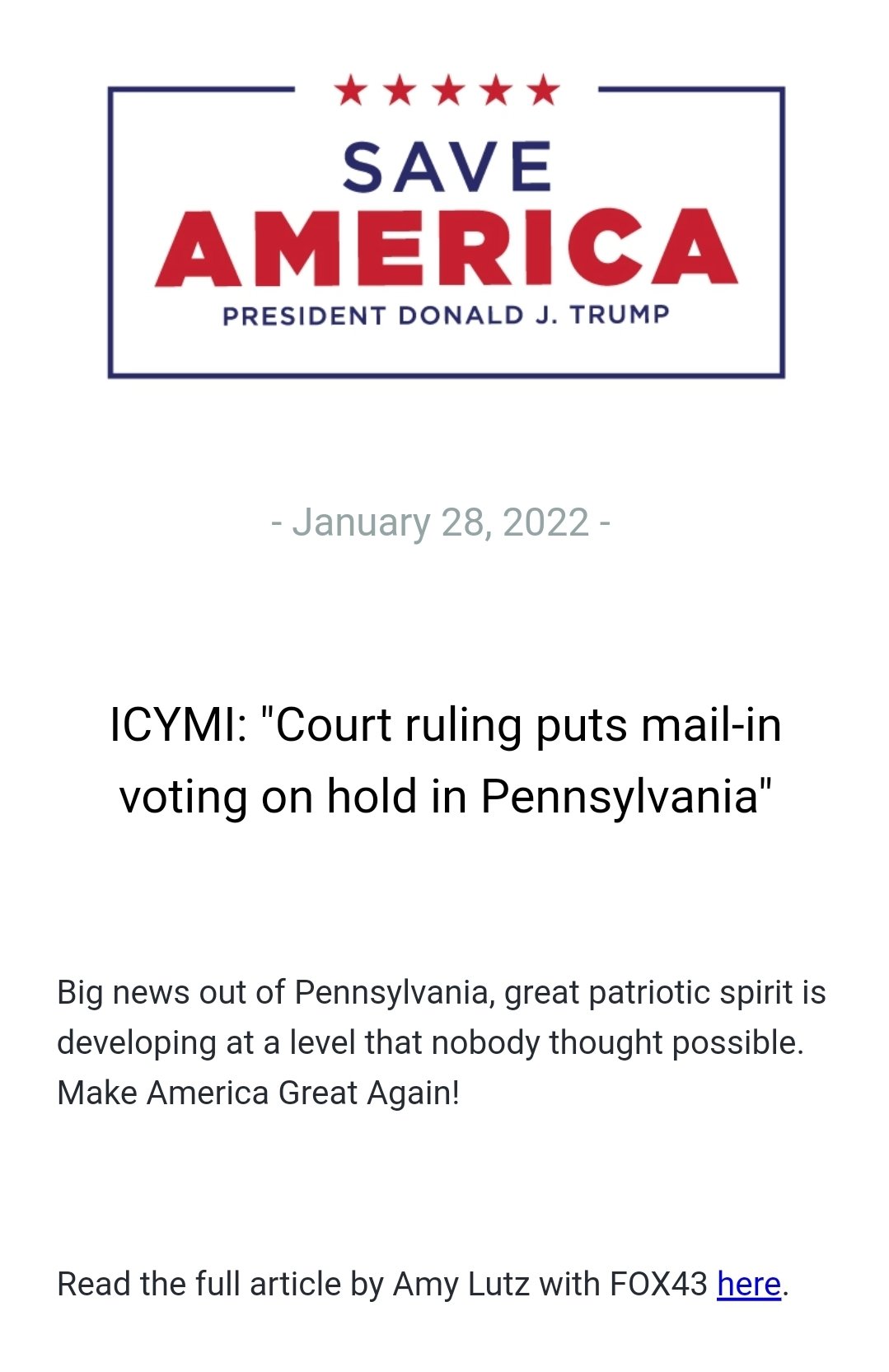 Note that a Wisconsin judge had previously ruled that the drop-boxes deployed by Democrat governor Evan were also unconstitutional and illegal.
So that's two.
Update: Hot Air won't be able to cover this until Karen Townsend and John Sexton come on shift.