« New Virginia AG Jason Miyares Fires Two Virginia University Lawyers, One of Them Currently Serving as... Head Investigator of the January 6 Committee
|
Main
|
"Let's Go Brandon" Ad Is Just So Brandon »
January 25, 2022
Authoritarian-But-Incompetent White House Withdraws OSHA Vaccine Mandate After Supreme Court Drubbing
The Biden administration's COVID-19 vaccine-or-test mandate for large employers is officially being scrapped Wednesday, according to the Occupational Safety and Health Administration.

The Biden administration's COVID-19 vaccine-or-test mandate for large employers is officially being scrapped Wednesday, according to the Occupational Safety and Health Administration.

The federal workplace safety agency's mandate has been forcing businesses with at least 100 employees to require vaccinations or weekly testing for their workers.

While OSHA said it had made the decision to remove the mandate, the agency was not withdrawing the vaccine-or-test option as a "proposed rule."

"OSHA strongly encourages vaccination of workers against the continuing dangers posed by COVID-19 in the workplace," a statement from the agency said.
I don't know what that means. Just going by what words usually mean, I guess they're taking the rule out of the category of operative effect and leaving it as "proposed," but not yet implemented. I think they hope that companies will continue to impose their rule on the strength of their "strong encouragement," even if the rule itself is no longer in effect.
Meanwhile...
The podcast Morning Rising made an interesting point about corporations and their basic stance against general freedom: Companies don't like taking the heat for either imposing a mandate, or not imposing a mandate. So behind the scenes they tell the government to impose a mandate. Or, less often: forbid mandates.
Either way, they demand that the government act, so that they can point to the government as the bad guy.
This may be good for business, and this sort of cowardly blame-shifting may be how corporate stooges routinely advance themselves, but this is anti-freedom. The government cannot intrude into the lives of citizens or of corporations even if the corporations themselves ask the government to, and the GOP -- always eager to do their deep-pocketed corporate pals a solid -- cannot do Big Business a favor if it means reducing liberty and imposing burdens and mandates on individual citizens.
If you remember, there was a lot of chatter that "companies want Obamacare" in 2008 -- yeah, I bet that's true, in the sense that companies did not want to argue with employees about health care benefits, they actively wanted the government to impose a one-size-fits-all solution, this is it, no more no less, no arguing no negotiating, so once again they can point to the government as The Bad Guy if employees didn't like their health insurance.
This is no reason to accede to their anti-democrat demands. I don't give a shit if every boss in the country wants to give up liberty to avoid some arguments with his employees.
We do not suspend the Constitution so that bosses and corporate CEOs will have fewer headaches at work.
And this is just one data-point suggesting why it's time for conservatives to split from their opportunistic, anti-freedom, conformist, pro-government-control, and very left-leaning corporate/mega-business "partners."
So we got Obamacare and vaccine mandates because our Very Good Corporate Friends and our Very Loyal GOP Representatives got together and agreed to sell us out, without bothering to let us know they'd struck this bargain.
Our interests are not aligned. Period.
They haven't acted as partners -- they've used us and betrayed us again and again and again.

It's time for a bit of payback on that score.
Oh, and meanwhile: Joey Waffle Cone's having a big day!
Philip Melanchthon Wegmann @PhilipWegmann


President Biden exited Jeni's Splendid Ice Creams in Washington, DC at 2:25pm.

He emerged with two scoops of what appeared to be chocolate ice cream, though the pool could not confirm the exact flavor.

Bulletins to follow as warranted.
4 Everyone has a mask on but Brandon. He's just trolling us now. Posted by: Joe XiDen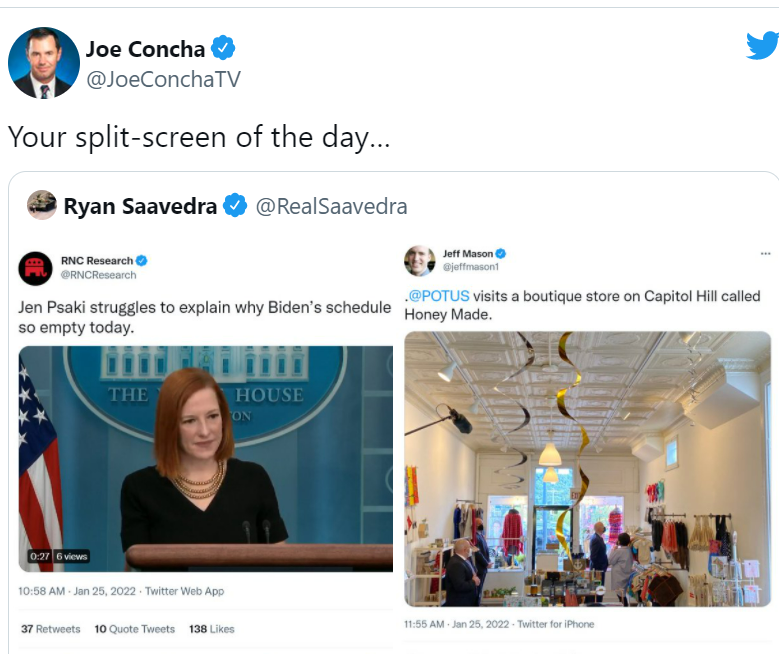 There were anti-vaccine mandate protests in the US and around the world over the weekend:
The anti-vaccine-mandate protest in Brussels.
Note that antifa opportunistically took advantage of the cover of the protests to begin their usual campaign of violence and mayhem and attacking cops.
If those antifa attacks on cops look insurrectiony to you, that's because you have Racist Eyes. Those are just mostly peaceful assaults.
In DC, where democracy somehow survived an attack of several grandmas and one guy dressed like a moose:

posted by Ace at
04:59 PM
|
Access Comments