« The Morning Rant: Monday 01/24/2022
|
Main
|
Natural Immunity Wasn't Just Stronger Than Vaccine Protection Against Delta -- It Was Six Times Stronger »
January 24, 2022
America's Back, Baby!
Ice Cream Joey's best friend Vlad accepted his invitation for a Minor Incursion clambake, looks like.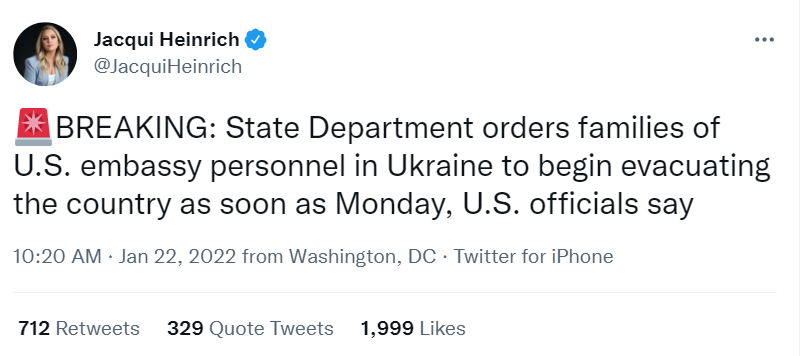 Ukraine, which by the way poured millions into the pockets of Hunter Biden and who knows how much for "The Big Guy," is attacking Biden for his newest show of weakness.
Earlier, he invited a minor incursion.
Now, he orders an evacuation, engaging in Preventative Deconfliction -- "deconfliction" being the coordination of opposed forces to reduce the risk of accidents or incidents -- which all but clears the way for a minor incursion.
I'm not arguing we should go to war on behalf of a country that meddled in the 2016 election far more than Russia did -- on behalf of the Democrats, of course, which is why it's not a scandal -- but didn't the Deep State crucify Trump for supposedly not doing his all to resist Putin and protect Ukraine?
The Ukrainian Ministry of Foreign Affairs early Monday morning accused the United States of "excessive caution" for ordering family members of Kyiv Embassy staff to leave the country, as Russia gets closer to invading Ukraine by the day.

"We have taken note of @StateDept's decision re departure of family members of @USEmbassyKyiv staff," Ukraine spokesman Oleg Nikolenko tweeted. "While we respect right of foreign nations to ensure safety & security of their diplomatic missions, we believe such a step to be a premature one & an instance of excessive caution."

The United Kingdom is also bringing home "Some Embassy staff and dependents" due to the "growing threat from Russia."

In a subsequent tweet, Nikolenko highlighted that the European Union is leaving its diplomatic staff and their families in Ukraine.
So Europe is more courageous on Ukraine than Ice Cream Joey.
NeverTrump, do you feel your blustery, bellicose Neocon foreign policy has been restored?
6 Saw it mentioned earlier.

Joe has lost two nations and two embassies in six months.
Posted by: Moron Robbie - read closely, it's impossible to get a negative result from the free COVID tests
Meanwhile, Bill Kristol's calling, of course, for the censorship of anyone who opposes the neocon foreign policy agenda. Which was also his position during Iraq, of course.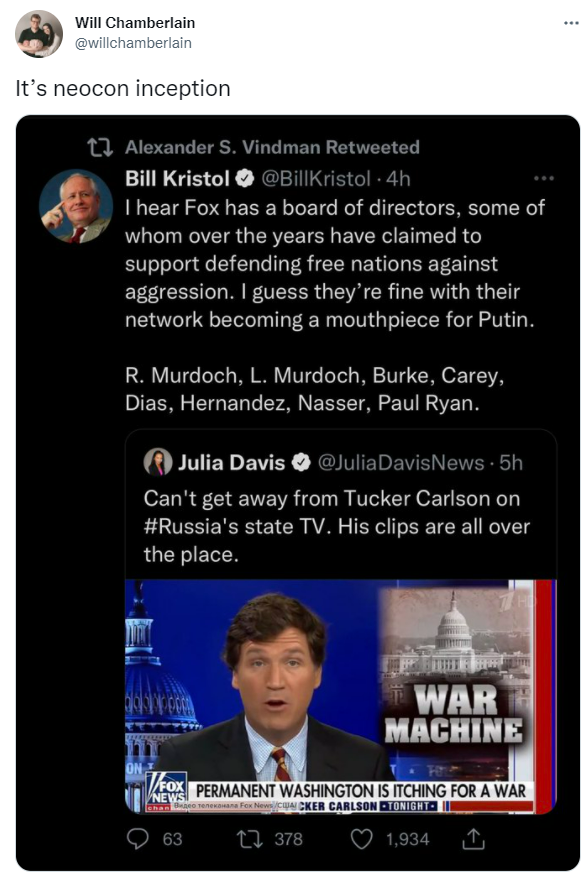 To my shame, I joined in the general "anyone who questions Iraq is just a coward and quisling" chorus. I won't be doing that in the future.
But Bill Kristol is a very old (and fat) dog, and is not learning any new tricks.
Meanwhile, Kurt Schlichter's drafting his Fantasy Ukraine Abraham Lincoln Brigade.
Kurt Schlichter @KurtSchlichter Ukraine Intervention Order of Battle:

1st Battalion (Never Trump)
CDR: Vindman
XO: Kinzinger
Intel: Billet Not Filled
Chemical: Swalwell
Subject Matter Expert: Nichols

2nd Battalion (Heavy)
Stacey Abrams

3rd Heavy Battalion (AWOL)
Cheney
Kristol
The rest of the DC hawks
Very few in swamp War Faction have ever sullied themselves by practicing what they preach. Their records tend to be spotless of military service.
Hey, if Billy Three-Bills (three hundred pounds, you know) is going to break out the "anyone who opposes war with Russia is a Russian agent" slur, I think I am justified in noting that almost all of these Chairborne Rangers are chickenhawks who had Better Things To Do during ever period of American conflict.
Context:
23 Quick thing to note about Ukraine, the guys that meddled would've been part of the administration that Obama put in power, which is no longer in power in Ukraine. Not sure how fair it is to really blame the Ukranians for that. Posted by: Red Turban Someguy
I didn't know that. That does change my emotional feeling about this, but not enough to actually want to get very involved.
Thrawn agrees with my remorse for the put-downs about anyone doubting the war,
but adds:
Still doesn't mean Code Pinko and their ilk were right. Will they do the whole "No War for Borscht and Biden's Business Partners!" protests if this goes hot? Probably not.

Right! Agreed. There are/were noxious people on the antiwar left, people who really are reflexively anti-American.
And a lot of Democrats are against any Republican-led war for the most odious of political reasons, and can't wait to support the next Holy Democrat Foreign Crusade for Freedom and Diversity.
But not everyone who doubts the wisdom of a war, or is generally cool about war, is anti-American, of course.

posted by Ace at
12:16 PM
|
Access Comments