« Mid-Morning Art Thread
|
Main
|
America's Back, Baby! »
January 24, 2022
The Morning Rant: Monday 01/24/2022
Fake News: The "Mass Grave of Indigenous Children" Story From Canada Was Not True
Do you remember that awful story last year about the mass grave containing the bodies of hundreds of indigenous children that was found in Canada - children who were negligently killed by Christians, with the consent of the racist Canadian government?
In response, arsonists burned down churches while Canadian politicians condemned their country's racist history.
The story isn't true. The story was never true. Leftists and the media just wanted it to be true.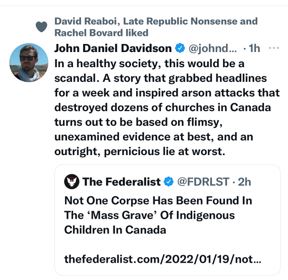 Not One Corpse Has Been Found In The 'Mass Grave' Of Indigenous Children In Canada
The whole story, it seems, was concocted to stir up hatred against Christians and stoke outrage. It succeeded.

And then came the arson. In June, dozens of churches across Canada, most of them Catholic and some of them more than a century old, were burned to the ground. No church was safe.

Not a single corpse has been exhumed from the site since then. No human remains, of children or anyone else, have been found and confirmed as a result of the radar search.
This was a moral panic (or to use a term in the news nowadays, a "mass formation psychosis") over an imaginary horror. The moral panic was fanned by our corrupt media. Now that the original story has been revealed to be false, only conservative media is covering the story. The mainstream media reported a falsehood as true, the damage they wanted was done, and now they will not correct their false reporting. That is evil and immoral.
*****
Fake Science: Vanderbilt Bans Its Own Students From Basketball Games But Allows Visiting Teams' Students to Come And Cheer
Vanderbilt has been banning its own students from attending home basketball games, while allowing students from the visiting school to attend and cheer their team on. The very smart people at Vanderbilt understand that this is necessary because of "science."
Why Vanderbilt is banning student attendance at home games until at least Jan. 24

As part of a Commodores Care quarantine period, Vanderbilt students will not be able to attend home athletic events until at least Jan. 24.

Currently, the general public is free to attend Vanderbilt basketball and other games as long as they present proof of vaccination or a negative test.
So, the student from a visiting team can simply buy a general admission ticket and come cheer his school on against the Commodores, but Vanderbilt's own students are banned from the same game. Why? Because they're under house arrest.
Students are allowed to leave their residences only to attend class, get food or supplies, seek medical attention, exercise outdoors or perform essential work.
How about that "college experience?"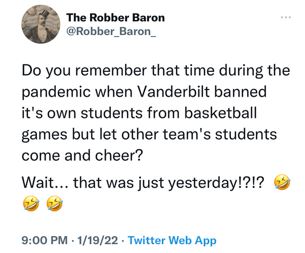 *****
Who Dis?

I still can't believe that Oregon Muse is gone. I'm a wiser person for having had the privilege of reading his work for so many years.
[buck.throckmorton at protonmail dot com]


posted by Buck Throckmorton at
11:00 AM
|
Access Comments