« Ace of Spades Pet Thread
|
Main
|
Memorial Chess Thread »
January 22, 2022
Weekend Hobby and Bodging Thread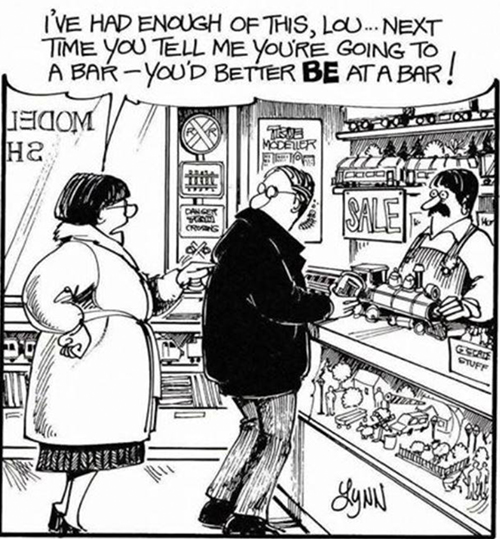 Hey, kids. Hope your weekend so far is going well. It's time once again to head for your garage, basement, spare room or other studio space and get creative! As always please use all power tools or hazardous materials with respect and caution. Walk away from a cut or operation that doesn't feel right and figure out an alternate way to do it. And always wear proper eye, ear and lung protection.
First up, I am already planning my new garage wood shop and have been leaning towards either the DeWalt or Skil 10" job site/contractor saws and integrating it into a workbench/outfeed table. Of all the designs that are on YouTube, I really like the construction and layout of this one. That said, I'd never glue down the top or bottom as this fellow did because of wood movement as well as replacing the top if it gets too beat up.
This gentleman up in British Columbia is an outstanding model railroader and fine artist. I believe he worked in film as a special effects model maker. Anyway, his current layout features a car float with extensive waterways, and his method to create them without using epoxy resin looks like a great alternative. Scroll through his other videos for other great model railroad constrcution and design tutorials.
Jeff Reiten is an incredibly talented modeler, and here he shows you how to create chipped and cracked paint effects using AK Interactive pencils. Another channel you should bookmark if you're into dioramas or model railways. His videography and editing are also beautifully done.
Now that you have a workbench, how about this cool modern coffee table? These guys are really talented. Not a big fan of epoxy tables (which they have done quite a few of) but they're masters of bent wood laminations.
Sewing is a skill that I wish I took up. Before my dad became an art teacher he worked as a textile designer and he knew his way around both a loom as well as a sewing machine. I had my chances. Oh well. Here's a tutorial on how to make patterns from your favorite items so you can recreate them.
Step by step in building a RC P-40 Warhwawk, mostly out of EPS foam. I'm a stick-and-tissue man, myself, but there are some great techniques here.
Artist and instructor Ian Roberts with some good insights in how to paint "alla prima." Lots of other good videos on painting techniques that artists will find interesting. Very knowledgeable guy.
Lastly, a really nice diorama depicting the Daily Bugle from the world of Spiderman made out of the most basic materials like cardboard, wood and air-dry-clay.
Have fun and enjoy!

posted by J.J. Sefton at
05:00 PM
|
Access Comments