« Ugly Dwarf Robert Reich: Democrats Should Give Sinema "the Backs of Their Hands"
|
Main
|
NBC News: "Conservative Activists" (Parents) Want the Schools (Government Agencies) to Disclose Their Lessons Plans (Government-Created Materials). But That's Bad. »
January 20, 2022
Gird. Your. Loins.: Rachel Maddow Claims That Biden Heroically Stood at the Podium for One Hour and Fifty Minutes to... Send a Powerful Signal to Vladimir Putin That He Was Strong And Had Stamina for the Long War Ahead
Remember when I said the only thing the left could find to praise in Biden's press conference was its duration? (Which wasn't even all that long?)
Well, Maddow decided to take the leftist meme of the night and go insane with it -- as usual -- and link it to MuhRussia -- as usual -- and claim that Biden stood there and took questions for a full 110 minutes just to send an unmistakable signal to Putin that he was ready for a push-up contest with nuclear missiles if Vladdy wanted one.
This isn't Trump's America anymore, Vlad! Poppa Biden's gonna show you how he took care of business with Corn-Pop!
"With all the talk about Putin and him talking about ... the question of whether Putin is going to invade Ukraine might ... be decided by which side of the bed Putin wakes up on -- and all this stuff about trying to get Putin's head. One part of me wondered if he was trying to sort of ape Putin's annual press conference thing where he does these sort of feats of strength. He does these feats of stamina showing how long that he can continue to go taking these questions. So that was part of it," Maddow said.
You all heard Biden give Putin the go-head for a "just the tip" "minor incursion" into Ukraine.
Rachel Maddow, on the other hand, saw Biden deliver a "Tear down this wall" challenge.

Sounds like Rachel's girding her own loins for a man for the first time in her life.
Speaking of overpromoted coozes: Kamala Harris. I will take Kamala Harris' side 100% non-ironically and say absolutely, the old white man who is her boss-puppet emphatically did not position her for success, because she had to go out on TV shows and explain whether Biden did or did not believe that the midterm elections would be illegitimate.
Because Kamala Harris didn't know the answer -- I mean, does Biden actually know what Biden thinks? Did Ron Klain tell him what Biden thinks? -- she had to do what Kamala always does, dodge the question by filling up the air with nonsensical babblings.
And when that doesn't work, she gets, what is the word?
Bitchy. She gets bitchy.
Which is what her nasty senile boss does, too.

What?
On one hand, I concede that she's been put in a difficult situation by a feebleminded moron, but on the other hand, she dodges questions by babbling incoherently so often that you'd think she'd be better at it by now.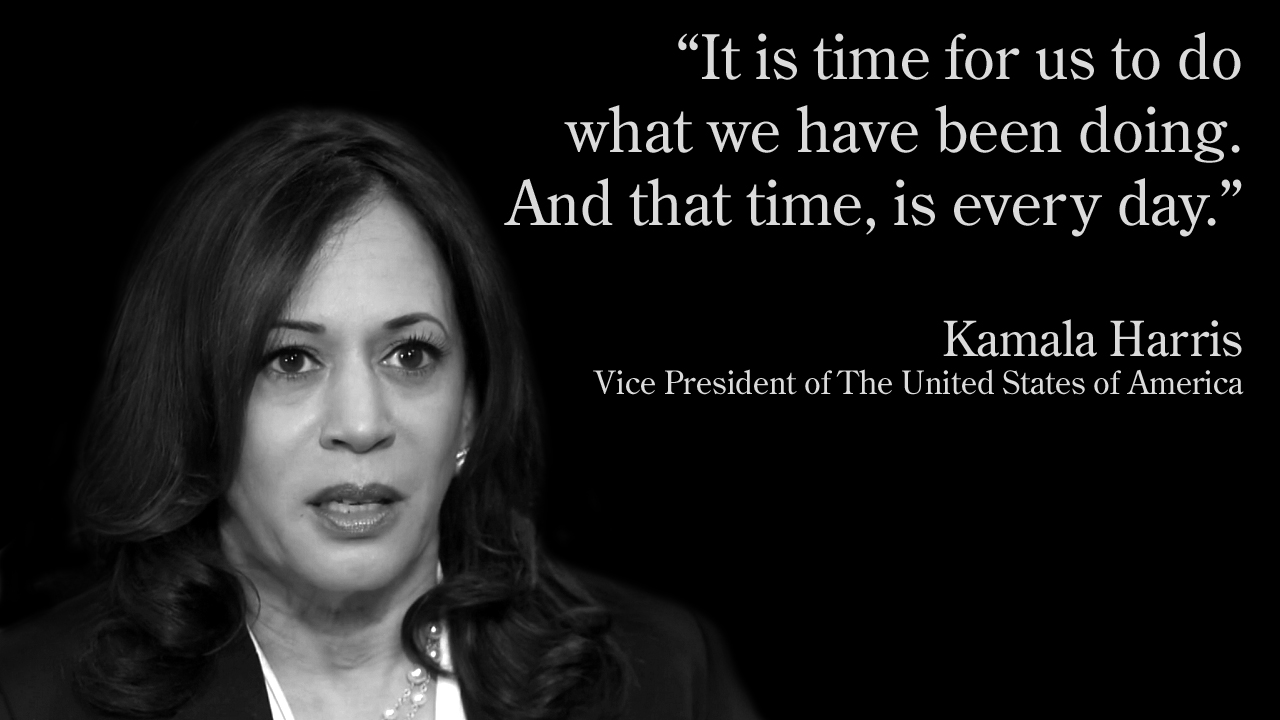 Jen Psaki was also in a difficult spot, and so she decided, as Kalama Harris might say, that it was time to do what we have been doing, which was aggressively, bitchily lying.
She claimed repeatedly that Brandon did not say what he plainly said about the midterms being illegitimate if he wasn't allowed to rig them like he rigged the 2020 elections -- even after a reporter read back Brandon's words to her, verbatim.
Joe Concha @JoeConchaTV

Here's what Biden said yesterday: "The increase in the prospect of (future elections) being illegitimate is in direct proportion to us not being able to get these (voting) reforms passed." How else can this be interpreted?
It can be interpreted as "Orange Man Bad, 2020 Elections Perfect, seditious conspiracy to question them, 2022 elections... we'll see. We'll see."
Returning to Rachel Maddow's insensate claim that Brandon's press conference intimidated Putin rather than emboldening him: Weird, the State Department doesn't agree, because they lit up reporters' email to clean up Brandon's open invitation for a "minor incursion" in Ukraine.

The President of Ukraine sure didn't think that Brandon was challenging Putin to a Festivus Feats of Strength, either. He seemed to think that Brandon had all but clipped the barbed wire to help Putin start his invasion: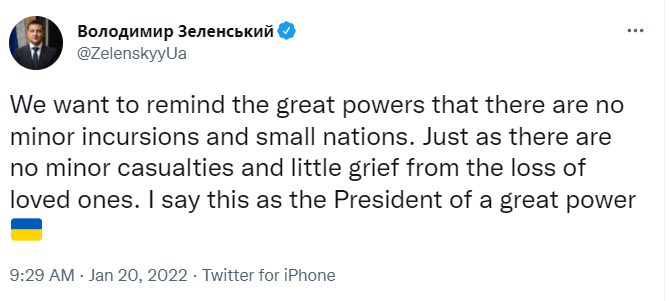 Was the plan always to supplement Brandon's Show of Force -- by merely standing and talking for almost two hours, you know, like you do at any cocktail party -- with an urgent WH press release that contradicted his statement that a minor incursion would be permitted?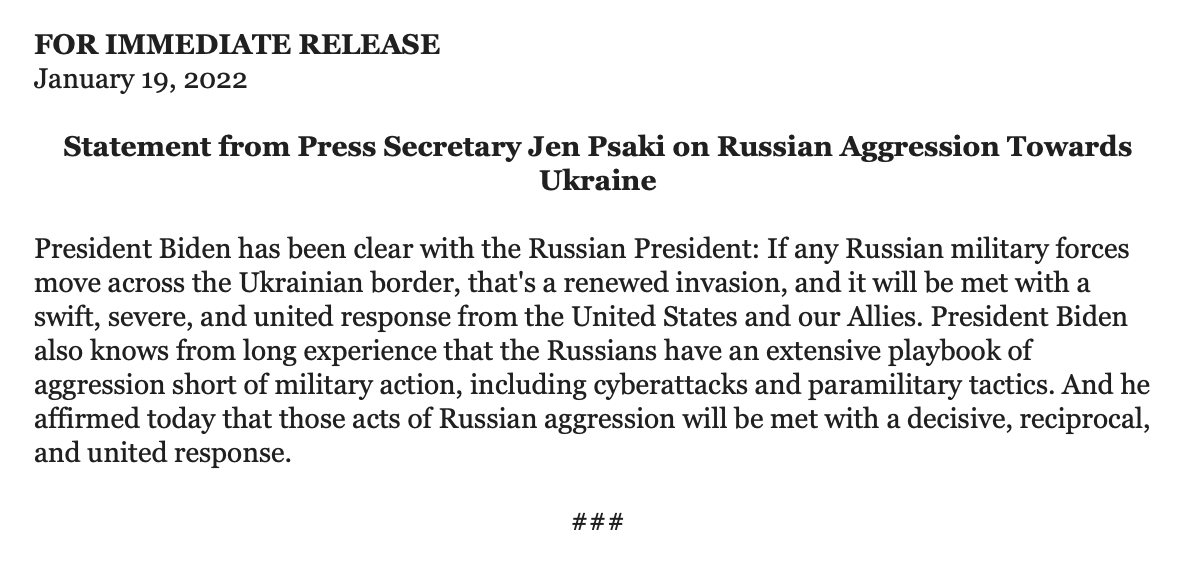 John Hayward
@Doc_0


Biden's handlers do not understand the psychological impact of dispatching his flacks to insist the senile old man didn't say any of the things he clearly said in his dumpster fire press conference. They're on the verge of turning low poll numbers into national panic.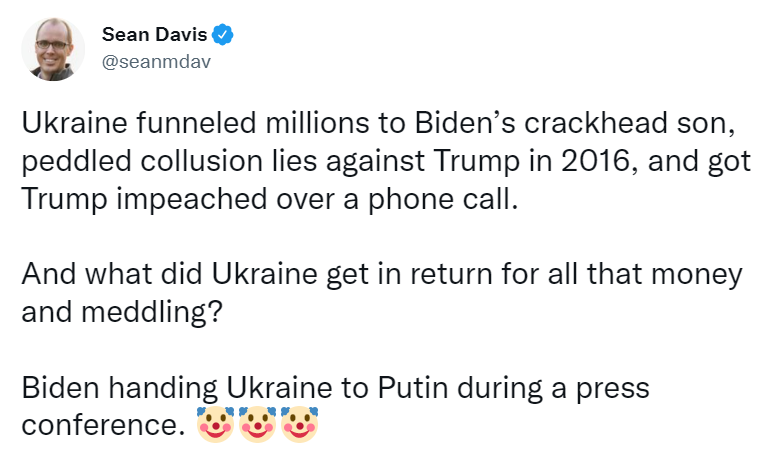 Yeah, I'm all out of F's to give about Ukraine. I don't like this corrupt country meddling in our elections on the Democrats' side as if we're some backwater third-world shithole.
We are that, of course, thanks to Obama and the left, but I don't like this pissant country taking advantage of our temporary embarrassment.

posted by Ace at
04:18 PM
|
Access Comments