« The Morning Rant
[Dave in Fla, Guest Monkey]
|
Main
|
Study: Natural Immunity Is More Protective Against Delta Than Vaccination »
January 20, 2022
Rand Paul: It's Dangerous for the Country for the World to See and Hear Joe Biden. He Should Go Back to Hiding In the Basement So as Not to Encourage Our Enemies.
He said this on Hugh Hewitt's Cvck Emporium, quoted and clipped at Instapundit.
Senator Rand Paul Tells Hugh Hewitt That It Is "Dangerous to the Country" for President Biden To Be Talking in Public. "I Think We Are Stuck With Him Until 2024 [but] It Would Be Good for the Country for Him Not To Speak and Not To Appear in Public."
My pocket actuarial tables say that we're stuck with him until 2022, 2023 at the outside.
Below: As Greg Price says, this is legitimately hard to watch.
NeverForget the hustlers, grifters, demagogues and Phony Virtue Mongers that lied to foist this feeble, demented National Security Risk on us.
BTW, do give these clips a watch. I had forgotten them. Biden is really struggling to connect neurons here. His Alzheimer's is on full display here for the Kremlin and the Forbidden City.
Also note that Jen Psaki is now claiming that when her senile, demented, feebleminded boss Brandon said that the results of the midterm elections would be "easily illegitimate" if he didn't get his way on a federal takeover of state voting laws, he meant something else entirely.
Jen Psaki @PressSec

United States government official
Lets be clear:

@potus was not casting doubt on the legitimacy of the 2022 election. He was making the opposite point: In 2020, a record number of voters turned out in the face of a pandemic, and election officials made sure they could vote and have those votes counted.
So that is of course nonresponsive gibberish; there she's saying "the elections we're saying are completely legitimate are the 2020 elections, the ones the media claims we won."
What about the 2022 elections, Jen? The ones he said would be "easily illegitimate" when he loses?
He was explaining that the results would be illegitimate if states do what the former president asked them to do after the 2020 election: toss out ballots and overturn results after the fact. The Big Lie is putting our democracy at risk. We're fighting to protect it.
That is a lie; what "Trump asked" was for Congress to not certify the electoral college results from the states.
There is no electoral college roll in congressional elections.
This is a lie. This is all a lie.
He made it clear that he was talking about Stacy Abrams' claims -- made Without Evidence-- that checking signatures and addresses, and having actual deadlines and defined periods for voting, somehow makes it "harder for minorities to vote:"
"No matter how hard they make it for minorities to vote, I think you're going to see them willing to stand in line and defy the attempt to keep them from being able to vote," Biden told reporters.
Where is the media fact-check? Where is Jake Tapper's Hi-lariously Snarky Chyrons branding Brandon a liar?

Weird that even leftwing outlets like The Hill heard Brandon -- who has said for one full year that anyone challenging the results of an election are treasonous insurrectionists who need to be investigated by the DOJ, FBI, and NSA -- say that the midterms would be "easily illegitimate" if he didn't get his way on a federal takeover of state election laws.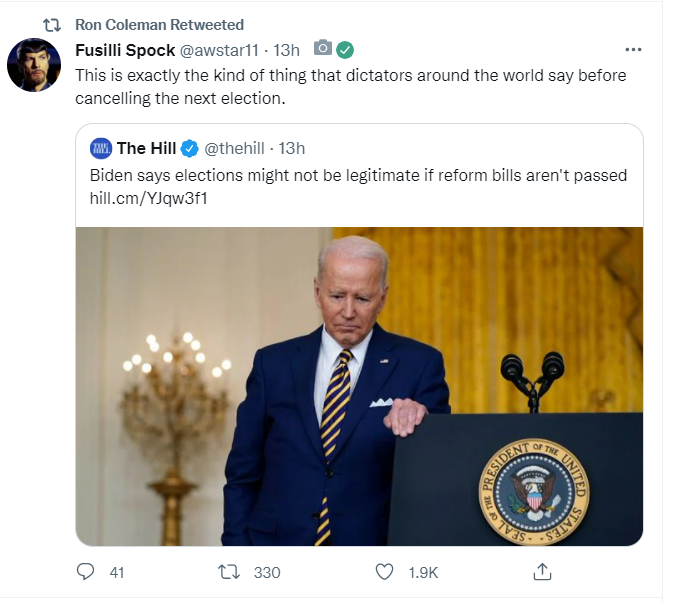 James Carville: Biden had "a very good day," was "tough," showed "stamina."
Carville said, "I thought today was a very good day. The best time to plant an oak tree was 25 years ago. The second-best time is right now. I think President Biden planted an oak tree. He decided that, 'Hey, look, our political situation has deteriorated here, and I'm going to personally take charge of it.' It is not a minor feat to stand there for an hour and 50 minutes, on your feet, answering every kind of questions that comes your way on every kind of different policy. So my hat is off to the president. It really is. He has taken matters into his own hands."
Two points:
I like the oak tree aphorism. But of course it's being used to paper over the fact, the admission, that all the stuff Biden should have started doing a year ago he did not do, and is now promising to start doing.
This is the guy who skewered Trump for a year about not having enough testing... who then did not do anything about accelerating the production of test kits with the winter coming and with delta still spreading and with omicron starting to spread.
The second point: I hear a lot, a lot of leftwing spinners crediting Biden for the number of minutes he managed to stand.
That's the hill they're planting their flag on -- look at the number of minutes he stood at the podium and did not die.
Yamice Alcindor -- one of the most unprofessional, openly antifa shills in "journalism," and another grossly ugly cow who can't get a man so she married the Democrat Party -- sure is impressed by the duration of the press conference.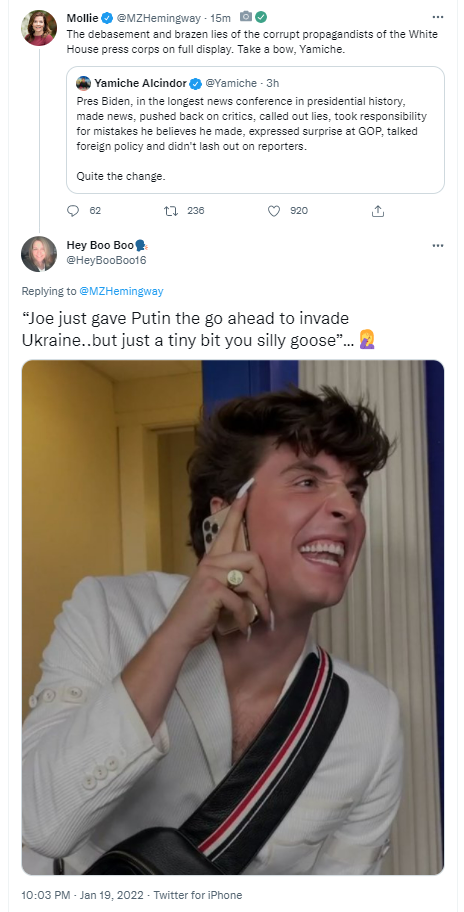 Margot Cleveland @ProfMJCleveland


Even with fangirls like @Yamiche leading the corrupt media, there is no way Biden recovers from his "minor incursion" incompetence. He is a laughing stock in America & abroad & Biden's go-to response will be unhinged anger, making it worse.

posted by Ace at
12:10 PM
|
Access Comments