« Threat Inflation
|
Main
|
Ace of Spades Pet Thread »
January 22, 2022
Saturday Gardening, Puttering and Dress Thread, Jan. 22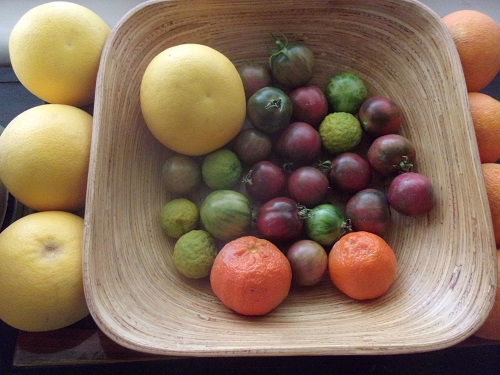 Happy Winter, everybody! We are going to start with a visit the desert today for an update on Edible Gardening by a faithful friend who has not even been able to comment lately!
Hello Horde and garden putterers, Just a little update from the holler. I haven't been able to comment lately because of some computer glitch but I am still wandering around the yard puttering like mad. Planting a few new things to me anyway, this month. Trying some celery, as I read that you can just pull off a stalk as needed and the plant just keeps on going. That appealed to me, as I don't use a ton of celery. I am trying it from seed but also next time I get some celery from the store I am going to plant the cut off end and try that. It is supposed to work very well. Also I got some bareroot strawberry plants I am going to put in to the garden tower that I inherited. Right now I have been harvesting some magnificent daikon radish from the top tier.

The first photo is my fruit bowl with all the things I harvested this week. The grapefruits on the left and the oranges on the right of the bowl are from my neighbors 45 year old citrus tree. He passed away last month at 97 and his house hasn't sold yet. I am trying not to let his magnificent fruit go to waste. I am particularly fond of the grapefruit which I use to make a grapefruit gin and tonic on occasion, okay a few times a week.

Inside the bowl are a couple of my home grown tangerines, the last of my kaffir limes, and bunch of tomatoes that I pick when just starting to turn and throw in the bowl to finish ripening or the birds get to them. I have no idea the variety as I got it as "free" seeds when I bought some other seeds but it LOVES it here in Arizona and has self seeded and kept me in tomatoes for the last 3 years. I always make sure when I cut the tomatoes if any seeds get on the cutting board I just go find a space in the garden and scrape them into the bed. No other effort necessary. I usually have at least 4 volunteer tomato plants by doing that.

Wee Kreek Farm Girl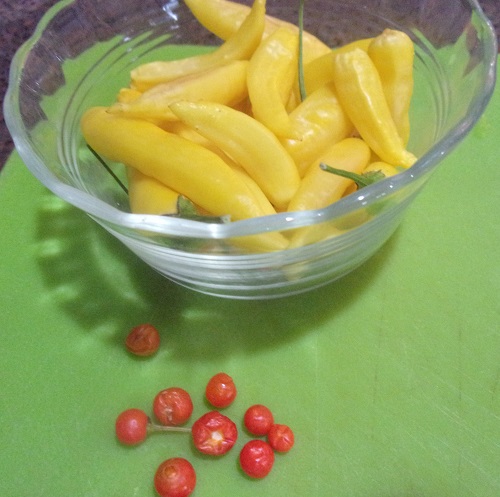 I have also been harvesting a lot of peppers, these are some hot lemon peppers and some wild chiltepin peppers that may look small and innocuous but they pack a mighty bit of heat. These will be turned into hot sauce later today.
Intriguing little peppers.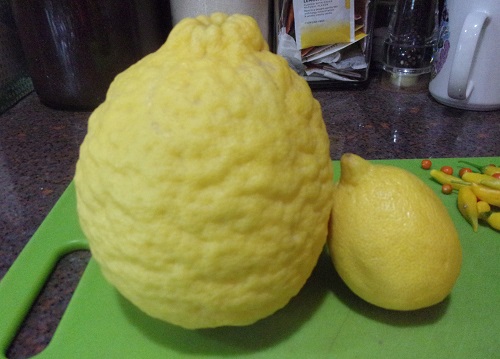 And finally my lemons are coming in, mine is on the left and a store bought lemon on the right so you can see just how mammoth they are. The tag on the tree said it was a lisbon lemon and I planted it 17 years ago. The juice is fairly acidic and bright but one lemon juices the amount of 3 normal lemons. You can see the outside is very bumpy. Hope the rest of the horde are doing well and madly planning their spring garden. I have picked 4 more new things to try, I just have to order them. I will let you know when I get them.
I'm not sure that is a Lisbon lemon. Can anyone confirm?
Maybe we can give Wee Kreek Farm Girl some computer tips in the comments.
Indoor Gardening
Hi,

I have been nursing my orchid back to health. I thought I killed it last year. I changed it out of the plastic pot to the glass container. I have been filling the
glass up with water, letting the wood chips become saturated then dumping out
the water.

The orchid loves being watered this way because, as you can see, the roots are a bright green and very fat instead of the usual dried looking roots. I think the brown on the one root is a burn. I used to have the orchid in a window that was too hot. My bad.

I am thrilled and surprised that there are two flower stems instead of just the one that I have had for the two previous years. Very excited to see the flowers blooming this year. I was wondering, because of the agreeable watering and placement of the orchid that is why there will be two flowering stems from now on?

Happy New Year. Love the gardening thread/site.

Suzanne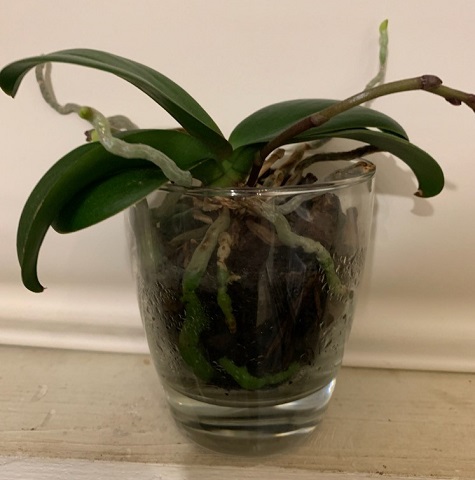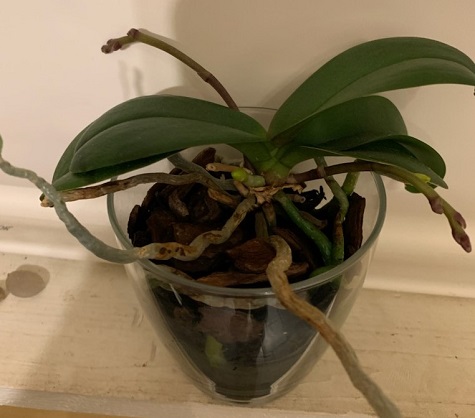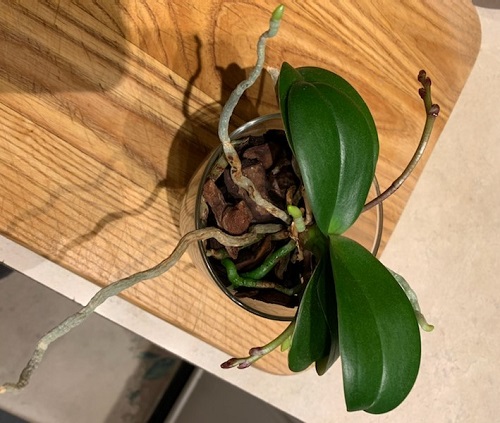 Can't wait to see a flower! Interesting orchid culture observations!
Monarchs!
It's time to see the hibernating Monarch butterflies in California. These are in Pacific Grove. There are more butterflies this year than last year.
Monarchs may be small, but their journey is epic. The 3 to 4-inch butterflies make one of the most impressive migrations of any species, flying hundreds of miles from Mexico to the California coast, where the Western population overwinters. The colony peaks in size from early December to February, with mating season taking place right around Valentine's day.

To be honest, even with the recent resurgence, it's still nothing like it used to be, back in the days when there were millions of monarchs teeming amid the trees. Daphne was slightly disappointed that the swarms of yore were not in evidence. Instead, you have to keep quiet and look hard, keeping your neck craned toward the tree canopy, to see the little lovelies. Binoculars come in handy.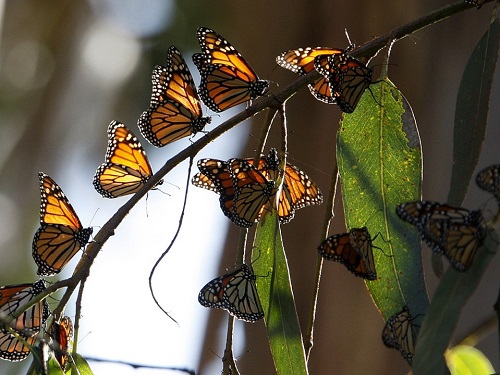 Science:
Why are mice eating monarch butterflies in Pismo Beach?
Well, because they are there. I did learn that toxins in the butterflies are concentrated in the wings (where birds are likely to grab them).
Seems like they spent a lot of money on this study. Alarming that there were only 200 butterflies last year in the 2020 fall count.
More Puttering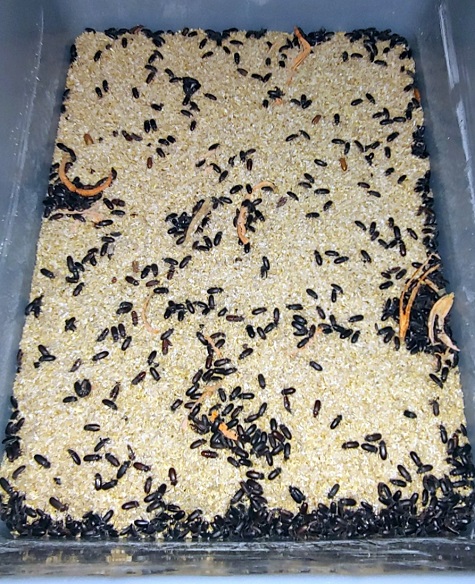 I know its the slow time of the year for gardening. Here's a project I've been working on, hopefully can add some interesting content. Mealworms for Chicken feed. I took over an abandoned mealworm colony from a neighbor who used them for reptile feeders. After some youtube research I got it cleaned up and geared towards growth. Mealworms are amazing protein converters, taking a cheap agricultural byproduct(wheat bran) at 14$ per 50lb sack and converting it to 40% protein mealworm snax. The lifecycle is egg, larva, pupa, beetle. The fully grown larva stage is what is typically used for animal feed, right now I am growing everything out to beetle stage to exponentially increase production during the summer warm season. Attached pics are of my beetle tray, which is a gray plastic restaurant bussing tray. The second pic is of fully grown mealworms and the pupa they will develop into before becoming a beetle. I switch out the substrate of the beetle tray every 2 weeks to start a new nursery tray. Hopefully by this summer I'll have so many bugs we can feed a free ranged flock of chickens year round for very little cost. From a fellow Oregonian, RIP OregonMuse.

From KarlHungus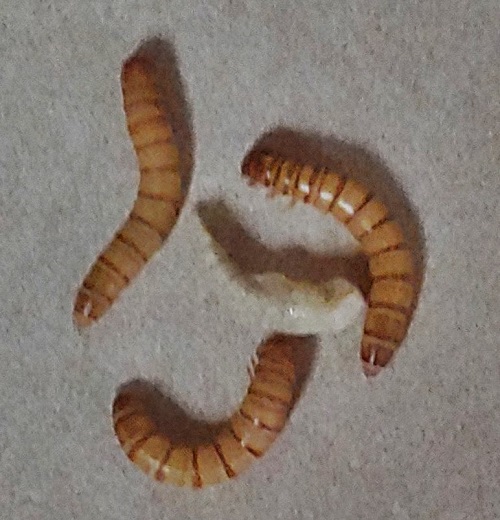 Amazing chicken snax!
OregonMuse did a couple of features on insects - insects that eat books, in particular. He had such a wide range of interests!
I can't believe that OregonMuse is no longer with us. He had a special knack for noticing things about human beings and about the world that others may have missed. He put his own distinctive style into his Morning Rants and Book Threads. But imagine deciding to feature lovely dresses as part of a Chess Thread when the world had largely turned away from that kind of quiet appreciation of beauty and history. What a delightful, quirky way to think! Perhaps we can look back into some of those posts from time to time for a little inspiration 'til we meet again, OregonMuse, beyond these pages.
Below, please consider some potential puttering (or just admiration) inspired by past Saturday Afternoon Chess Threads, like this feature from December 18, 2021:


Dress Pr0n For the 'Ettes:
Let's take a closer look at the back and front of the jacket. Imagine lining up all those stripes: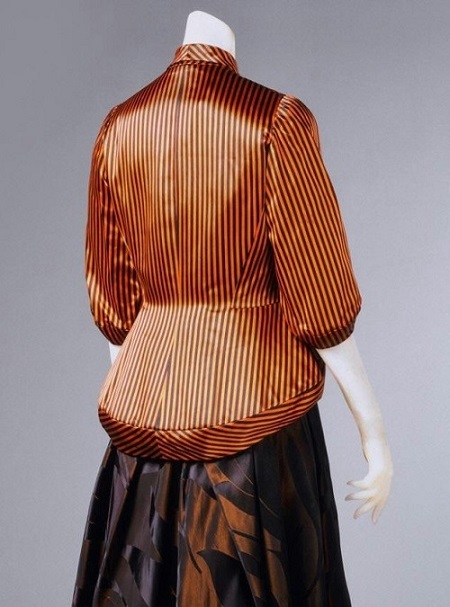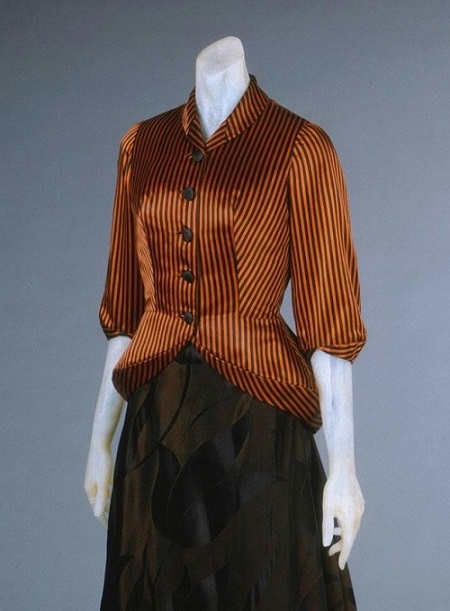 Notice how the jacket fits the neck and shoulders nicely. The neck shaping comes partly from the back seam (you can see that the stripes are not even along the seam) and partly from shaping of the collar.
The shoulder seam is at the top of the shoulder. Here is One Weird Trick for getting a jacket, dress, blouse or shirt with a top shoulder seam to look better on anyone except the very rare person with totally straight shoulders: ease the longer back seam into the front seam. A longer back seam is generally a sign of a quality pattern.

This video shows how to run an easing stitch on the back shoulder seam of a jacket being constructed using a quality pattern in which the back seam is longer than the front seam. This easing takes the place of a shoulder dart:
And here is how the back piece is eased into the front piece:
After this video: We hope that the seam will be steam-pressed (preferably with a steam cloth) to encourage it to follow the natural curve of the shoulder. Here is a way to add the ease to the stitch line just by stretching the fabric of the front shoulder along the stitch line. Some people like to stitch twill tape into the seam to stabilize the shoulder seam, which might make the first process preferable.
In a pattern which mimics modern unfitted clothing, you can make the shoulders fit better by cutting a shallow dip in the back shoulder seam (about 1/4 inch at the deepest point) to make it longer, then ease it in at the stitch line as above.
All this rigamarole can be avoided if the garment is made with a yoke at the shoulder. You may have noticed that collar and cuff styles change on men's dress shirts, but the good quality ones retain a yoke. This may also be one of the reasons women like to wear men's shirts, say, as over-shirts. They fit in the shoulders and at the neck.
Here is a woman's blouse from OregonMuse's Saturday Afternoon Chess of November 20, 2021. It has a shoulder yoke like a man's dress shirt, with some shoulder padding added. It also features gathers under the yoke, which is a good way to add bust darting if you don't know someone's bust measurements. This model could maybe have used a little more darting, however.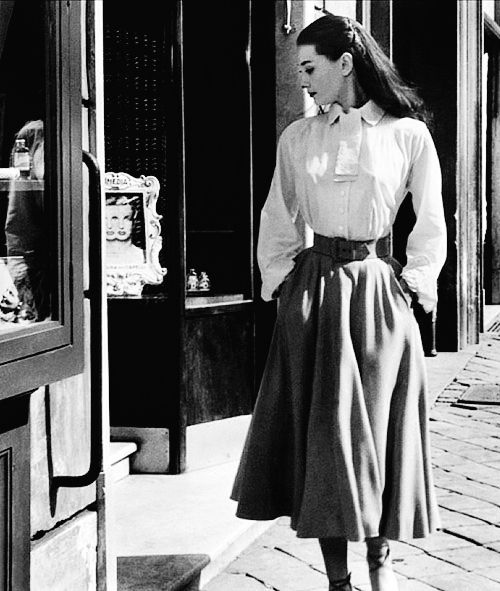 And from January 16, 2021:
The dart line below is called a "French Dart". It is one of the more difficult types of darts to do right, and almost requires an individual fitting in the case of some garments. This piece certainly fits the model well in the neck, shoulder and bust. Not for beginning sewers or on-line shoppers. Gathers or pleats under a shoulder yoke, as in the photo above, would have a much better chance of flattering a random 'Ette who has only a photo to go by when shopping online.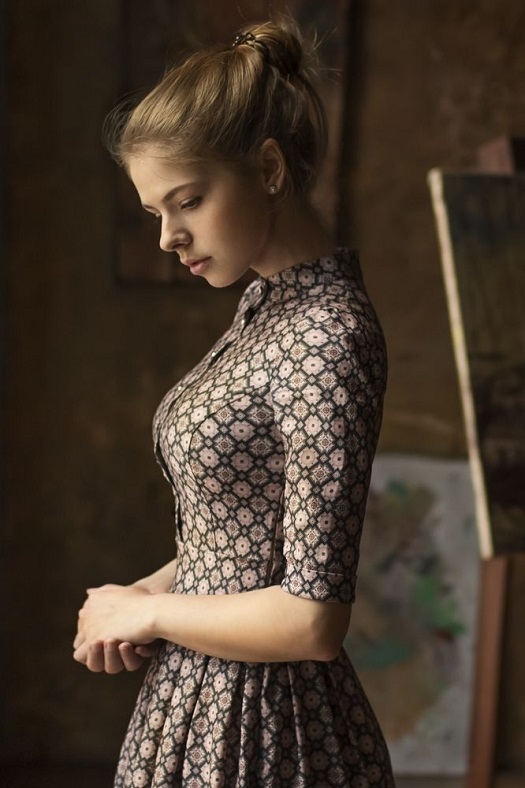 If you would like to send information and/or photos for the Saturday Gardening Thread, the address is:
ktinthegarden
at that g mail dot com place
Include the nic by which you wish to be known when you comment at AoSHQ,
unless you want to remain a lurker.

posted by K.T. at
01:32 PM
|
Access Comments