« True Conservative Superhero Dan Crenshaw: I Have No Power to Help the January 6 Political Prisoners and I Won't Even Bring Attention to Their Plight Because That Would Just be "A Performance" That Helps Me But Not Them
|
Main
|
Splash Landing Cafe »
January 18, 2022
Quick Hits
Karol Markowicz made me literally LOL trolling Parkland troll Fred Guttenberg. It's seriously funny.

Leftwing dullard and Disinformation pusher Sonia Sotomayor is refusing to attend Supreme Court hearings in person because Neil Gorsuch refuses to humor her by wearing a useless face-doiley.
She's diabetic and a badly-misinformed leftwing Karen who apparently watches CNN, so she demands everyone join her in Mask Theater. Roberts asked the other justices to go along with her charade and wear masks.
Gorsuch said, "No."
Legend.

Say, why did "President" (lol) Brandon speculate about Kyle Rittenhouse's motive (for self defense!), but refuse to speculate about why a radical Muslim with a history of anti-semitic ravings took Jews hostage?
That's weird, isn't it?
On Sunday, Joe Biden acknowledged the Texas synagogue hostage situation, dubbing the incident an "act of terror," but refused to "speculate" on Akram's motives when asked about it by reporters.

"No, I don't. I -- there's speculation, but I'm not going to get into that. I will -- I'm going to have a press conference on Wednesday, and I'll be happy to go into detail of what I know in detail at that time," Biden said in a press conference Sunday.

The now-dead hostage-taker was identified as Malik Faisal Akram, and he demanded the release of Aafia Siddiqui, a jihadi known as "Lady al Qaeda."

Just like the FBI, Biden seems intent on "whitewashing" Akram's motives. Akram only targeted a synagogue. I wonder what his motives were.

This insistence on pretending that Akram's motives are unknown is troubling but not surprising. So much of this incident doesn't fit the preferred narrative of the political left.

But it wasn't all that long ago that Joe Biden was very willing to speculate the motives of Kyle Rittenhouse--who shot and killed two people in self-defense during the Kenosha riots--and label him a white supremacist without any proof whatsoever.

Jim Geraghty points out that if the government continues denying the obvious motive behind radical Muslims' attack, it gives rise to the equally-obvious conclusion that radical Muslims are so dangerous that we must only whisper about them, for fear of provoking them further.
Who, or what, is served by contending that it is impossible to know the true motive of a gunman who attacks a synagogue and takes hostages and demands the release of a convicted al-Qaeda operative? Why is it so vertoben to say "jihadism" or "support for al-Qaeda and Islamist terror groups"? Why were authorities so reluctant to say antisemitism was a motive, as if the gunman had chosen to target a synagogue at random?

Is it that authorities are now so afraid of being accused of inciting anti-Muslim hate crimes that they are reluctant to acknowledge the obvious?

The quickest and easiest way to convince people that the threat of jihadism is much, much worse than they thought is for law-enforcement authorities to appear as though they're hiding something or afraid to speak the truth.
Jim Treacher realizes, Hey, maybe only white people can commit "hate crimes."
Have you ever noticed how crime is only racially motivated when it's committed by a white person? According to our moral, ethical, and intellectual betters in the press, anyway. They're very devoted to Critical Race Theory and whatnot, so they just love it when white folks do bad things. "See? There's your proof! White people really are to blame for all the world's ills!"
He notes the case of a deranged homeless man who threw an Asian woman into the path of an oncoming subway train, murdering her.
Why wasn't this murder made national news and the centerpiece of another #StopAsianHate campaign?
Well, you know why. Because he perp wasn't white -- the only race which can commit a hate crime.
He's black, so the murder is officially recorded as Committed by an SUV.
Is it that only white people can commit hate crimes, or that only white people can commit crimes of any kind, period?
Because: when is the last time you saw a crime committed by a perp of any race other than white get more than 24 hours of attention in the press controlled by the Media Faction?

NYC Mayor Eric Adams, who ran on restoring law and order to New York but who seems to be as bad as Di Blasio, isn't so upset about the umteenth brutal attack in the subways -- and yet another person being pushed into the path of an oncoming train -- but about the "perception" of violence.
Brand-new New York City Mayor Eric Adams says there's an unfair "perception of fear" about subway crime, just one day after another random murder on the city's "safe" subway system.

Mentally ill homeless ex-con Simon Martial was arrested Saturday for the murder of 40-year-old consultant Michelle Go, whom he pushed in front of an oncoming subway train.

"Yeah, because I'm God," Martial shouted at reporters while being removed by police. "Yes, I did. I'm God, I can do it."

Martial had turned himself in to police just minutes after the murder, following a subway ride of his own.

...

Subway crime -- as well as all serious crime -- has been on the rise in New York City for the past two years.

Nevertheless, "New Yorkers are safe on the subway system," Adams told reporters.

"I think it's about 1.7 percent of the crimes in New York City that occur on the subway system. Think about that for a moment. What we must do is remove the perception of fear."

It wasn't a "perception" that pushed Michelle Go to her death in front of an oncoming subway train, Mr. Mayor.
I've mentioned before a video of a woman who brings an extra long belt with her into the subways, which she uses to secure herself to pillars -- so that she can't be pushed into the tracks.
But yeah, we just have to worry about "the perception of fear," and not the fact that New York City is now basically an open-air asylum for mentally ill drug addicts. Oh, and of course: A safe haven for criminals where most crime is now legal.
A 24/7 Purge District.

Oh -- just in. More "Perception of Fear" as terrified women take cover beyond the turnstiles as another lunatic paces, screams, and menaces along the subway platform.
NYC subway travel 2022: Straphangers wait on the WRONG SIDE of turnstiles to protect themselves from screaming man and being pushed off platform after spate of track shove attacks

Three women riders were met with a menacing, screaming man on Tuesday morning at the 23rd Street Station in Manhattan

Jennifer Smith, 29, who has lived in the area for two years, and two other women had to stand behind the turnstiles as he paced the platform

Smith also told DailyMail.com that she, and the other women, had to rush onto the train once it arrived to avoid him

New Mayor Eric Adams, 61, has been preaching to New Yorkers that the subways are 'safe' and the only real terror is the 'perception of fear'

Adams changed Tuesday, saying that he also is fearful on the subways and does not feel safe riding

Subway crimes have been an ongoing problem throughout the pandemic and are already up more than 65 per cent in 2022
Yeah we'll all just "Shelter in Place" so that the unmedicated mentally ill can freely menace the streets.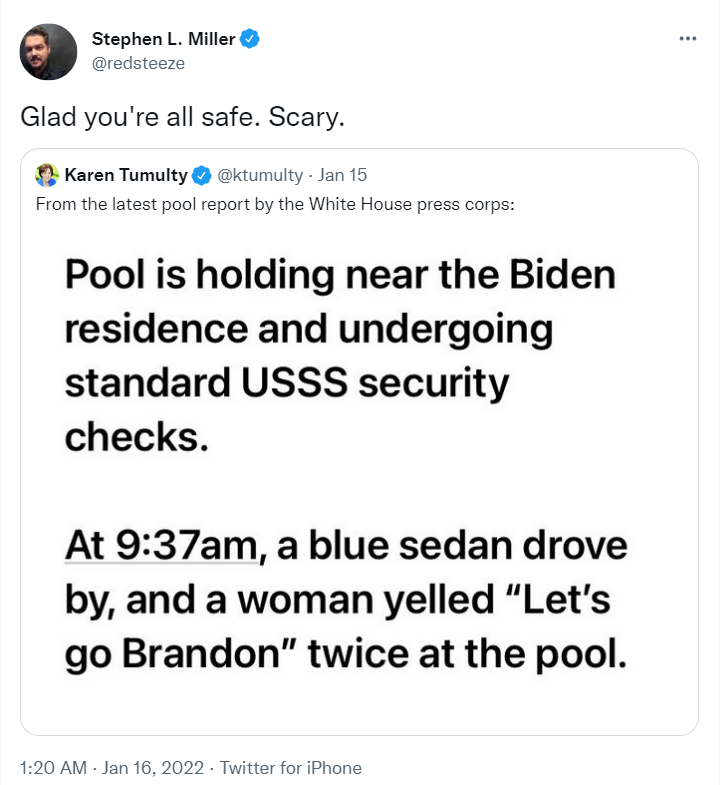 Kebum @tgrdad

Replying to
@redsteeze


Oh my! A drive-by shouting! Thoughts and prayers.
Republican Senators are demanding that Education Secretary Cardona detail his role in setting up the pretext of the Domestic Terrorist letter the NSBA sent to the DOJ, at his request.
Two dozen Republican senators are calling on Secretary of Education Miguel Cardona to explain his role in soliciting a letter from the National School Boards Association that compared school parents to domestic terrorists.

An email released this week showed that an association official told a colleague that Cardona asked the group to write the Sept. 29 letter that urged President Joe Biden to use the FBI to investigate threats made against school board members. The letter was the catalyst for Attorney General Merrick Garland's decision to form a federal task force to track school board threats across the country.

...

A group of senators, led by Tim Scott (R., S.C.), on Thursday asked Cardona what role he played in crafting the letter.

"While we knew early on that White House staff were complicit in the creation of this letter, it is only recently that information has surfaced implicating you and your office in this shameful episode," the senators wrote.

They also asked Cardona if he received instruction from the White House regarding the letter.
Paul Begala, a fossilized se'enhead spin-merchant from the mists of the Clinton Administration, has some bold spin on Brandon's behalf.
It's not that the Democrat Party has bad leaders, you see.
No.
It's that the Democrat Party has bad... followers.
Begala responded by saying that the problem isn't the Democratic leadership. Instead, it's the children who are wrong.

"Well, he got infrastructure passed and that's a good thing because success can breed success," Begala said. "He is putting the full force of the presidency behind it. I think the problem for the Democrats right now is not that they have bad leaders. They have bad followers, ok?"

posted by Ace at
06:12 PM
|
Access Comments