« Russian Foreign Minister Lavrov: The US Must Get Out of All Former Soviet States and Promise Unambiguously To Cede Them to Russia
France Is So Impressed by Brandon's Leadership They Want Separate Talks With Russia
|
Main
|
Howard Stern Is Now a Babbling, Bent-Backed Renfield Compulsive Masturbator Sputtering Curses in the Dark »
January 21, 2022
The Soy In the Plastic Bubble: Michigan University Professor Wears Space Helmet to Teach, Forbids Students From Showing Up to Class, Calling Them "Vectors of Disease"
Update to Last Post: Not only does France want to negotiate with Russia without Brandon's, um, input, but Germany refused to talk with Brandon to discuss the Ukraine crisis.
German Chancellor Olaf Scholz turned down an invite at short notice from U.S. President Joe Biden to discuss the Ukraine crisis, German magazine Der Spiegel said on Friday.

Scholz did not accept the invitation due to a full schedule, including a trip to Madrid, as well as the desire to show that he was present as Germany grapples with the COVID-19 pandemic, according to Der Spiegel.
Uh-huh.
It's completely normal to refuse invitations for discussions with the President of the United States.
America's Back, baby!
NeverTrump, NeverTrump,
are you able to maintain erections again, now that the United States is once again respected 'round the world?
Back to the original post:

The Soy in the Plastic Bubble. (H/t Soothsayer.)
Tenured Michigan university professor, 74, who wears a 'space helmet' AND mask for Zoom class is placed on leave for calling students 'vectors of disease' for wanting to attend in-person learning

Barry Mehler, 74, posted a profanity-laced video on Sunday a day before the Spring 2022 semester began

Mehler is a tenured professor at Ferris State University in Big Rapids, Michigan
In the 14-minute video, Mehler called students 'vectors of disease'

Mehler has been teaching at Ferris for nearly 30 years, has been placed on administrative leave while the university investigates the incident

The status of his Spring 2022 course remains unclear

...

A tenured Michigan university professor has been placed on leave after he told students in a profanity-laced video that he didn't want to know anything about them because they were 'just vectors of disease.'

Barry Mehler, 74, a tenured history professor at Ferris State University in Big Rapids, Michigan, posted the 14-minute video on Sunday, a day before the Spring 2022 semester began.

In the video, he told students that it didn't matter how hard they worked in his class because he randomly predetermined their grades prior to the semester.


'None of you... are good enough to earn an A in my class,' Mehler said. 'So I randomly assign grades before the first day of class. I don't want to know anything about you. I don't even want to know your name. I just look at the number and I assign a grade. That is how predestination works...

'And don't come... complaining to me. Take your complaints to God.'

...

Mehler has been teaching at Ferris for nearly 30 years in the humanities department and is the director of the university's Institute for the Study of Academic Racism, according to his bio on the university's website that has since been deleted.
I imagine the "predestination" bit is part of his "racism" "study." It's some kind of statement about "random privilege." No one is rewarded for their actual effort; people are rewarded randomly based on skin color. So he mimics that by simply assigning grades randomly.
And this nasty flake has been paid for this hustle for 50 years.

#DefundTheAcademy.
Mehler introduced himself at the beginning of the video wearing what he described as a helmet equipped with filters to protect him from the coronavirus.

'I will not take questions in class because I'm wearing this... helmet in order to stay alive,' he said.

Mehler is one of many professors who has expressed concern about returning to in-person learning during the pandemic.

'I don't know whether you people have noticed, but it's dangerous to breathe the air,' he said in the video. 'Many of your experts are advising wearing masks because there's a deadly virus spreading around the planet. Your civilization is collapsing and life on your planet is going extinct.'

He told his students he had no choice but to return to the classroom to teach, but urged the students not to join him because of his age and increased risk of contracting the virus.


'I'm old enough to be your grandpa, and you people are vectors of disease to me,' he said. 'So when I look at a classroom filled with 50 students, I see 50 selfish kids who don't care whether grandpa lives or dies.'
I actively hope grandpa dies. Dry up and blow away, you stupid silly hateful old bastard.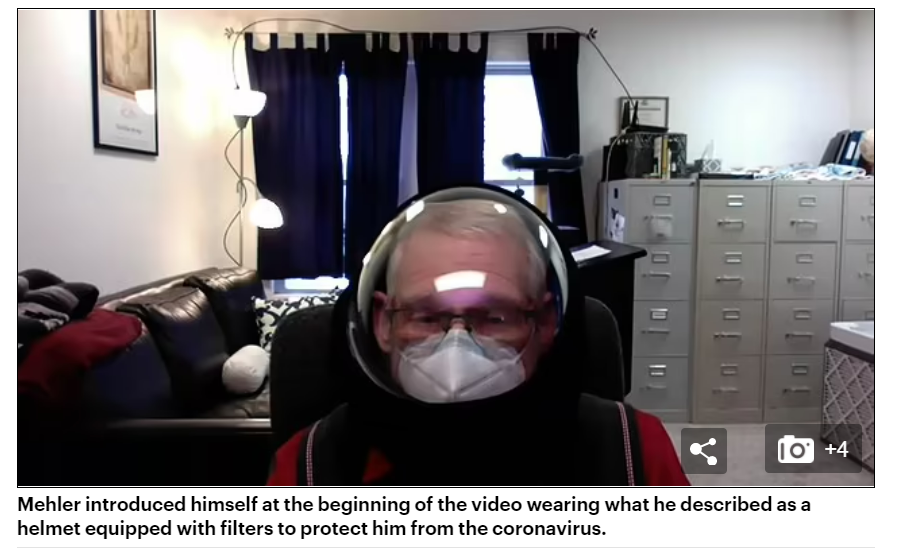 Also this week: Ed Fuller, a professor of education bureaucracy (of course! what else!) at Penn State, got so Karen-Mad about people not wearing masks that he called for people to drunk-drive on the streets of the unvaccinated, and run over the children of the unvaccinated.
Teachers are All About the Kids, as you might have heard.
What would we do without "professors" of academic fields which are not really academic fields?
Do you think we could possibly survive as a people without all the departments of American Studies, Gender Studies, Racial Grievance Studies, Communications, Education and Education Bureaucracy, "Journalism," etc., etc. etc.?

posted by Ace at
01:17 PM
|
Access Comments