« Brandon's Speech, and Other Covid News
|
Main
|
Daredevil Cafe »
December 21, 2021
Quick Hits
If anyone besides me has been shocked and chagrined at how incredibly early the sun's been going down -- I mean, it's crazy -- take heart, it gets better after tonight:
@jackmurphylive

11m
Today is the winter solstice. The darkest day of the year. From now on things get brighter and warmer with each passing moment.

Know what I'm saying?
I know this happens every year, and I know saying "I know this happens every year" will not stop you from making fun of me for noting it, but dang, I've been really noticing it this year. I think because I've been putting off going out for a walk until later, and then around four, whoops, sun's going down.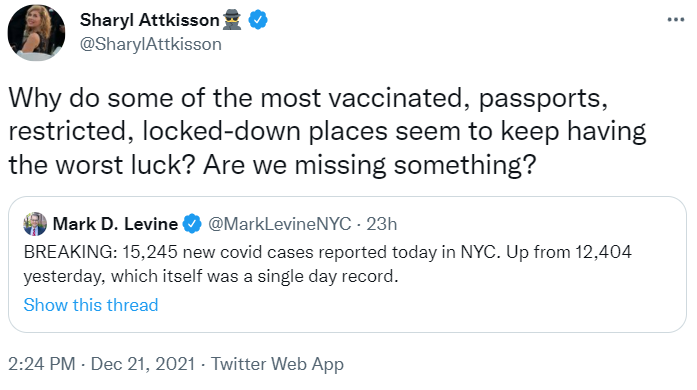 Why, it's almost as if the lockdowns and mandates the more Soviet-minded members of The Ruling Class have imposed upon us for two years running have virtually no effect as far as containing the virus, and this fact is more and more obvious every day that goes by (and it was pretty obvious a year ago), which then makes one wonder:
If the lockdown/mandate regime does not achieve its stated purpose, what then is the real purpose for imposing this regime?
Time to expand the Foreign Corrupt Business Practices Act.
If it's illegal to give cash bribes to foreign governments, then it should be illegal to give bribes in the form of non-cash favors, too.
Didn't like Chinese President Xi Jinping's book? Keep your mouth shut.

That's what China told Amazon, according to a new report, when the country pushed the bookseller to delete all comments and reviews related to "The Governance of China," a compendium of Xi's speeches and writings.

Amazon complied. It's another example of a US company bending to Chinese pressure in order to keep doing business in the huge and growing economy.

The government edict was delivered two years ago, according to the Reuters report citing two people familiar with the matter, but had never before been disclosed.

Now, on Amazon sites accessed within China, there are no reviews or star ratings for the book.
In case you missed it, former Capitol Police officer and frequent buddy of Don LeMon, Michael Fanone, has quit his job to formally join the staff of CNN. Previously I guess he was just informally part of their staff.
He had a history of accusing his fellow cops of being "loyal to Trump" and disloyal to "the Constitution." This despite his claim that he was previously a Trump voter.
'Clearly there are some members of our department who feel their oath is to Donald Trump and not to the Constitution,' Fanone said on Monday, adding that there are only two current D.C. police officers he still counts as friends.

Brian Stelter, CNN's media correspondent, confirmed that Fanone would be joining the network in the new year.

'A CNN rep confirms that Michael Fanone will start as an on-air contributor in January,' Stelter tweeted.

Fanone voted for Donald Trump in 2016, but did not in November 2020, he said.

After the Capitol riot, he became a strident critic of the then-president.

In July, while testifying, he made headlines by slamming his fist on the table and berating those politicians who still refused to acknowledge the facts of the insurrection.

'Nothing, truly nothing, has prepared me to address those elected members of our government who continue to deny the events of that day,' he said.

'And in doing so, betray their oath of office.'
Seems to be a very, very partisan leftwinger for a supposed former Trump supporter.
The Department of Defense has announced it will begin prosecuting personnel for merely "liking" social media content the Pentagon deems to be "extremist." Note, BLM and antifa content are not "extremist."
Service members could be punished for "liking" extremist content online under a new extension to the Pentagon's anti-extremism policy that was prompted by the Jan. 6 attacks on the U.S. Capitol.

The policy is the result of a review launched by Defense Secretary Lloyd Austin shortly after he took office in January. The review aimed to discover the extent of extremism within the ranks, and to look at how the Pentagon can balance privacy rights with the need to prevent people who espouse extremist views from serving in uniform.
This is as unbelievable as it is completely inevitable: After releasing thousands of violent criminals from federal prisons supposedly just as a temporary covid-mitigation strategy, the Very Centrist, Very Moderate Joe Biden and his Very Centrist, Very Moderate AG Merrick Garland announce well, we've reconsidered, and we're just going to leave those violent criminals out on the streets forever.
The Justice Department has reversed course in a legal analysis that could allow thousands of people released from prison at the start of the pandemic to remain free once the coronavirus emergency ends.

In a rare reconsideration, the department's Office of Legal Counsel issued a new legal opinion concluding the Bureau of Prisons "has discretion to permit prisoners in extended home confinement to remain there."

Attorney General Merrick Garland asked the OLC to reconsider the issue after personally reviewing the law. The move comes after months of intense pressure from a coalition of advocates across the political spectrum, who had urged the DOJ and the White House to reconsider.


"Thousands of people on home confinement have reconnected with their families, have found gainful employment, and have followed the rules," Garland said in a written statement. "We will exercise our authority so that those who have made rehabilitative progress and complied with the conditions of home confinement, and who in the interests of justice should be given an opportunity to continue transitioning back to society, are not unnecessarily returned to prison."
Isn't it weird how so many #CompletelyTemporary covid measures, which we were assured were #MerelyEmergency measures which would not last beyond #TwoWeeks, turn out to be permanent measures which will last forever?

"The greatest thread in Twitter history," Dave Reaboi says, of this nutter's thread attempting to prove that Trump is the literal anti-christ.
New Jersey taxpayer-funded commercial features kids asking Santa Claus for the covid vaccine.
The commercial was blasted by an opinion columnist at Shore News Network, a news outlet the covers New Jersey along with a number of other states, who described the ad as evidence that liberal Democrats running the state had "completely lost their minds."
They just really, really love propaganda. They have always been fans of the Soviets and jump at every opportunity to emulate their methods. They see covid as an opportunity to employ Soviet methods which the public will accept or even approve of.
H/t Marcus T.
Brandon's nominee for vice chairman of the Joint Chiefs wants "gender advisers" for the troops.
President Joe Biden's nominee for the vice chairman of the Joint Chiefs of Staff told the Senate "gender advisers" for combat troops are critical to the United States' success, a position some veterans say is nothing more than a left-wing initiative that distracts from the military's core duties.

The revelation came during a Dec. 8 exchange with Sen. Jeanne Shaheen (D., N.H.), who asked how Adm. Christopher Grady intends to implement "women, peace, and security" legislation within the Joint Chiefs of Staff.

"The role of a gender adviser is a way to attack a very significant issue, and if confirmed, I look forward to leveraging those advisers who can make me think better and smarter about the issues that you raise," Grady said. "So I look forward to, if confirmed, understanding that ecosystem and helping advance that cause going forward again."
Video at the link.

Via John Sexton at Hot Air, a personal assistant reveals years of trauma at the boy-caressing hands of X-Men director and open and tolerated Hollywood pedophile Bryan Singer.
In related news, CNN just hired Bryan Singer. He won't be a producer or anything. They just need a good wingman. You know, with one of their producers having been fired and another one saying he's staying in and just watching TV these days, on advice of counsel.
Seems like the teachers union has its NPC Army pushing out the spin that Randy Weingartner (and the teachers) were trying to open the schools, rather than demanding they be shut down so that they could do "virtual learning" sessions from vacations in Aruba.
Worth the click. Four identical NPC retweets of the NYT "news" article.

Kenosha County Eye -- the blog that so angered T. Clare Binger -- says that Fatlock has announced that he and Littlefinger are not, in fact, gay lovers.
Thank God for small mercies such as this.

posted by Ace at
05:50 PM
|
Access Comments