« Jim Acosta Posts Picture of Him and His Unmasked, Very White Staff, Mockingly Holding a Picture of the Burned Fox Christmas Tree
|
Main
|
Quick Hits »
December 21, 2021
Brandon's Speech, and Other Covid News
Last year Trump noted, accurately, that the covid transmission rate among children was "extremely small," so we should open schools. Biden argued schools should be closed -- until after the elections.
Kumala wasn't Biden's running mate. Covid was his running mate.
Now Biden says schools should remain open because "now we know more."
No, we knew this all then. Just you wanted to inflict maximum misery on the country for the election -- and you also wanted to do a favor to your top political ally, the teachers unions, who are not only Covid Karens as a group, but who have class envy and who wanted to work from home just like the Laptop Class they so want to be.
Brandon once again says that he's been ordered not to answer certain questions by his handlers.
Angry Old Man gets angry when media asks him why it took so long to agree to distribute covid testing kits.
He then claims it's not a failure that we don't have enough rapid covid tests because no one could see a new variant coming, because omicron "just happened almost last night in the last month."
What?
This has been unfolding for a month but I couldn't see it coming? Even while people were saying, "Look at how fast this is spreading, you have to get rapid covid tests into people's hands"?
And then you say, "it happened overnight, over the past month"?
Karol Markowicz @karol

Biden said that it's not a failure that we don't have rapid home tests available because "COVID is spreading so rapidly, if you notice, it just happened almost overnight in the last month." That's absurd.


A) COVID was spreading in the summer in the south. They count. Maybe have home tests not just for northeasterners? And B) this was an extremely predictable spike. I predicted it! And who am I!

Everyone whose brain is not a single bean could predict that we're going to have spikes in upper respiratory viruses of all kinds in the northeast during... the winter.
So of course Brandon missed this.
Just some of my predictions that NY was going to have a winter spike. I don't get how I could know (based on monitoring case and death numbers) this was coming but public health professionals/the Biden administration did not.
Even his leftwing media allies say Slow Joe was too slow.
President Joe Biden's announcement that all Americans will have access to free, at-home rapid coronavirus tests is a welcome development, but comes too late to have an impact on the wave of omicron cases that is only expected to grow, experts say.

Epidemiologists and public health experts have implored the White House to take this action for months, encouraging the administration to expand the supply of at-home tests for Americans to use on a routine basis.

More recently, experts have warned the administration that the tests will be a vital tool in slowing a wave of cases from the omicron variant, which could soon overwhelm U.S. hospitals.

"It's totally inadequate with respect to the number and timing," said Dr. Eric Topol, executive vice president and a professor of molecular medicine at Scripps Research. "But at least it's a first step in the right direction of distributing free rapid home antigen tests, which are pivotal for preventing spread."


Americans won't be able to order the free test kits until January, when the new federal website for the test kits will launch, White House press secretary Jen Psaki told reporters Tuesday. The administration has not decided how many test kits each household will be allowed to order and how long it will take for them to ship.

Brandon gives you permission to see your family for Christmas -- but only if you and they are vaccinated. Only then may you "enjoy the holiday season."

Some additional covid stuff:
The NBA says they're off the Covid Panic Train:
Clay Travis @ClayTravis


NBA commissioner Adam Silver just said the NBA won't be shutting down because, "The virus will not be eradicated and we have to learn to live with it." Welcome to the party, pal.
Gretchen The Witch is refusing to issue new mask mandates, claiming that mask mandates would discourage vaccination. Beth Baumann says the real reason is that she's been put in check by the courts for her other illegal mandates. I'd add: Because the public is tired of mandates and she's up for reelection.
Fauci says that even if you're vaccinated, you should not go to family gatherings if you do not know the vaccination status of every person at the gathering.
As Buck Sexton points out, vaccination does not say much about whether someone is infected with or transmitting covid, which Fauci should know, and either forgot is or actively deceiving the audience about.
Adam Carolla and Mark Geragos note that CNN is shifting the way it talks about covid, and review how it used to panic the public for virtue signaling as well as increasing their ratings through mass hysteria. Worth a listen.
Here was Little Brian Stelter crying hysterically and breaking down emotionally about covid back in April 2020: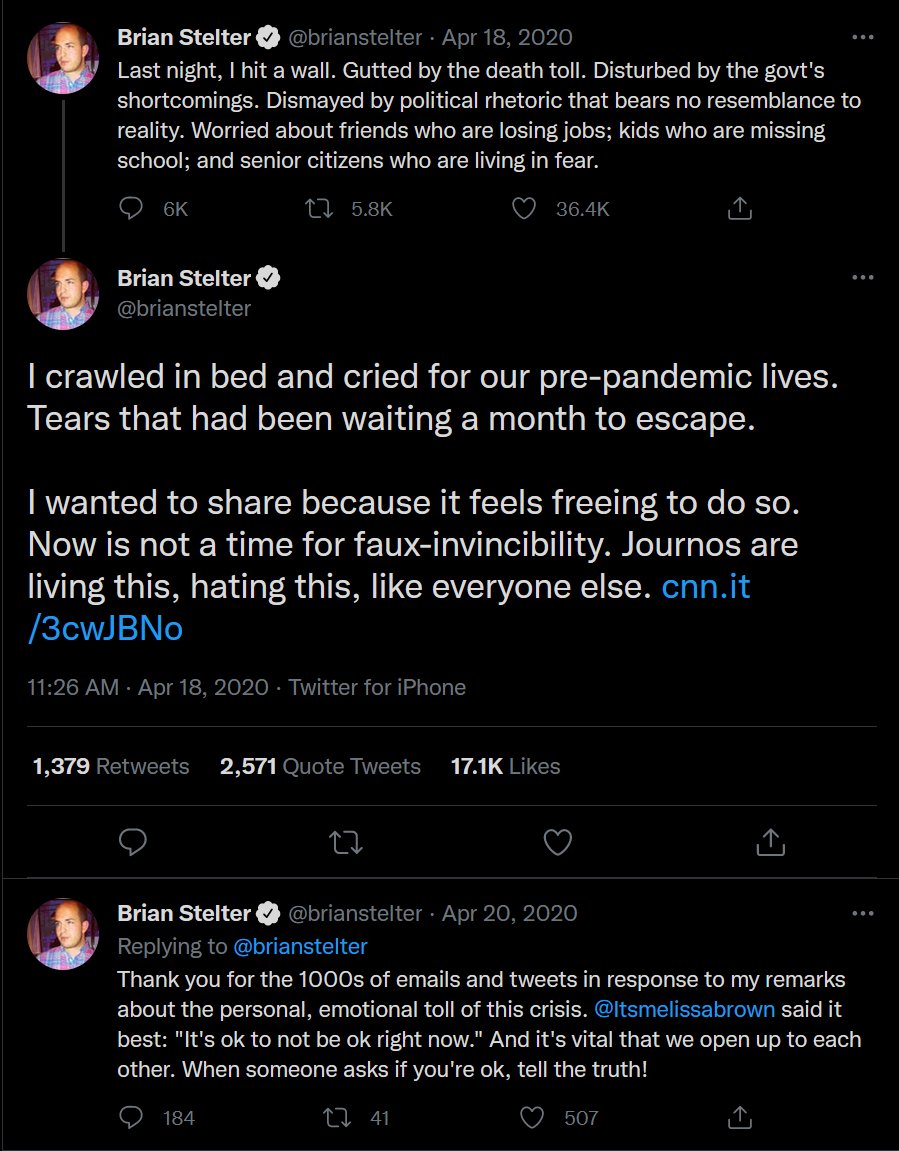 Pumping out some Tater Tears for clicks.
And probably also because I think obese men tend to be emotional hysterics unless they have some muscle, which Tater Don't. (I'm working on a song called "Tater Don't.")
The sudden shift to "we have to learn to live with it" is because of the death of Build Back Better. Brandon was supposed to have three big successes in 2021: Afghanistan, Build Back Better, and the vaccine rollout eliminating COVID. The utter disaster of the first two means that they need to find a way to claim victory with COVID despite the resistance to vaccinations and the failure to "shutdown" the virus, in order to give the White House a win.

Posted by: Colorado Alex in Exile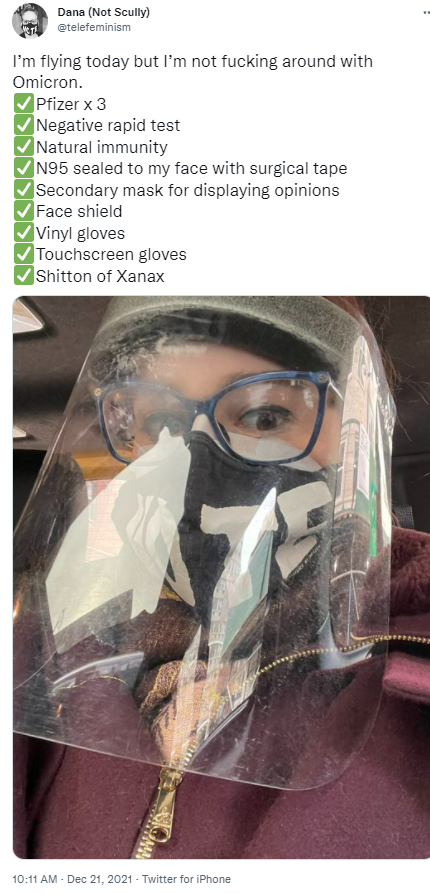 And the bio says just what you'd expect it to say: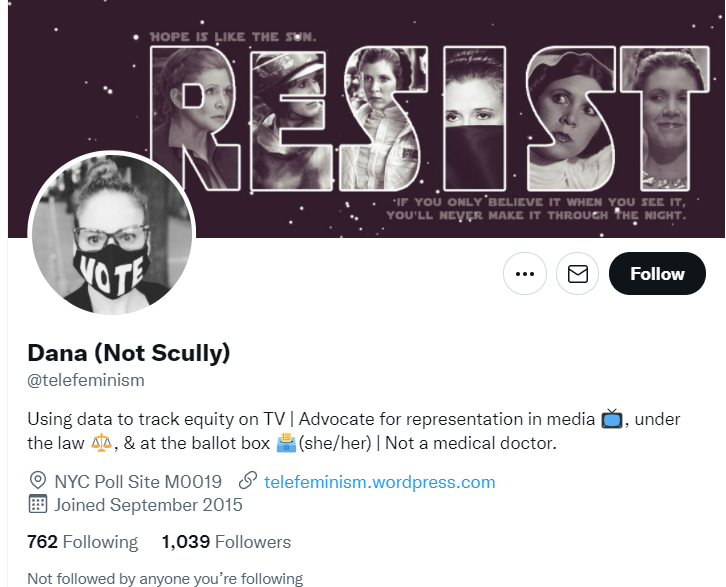 "Telefeminism." LOL.
Someone replied, "tell me you're a dedicated CNN fan without telling me you're a dedicated CNN fan."

posted by Ace at
04:49 PM
|
Access Comments