« Brandon's Handlers Accuse Manchin of Bad Faith in Wake of His "No" On Build Back Bolshevik Bill
|
Main
|
Yule Dogs Cafe »
December 20, 2021
Quick Hits
Katie Pavlich
@KatiePavlich



A full vaccinated and boosted White House staffer, who was in close proximity of President Biden on Air Force One for 30 minutes, has tested positive for Wuhan coronavirus
Michael Fanone, the Capitol Police officer who spent so very much time on CNN talking about the "insurrection," has, as predicted, resigned from his job to take a job with... CNN.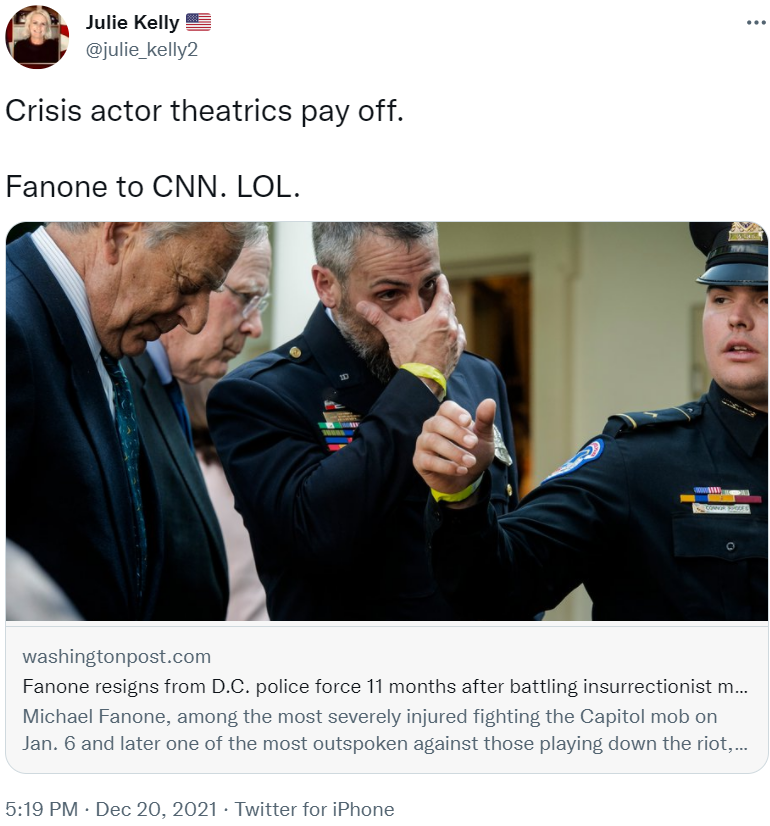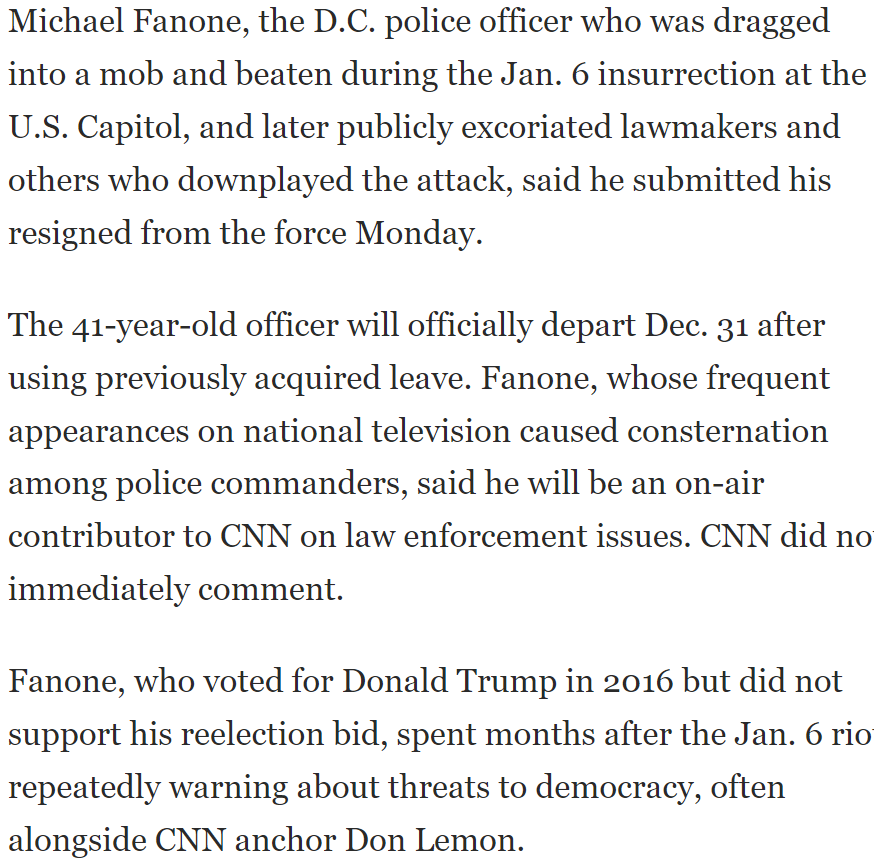 We need to talk about this issue seriously: We now have a regime in which anyone who acts as a useful political actor for the Democrat Party -- even a criminal one, as in the case of James Comey, Peter Strzok, Lisa Page, James Clapper, or John Brennan -- is 100% guaranteed a high paying job on CNN or MSNBC.
The media is a serious corrupting force and they're increasingly brazen about it. They might as well straight-up make the promise: Help the Democrat Party win an election and we'll give you a $200,000 contributor contract.

Good Samaritan beats up purse thief. Maybe he beats him too much, but, as I used to explain to my DM as I put the boots to an orc, it's Lawful Good, not Lawful Perfect.

Several NYC residents offer their unvarnished opinions on Joe Biden during a Fox News live report.

Eventually this self-appointed Stasi Monitoring Agent is going to take the wrong surveillance picture of the wrong American man and wind up eating his phone.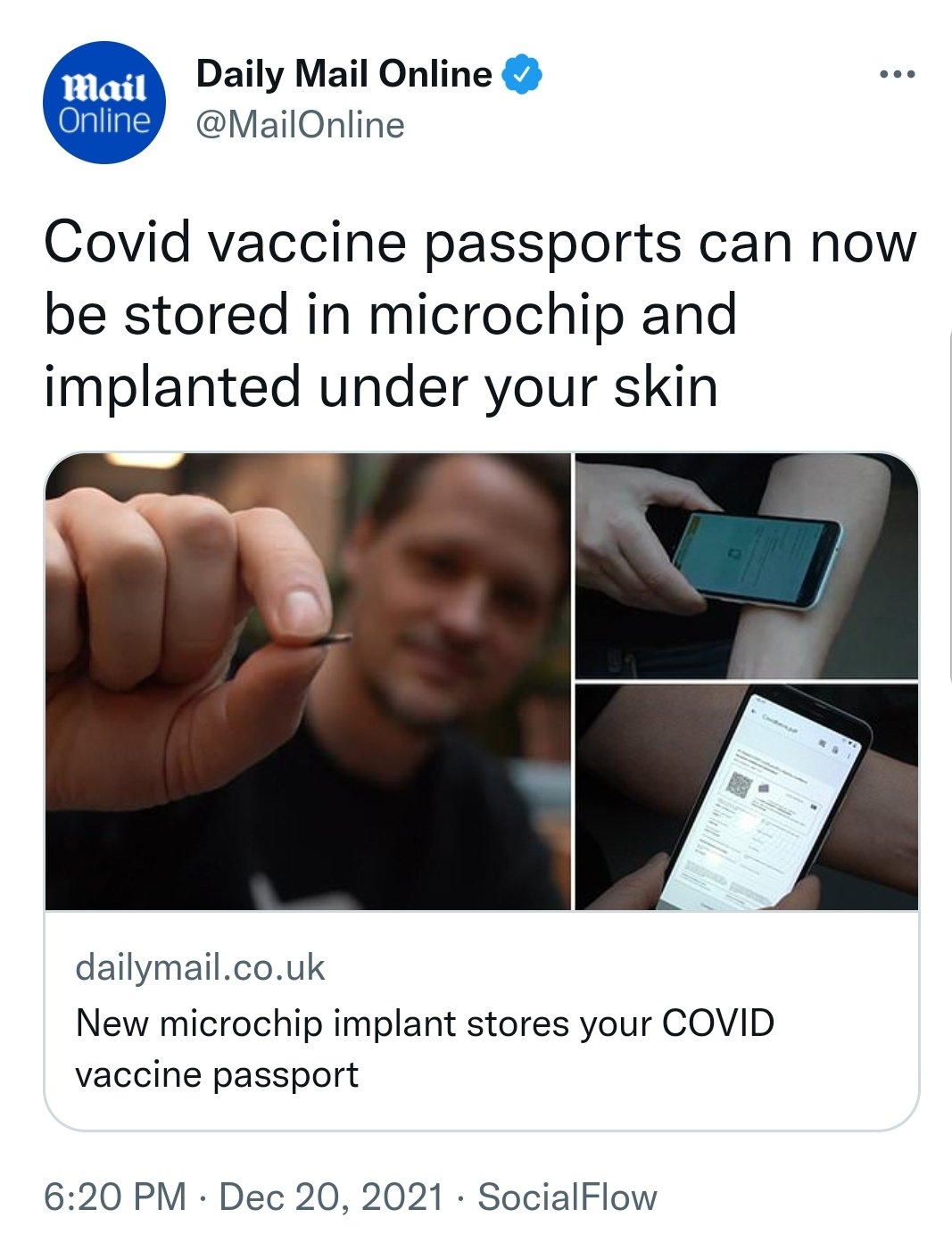 Incredibly -- incredibly -- the New York Times is recasting School Shutdown Queen Randi Weingartner of being... a crusader for opening schools.

She was just misunderstood, you guys.
One sure sign of how poorly our public schools are doing may be the way that the New York Times resorts to Creative Writing as they show how they struggle with history. The paper has delivered a bizarre profile that is glowing in its praise of national teachers union President Randi Weingarten as a champion for opening schools. This, after long periods of parents in many states seeing their children languish and suffer emotionally after being forced to sequester at home at the hands of remote learning.

Opinion columnist Michelle Goldberg attempts to put lipstick on the fecal matter in the yard, by selling the concept that Weingarten is to be praised for now pushing to open schools for the benefit of children's emotional welfare. The framing is obtuse, trying to suggest the union head is deeply concerned about student welfare, after casting them into educational purgatory for over a year. That this attempt is failing is not surprising; that it was even made, let alone published, is the surprise....

But those who fault Weingarten for closed schools misunderstand the role she's played over the past 20 months. Rather than championing shutdowns, she's spent much of her energy, both in public and behind the scenes, trying to get schools open.
What would we do without Vice?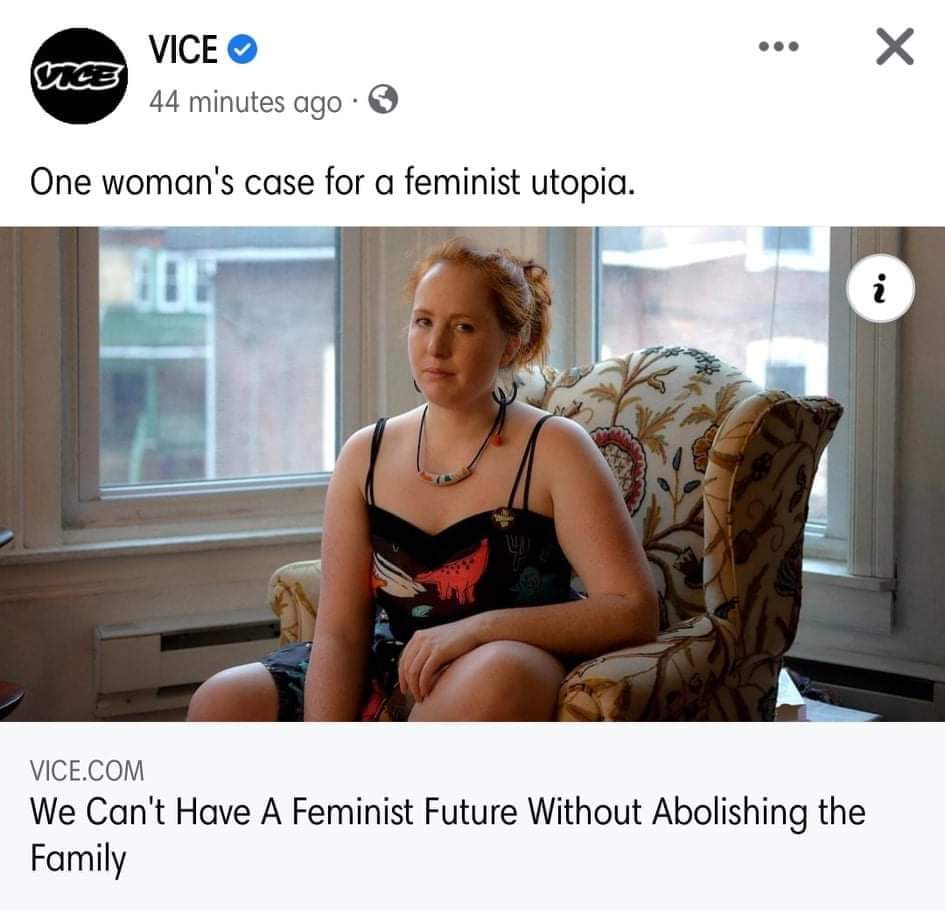 CNN's fact-free fact-checker, the weak soft pile of unformed dough Chris Cillizza: I'm starting to realize that the vaccines do not stop the transmission of covid, nor do they stop people from catching covid, and that therefore covid may be with us for a long while to come.
You don't say, Chris.
You don't say.
@ChrisCillizza
I've been thinking a lot about why the latest surge has hit me so hard and I think it's because I have been fooling myself -- to some extent -- for the last 18 months


@ChrisCillizza
I told myself that the reason to get vaccinated (and boosted) was a) to avoid serious illness if I got Covid and b) to keep myself from passing the virus along to my mom (and other more vulnerable people)

That was what all the experts said the vaccine did. It lessened our chances of severe infection, hospitalization and death.

But, deep down, I think I believed that being vaccinated (and boosted) would keep me from getting Covid-19 AT ALL.

Why? Not sure, honestly. But I spent the better part of a year waiting for a vaccine and doing everything I could to keep my family from getting the virus. It's hard to just turn that switch off.
This is magical thinking. I hate to speak up on behalf of "The Experts," but The Experts have said forever that the vaccines do not stop you from getting covid, but merely reduced your chances of getting it, and reduce the severity.
Even before the efficacy of the viruses began falling (after first contact with the enemy, as it were), "The Experts" were not promising 100% immunity from either catching covid or from serious sickness. I think the most they promised was something like 88% full immunity, 94% prevention of serious sickness.
It's dropped quite a bit since those early claims.
But it was never 100%/100%, Chrissy.
You work as a "fact-checker," don't you?
For the past two years, what... facts have you been checking claims against?
Apparently you ignored facts. Apparently what you did is turn this into some kind of pagan Test of Virtue and decided that if you did "all the right things" the Spirits of Science would protect your Clean Soul.
These are the people who are always shouting the loudest about "The Science."
It's not science. It's tribal cult fetish shit.
I think that's why yesterday -- when it felt like every person I knew was either being diagnosed with Covid or had been exposed to it -- hit me so hard.

Because the reality is -- and has always been even if I didn't realize it -- that the vaccines don't, really, prevent you from getting the virus. Or, at least, they don't guarantee it won't happen.

My friend @cwarzel described the view of many people he knew as "chill" about the reality that lots and lots of us (maybe all?) are going to get Covid at some point in the not-too-distant future.
OMG, you're just getting this now, huh, fact-checker?
I'm, um, not in the "chill" stage. But, I at least am realizing how badly I miscalculated what the vaccine means and what it is supposed to do.

According to all the available data, it's doing its job (preventing serious illness and death among those infected). But it can never do what I had hoped: Ensure no one I loved will become infected.

My work now is getting used to that reality. I realize I am way behind lots of other people in doing that. But, you have to start somewhere.
Well, it is nice that reality finally managed to send a few slivers of light piercing through the clouds of ignorance you had amassed around yourself.
How about some apologies for denigrating and demonizing the people who knew all this a year or even two years ago?
Maybe some apologies are owed to Ron DeSantis, who has led the way in living rationally with covid, even as deluded, neurotic borderline-mentally-ill fat f***s like you attacked him at every turn for doing so?
I realize you'll never apologize to Donald Trump for saying, wisely, "the cure cannot be worse than the disease" -- so baby steps, apologize at least to DeSantis.
Incredible. Incredible. Ladies and gentlemen -- your "Cognitive Elite." Always two years behind the supposed "cognitive peasantry."
Here's a good response to Cillizza's Sad! confessional.
It must be NPC Programming Update Day at CNN, because Brian Stelter is now talking about living with covid, too.

I forgot to mention a point made by that Dr. Jay Battracharya about lockdowns: He pointed out that the lockdown strategy could only work for a single class of people.
That class of people? The Laptop Class -- Pixel Pushers.*
Only the Laptop Class was capable of actually self-isolating to the point where they could avoid nearly all human contact for days or even weeks at a time.
All other people were required by their jobs to interact with other disease-carrying humans on a daily or even hourly basis.
So: the Lockdowns for Everyone strategy really only protected one tiny sliver of America.
And also, the Lockdowns for Everyone strategy only didn't inconvenience one tiny sliver of America.
And you'll never guess which tiny sliver of America just happened to be the most fervent, wild-eyed supporters of Lockdowns for Everyone!
Odd, isn't it?
Isn't it terribly odd that a privileged ruling elite would favor a policy that benefits only themselves? And isn't it terribly odd that an insulated and inbred privileged ruling elite with little knowledge or care about how those outside their circles work and live would not craft policy with a mind to benefiting those outside their class?
* I just came up with Pixel Pushers. I don't know if it's original but I never heard it anywhere else. If it takes off, I'm taking credit for it.


posted by Ace at
06:24 PM
|
Access Comments