« Techno Fog: Durham Filing Says That Clinton Campaign Personnel Are Involved "In Matters Before the Special Counsel"
|
Main
|
Brandon's Handlers Accuse Manchin of Bad Faith in Wake of His "No" On Build Back Bolshevik Bill »
December 20, 2021
Quick Covid Hits
The White House issued a statement on the omicron variant: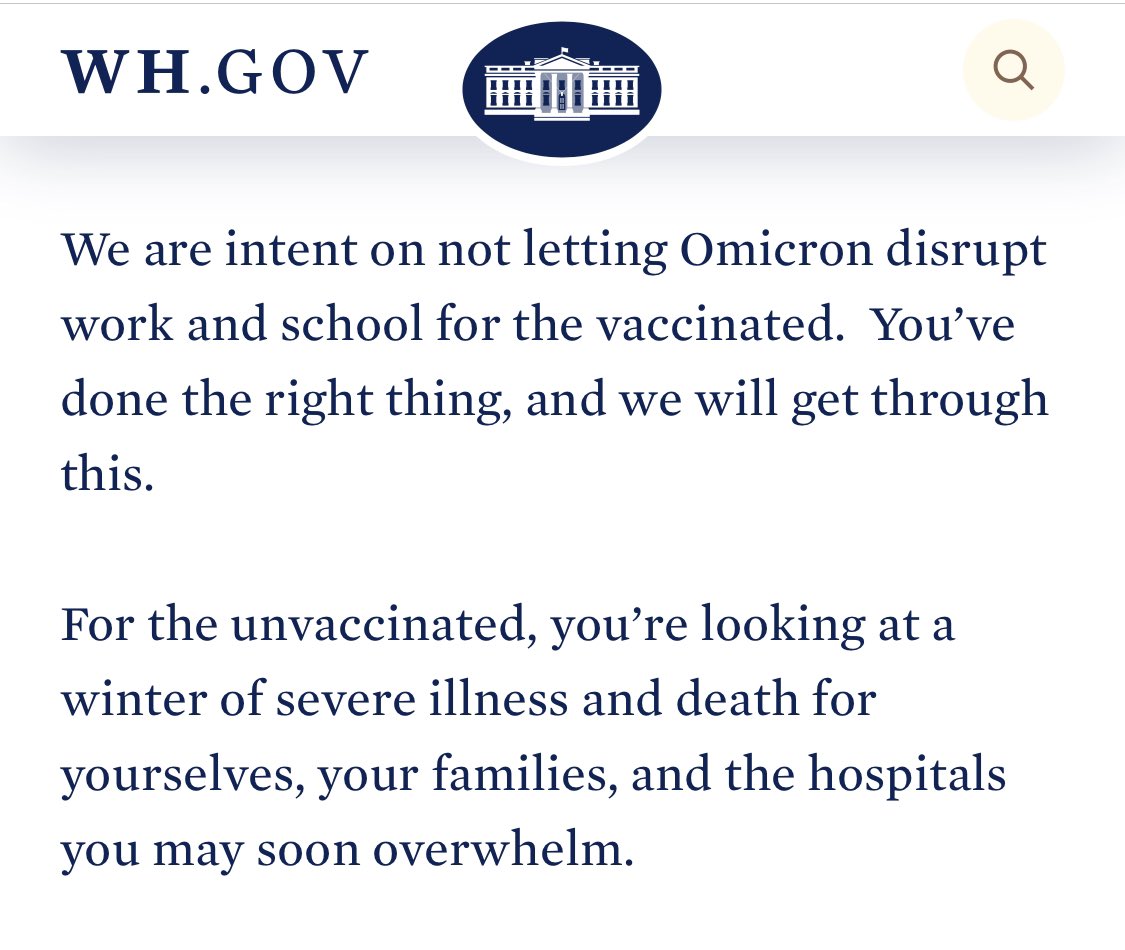 Biden apologist and Noted Conservative AllahPundit said this statement was about two things: 1, to scare people, but 2, more to signal that the country isn't going to quarantine itself further just to protect the unvaccinated.
Given that all the blue areas are going right back into lockdown, that second claim seems to be Disinformation. In fact, the left is going right into quarantine, which is the only state of being where life makes any sense for them any longer.
The most important part of this message isn't either of those: It's 3, Blame for my failures lies with others. Biden promised he would "not shut down America" but would instead "shut down the virus." He's violated both of those promises, and is shutting down America again while also failing to shut down the virus.
So like any socialist, he needs some scapegoats -- he needs counter-revolutionaries, subversives, and foreign spies to blame the failures of The State on. He needs Hoarders and Wreckers.
He needs Enemies of the State who subvert all the good works of the state.
And of course that's you -- Republicans. People who don't get vaxed. People who do get vaxed but oppose vaccine mandates. People who do not engage in Mask Theater or engage in it to the minimum extent possible.
That is the main message here: My failures aren't my failures, they're the failures of my political enemies.
Strange -- Biden, the leftwing media, and the neoliberal NeverTrump movement told us that taming covid would be so, so easy. All we had to do is get rid of the Orange Demon-Man and wear our masks for Two Weeks To Control the Spread.
All we needed was a president who would engage in Mask Theater on camera, to show the plebes that masking was good, and covid would go away.
People who themselves literally never wore masks on camera, like Jake Tapper and Dr. Guy P. Benson, Ph.D., were fond of this "Trump Must Mask to Inspire Others" claim.
But, as Trump predicted: Covid did not go away, and it became endemic, and we're just going to have to live with it.
And because the silly political anti-science lies of NeverTrump, the leftwing media, the Democrats and Biden (largely overlapping groups, of course) are proven to be lies, they need new lies to explain the old lies away.
Then: Covid is very easy to stop, we just need to get rid of Trump
Now: Boy this covid is one complicated nut to crack!
Yeah, and it was an even tougher nut to crack when we knew so little about it and we didn't have the Trump vaccines to give us partial protection against it.
By the way: Trump is bragging that he played a role in giving the vaccines to the world, which I don't hear his leftwing detractors mentioning very often.
Gee, if they really wanted to increase vaccine acceptance among conservatives, you'd think they'd point out that Trump was a big mover in delivering the vaccines in a record nine months.
But they never say that, because they don't want to give Trump credit for anything, and also, they really don't care if people die all that much. They just like being credited as being Concerned about public health.
Josh Kraushaar
@HotlineJosh


On ABC News' "This Week":

KARL: "Are we ever going to get to a point where we won't need to wear masks on airplanes?"

FAUCI: "I don't think so. I think when you're dealing with a closed space... you want to take that extra step."
Rep. Eric Swalwell
@RepSwalwell

On a flight now to Bay Area and it is one-hundred percent batty that the unvaccinated are allowed to fly. It's unsafe in the cabin and we are transporting the virus. Requiring the vaccine to fly is the LEAST we can do to stop the spread.
This guy was literally inside Chinese intelligence for a year.
The Democrat-led, mask-and-mandate blue states are getting hit by huge surges in covid cases, which I was assured wasn't possible. After all, they were following Fauci's shifting recommendations and acting, generally, like spazzes.
So why is this happening Boston?
Or in New York?
Stephen Merelman
@Smerelman

Flashing now:

*NEW YORK REPORTS OVER 20,000 COVID-19 CASES, NEW DAILY RECORD
Why are Democrat Senators catching covid?
Oh that's right -- they must be catching it from Republicans, Debbie Stabenow tells Andrew Mitchell on NBC "News."
Like I said: Wreckers Wanted. Apply Within.
Sure doesn't seem like the Left is moving on and letting the Vaccine Skeptics just die of omicron why they get on with their lives: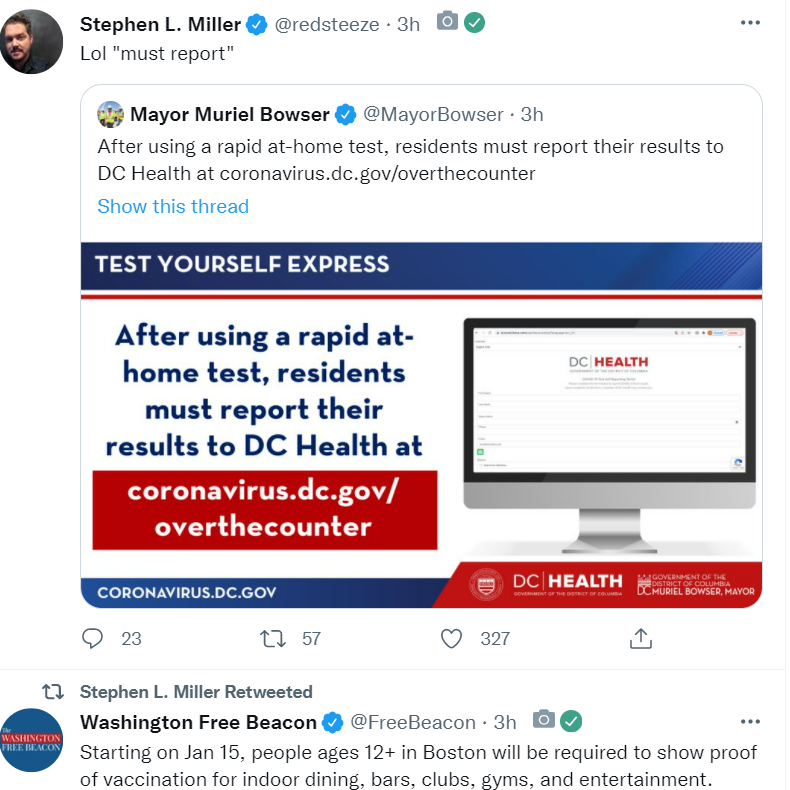 When covid spikes in red states, it's always the fault of Republican policies and dirty mask-skeptical vaccine-hesitant Covid Pagans.
But when covid spikes in blue states -- it's God's fault. It's the weather's fault.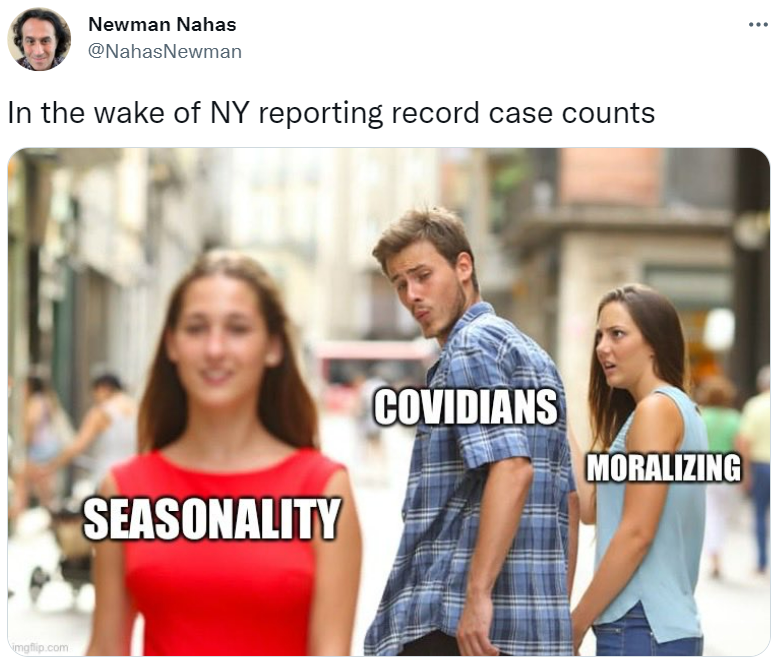 AllahPundit's a big fan of the rule that "covid spikes in red states means DeSantis is to blame, but covid spikes in blue states are just seasonal variability."
Kevin Sorbo
@ksorbs



Guys Joe Rogan is NOT a scientist! Don't take what he says seriously.

Coming up next, the Jonas brothers and big bird reminding you to get your vaccine!
Jordan Schaechtel has a good post on Substack comparing the promises of the vaccine -- immunity to covid, and of course immunity from transmitting covid to someone else to what it turned out to be.
I'm not hot about mistaken prediction made earlier as I am about Biden continuing to spread Deadly Disinformation now, when we know these vaccines are very leaky.
Though I am wondering about the initial vaccine test pool: I'm thinking that maybe the test subjects were younger and healthier, which is how the vaccines wound up delivering such high rates of effectiveness in the test phase, but then delivered much lower rate out in the real world, when a population of older, less healthy (and more susceptible to covid) people were taking the shots.
Like when they earlier said the vaccines would make you 95% immune from hospitalization-level covid: Was that partly just because the population they were testing on was already pretty much naturally immune to being sick enough from covid to be hospitalized?
It's a question worth asking. Do any readers know if this has already been answered? Were the test subjects representative of the real general population or were they, like many test subject groups, screened to be younger and healthier so that they wouldn't be in so much danger if the vaccine had bad side-effects?

posted by Ace at
03:54 PM
|
Access Comments