« WSJ: Hispanics Now Evenly Divided Between Parties
|
Main
|
Teachers In California Decide That Working Five Days a Week Is Too Hard, and Give Themselves One Day A Week Off »
December 08, 2021
WATCH and LOVE: Hillary Clinton Busts Up Crying As She Reads Her Own Would-Be Victory Speech That She Intended to Give in 2016
Incredibly, she'll be... teaching... a... class... just about... this.. one... speech... which was never given.
But which is somehow historically important.
Twice-failed presidential candidate Hillary Clinton is pulling her would-be 2016 presidential victory speech out of the archives as part of a "MasterClass lesson," which is what TODAY described as "the power of resilience."
The "power of resilience" may include full-blown alcoholism plus a spiteful conspiracy to overthrow a duly-elected president out of spite and entitlement.
In the full class, which will be released Thursday, Clinton focuses on the speech she would have delivered on November 8, 2016, had she defeated former President Donald Trump.

"In this lesson, I'm going to face one of my most public defeats head-on by sharing with you the speech I had hoped to deliver if I had won the 2016 election," Clinton said, emphasizing she has "never shared this with anybody."

"I've never read this out loud. But it helps to encapsulate who I am, what I believe in, and what my hopes were for the kind of country that I want for my grandchildren, and that I want for the world, that I believe in that is America at its best," she said.
More at Breitbart.
While the speech talks about "uniting," it must be kept in mind that less than 24 hours after realizing she lost, Hillary Clinton gathered her minions to launch a conspiracy to push a lie into the media and FBI and DOJ to get the duly elected president investigated and delegitimized and divide the country for five years all due to her spite and wounded ambition and refusal to accept the fact that the nation had rejected her -- again.

Video of her tearing up as she reads her gassy, dishonest speech.
I love that the leftwing hosts go "unh-unh" and "whoa" at the ended of this passage like they're Will Smith filling in on someone else's rap in 1999.

Unrelated context-free bonus: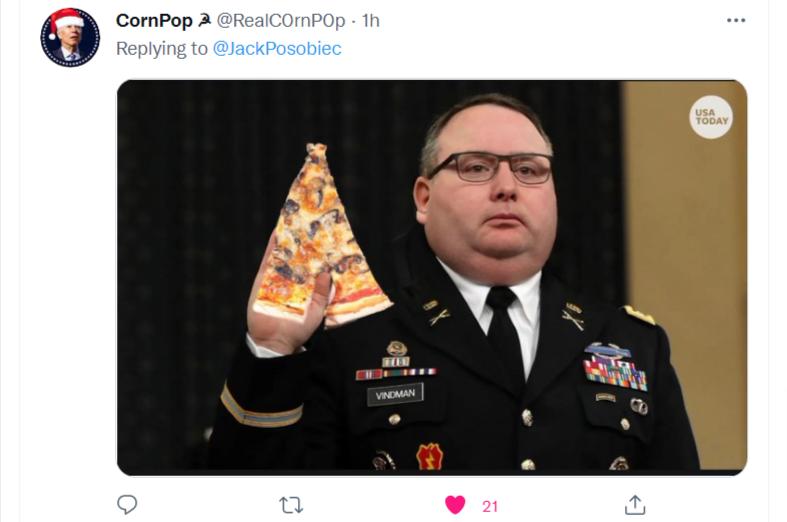 The actual context for that is...
Jack Posobiec @JackPosobiec


Send Vindman, Ciaramella, Hunter, and Alec Baldwin to fight the war in Ukraine
... but it's funnier without any context at all.

posted by Ace at
04:50 PM
|
Access Comments