« White Women's Abusive Relationship with the Democrat Party [Dave in Fla]
|
Main
|
Dorsey Is Leaving Twitter In Good Hands: Another Anti-Free Speech Zealot »
November 29, 2021
AP Entirely Omits Ronald Reagan In Discussion Of Past Presidents' Futile Efforts In Fighting Inflation
Something is missing in this Associated Press piece, which is trying to protect Joe Biden from his catastrophic economic policies. With inflation eroding the purchasing power of Americans' paychecks, the AP is arguing that there is little or nothing a President can do about inflation.
Biden aims to do what presidents often can't: Beat inflation (AP – 11/23/2021)
The AP's scribes are so diligent in protecting the honor of their current political God, Joe Biden, that they go all the way back to LBJ's presidency to discuss how impotent Presidents are in the fight against inflation.
LBJ tried jawboning. Richard Nixon issued a presidential edict. The Ford administration printed buttons exhorting Americans to "Whip Inflation Now." Over the years, American presidents have tried, and mostly floundered, in their efforts to quell the economic and political menace of consumer inflation. Now, President Joe Biden is giving it a shot.
One prominent name is completely omitted – Ronald Reagan – the President who was elected to stop inflation, and who did successfully tame the runaway inflation he inherited.
Yes, AP, except for Ronald Reagan, who you chose to omit, all those Presidents "mostly floundered."
And guess what other President's name is not mentioned in this AP article? Jimmy Carter, the failed President that Biden is constantly being compared to, and who Ronald Reagan rescued the country from in 1980.
Reading an Associated Press story about Joe Biden's failures is like reading a Christmas letter from a protective mother trying to gloss over her adult son's failure to launch.
Christine Pushaw (Ron DeSantis' Press Secretary) is constantly battling the fake news produced by AP. Here are some of her best insults for AP's faux-journalism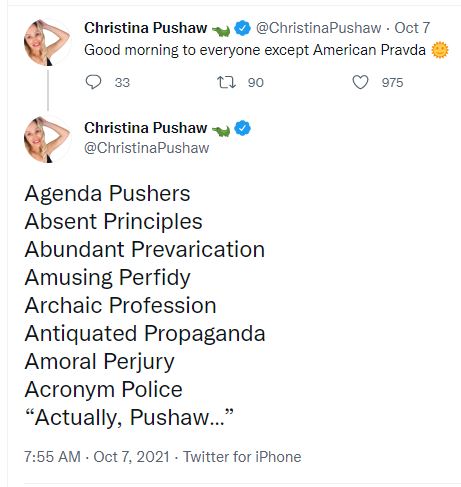 [buck.throckmorton at protonmail dot com]


posted by Buck Throckmorton at
01:33 PM
|
Access Comments