« The Morning Rant
|
Main
|
AP Entirely Omits Ronald Reagan In Discussion Of Past Presidents' Futile Efforts In Fighting Inflation »
November 29, 2021
White Women's Abusive Relationship with the Democrat Party [Dave in Fla]
Women voters have been psychologically abused for the last 5 years by an intentional Democrat operation.

- Richard Baris, Pollster, Peoplespundit.com

Listening to one of Rich Baris' post-election review of the Youngkin victory in Virginia, the above quote caught my attention. Rich was making the point that white women voters are tough to poll and many are voting against their own, and their children's, interests because they have been intentionally abused since early in 2016.
This has been a deliberate operation conducted by the Democrat Party, starting in 2016 after Trump received the nomination. The goal has been to make support for Trump, and Republicans in general, socially unacceptable. To move discourse from simple political disagreements to social risk of ostracization by your friends and family for supporting Trump. This started with misogyny and the Access Hollywood tape. When that proved to be less effective than desired, they ramped up the operation to include racial guilt. We've reached the point where white women are being told that they are white supremacists for objecting to their children being indoctrinated or for support of any traditional American value. Values that used to be common across both political parties.

During the video, Baris said that he has seen the actual memos from the DNC where the details of this strategy were discussed. I've tried to find any further reporting on this topic, or even leaked copies of the memos, but I have not been able to find anything. I would love to find hard evidence of what the Democrats are doing.
What I am able to do is look at the voting and polling patterns for white women voting in the last 3 election cycles. One of the frustrating things in polling analysis is finding useful data. Polls are notorious for reporting top line results and not providing demographic information. For instance, looking at Ipsos, you won't find a break down of racial demographics in the published results. Ipsos won't even publish the breakdown between men and women. Rasmussen puts all of the lower level breakdown behind it's Platinum membership paywall.
However, Pew does provide post-election analysis, which is helpful for understanding the difference between polling and voting. In the following image you can see the Pew breakdown of voting in 2016, 2018, and 2020. One note about methodology, this is based on voter files, not election vote counts. What this means is that it represents how real people voted, since it is pulled from consumer surveys. This methodology removes the bias introduced by fraudulent mail-in votes in 2020.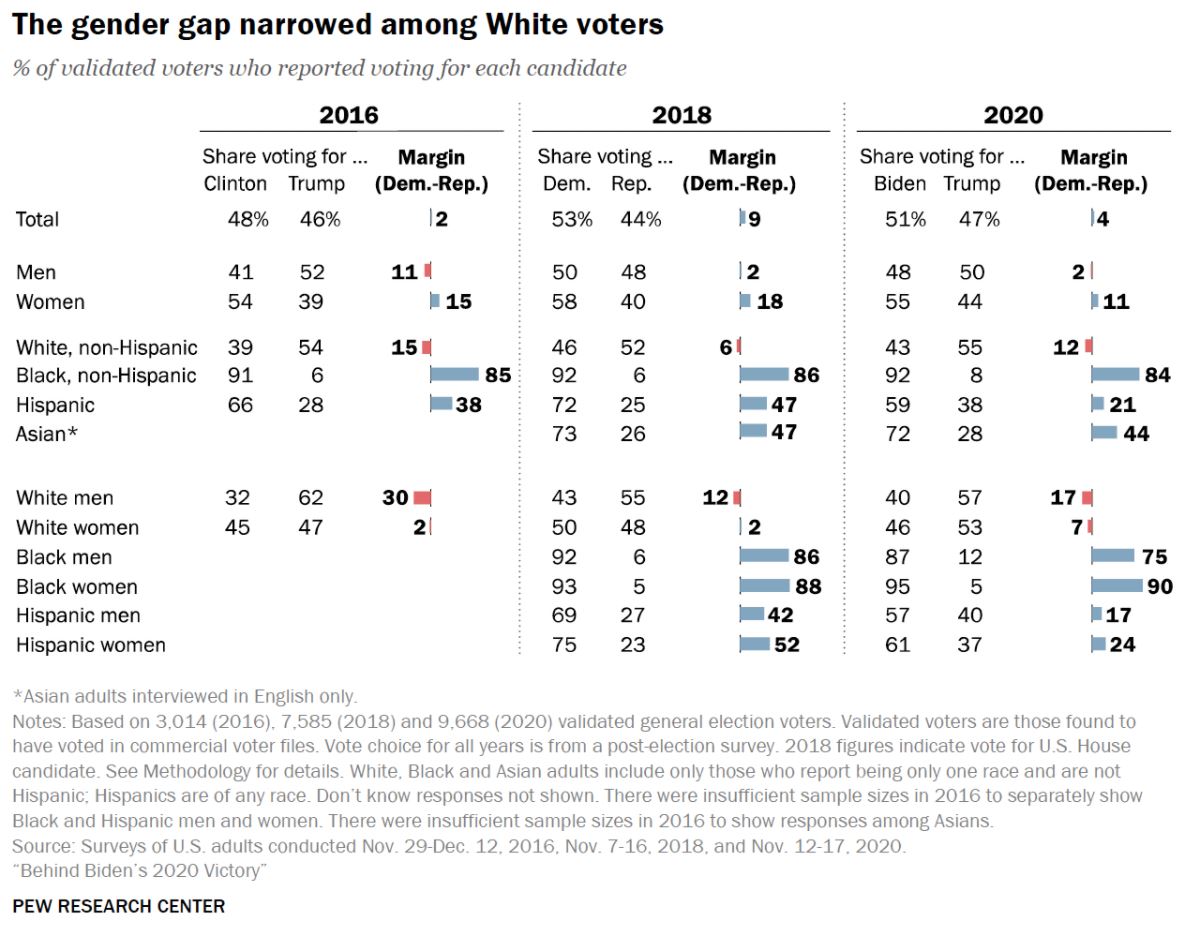 In this graphic you can see that white women favored Trump/GOP by 2 points in 2016. In 2018 that shifted 4 points to the Democrats as "the operation" ramped up. Then in 2020, the Democrats added the racism component to the operation. Recall that Biden's entire campaign was predicated on the Charlottesville lie. But the actual results from 2020 are that white women rejected this tactic and shifted back to Trump/GOP by 9 points (5 point advantage). An interesting point is that the shift among white men was in the opposite direction, moving 13 points toward the Democrats.
Let me add another data point to illustrate what has happened in the last 5 years. Below is the final IBD/TIPP poll prior to the 2020 election. This poll is usually decent, without too much Democrat bias, and I think they were pretty close to the actual national numbers.

Note that this poll was identical to the results Pew found for white men. In the poll white men said they would vote for Trump 58-39, and Pew found that they voted for him 57-40. What is glaringly different is white women. They said they would vote for Biden 52-45, but actually voted for Trump 53-46.
My conclusion is this shows the "shy Tory" effect, and ultimately the failure of this Democrat operation. They succeeded in establishing the abusive social conditions they wanted. They even succeeded modestly in 2018 by moving 4% of white women toward the Democrats. But by 2020, they had put white women in fear of social ostracism to such a degree that they were flat out lying to everyone about their support. Publicly, and to pollsters, they said they were doing to vote Democrat. But in reality, they voted for Trump.
I doubt they admit it to their friends, though.


posted by Open Blogger at
12:15 PM
|
Access Comments