« So How Is That Vaccination Working Out?
|
Main
|
What Won't The Left %#@* Up »
November 26, 2021
Media: Biden's Devastating Inflation Is A Good Reason To Eliminate Beloved American Traditions
Your Thanksgiving meal was a lot more expensive this year. As Clay Travis notes below, wholesale turkey prices are up more than 300% from Thanksgiving 2020 (when Donald Trump was President) to Thanksgiving 2021 with Joe Biden as President.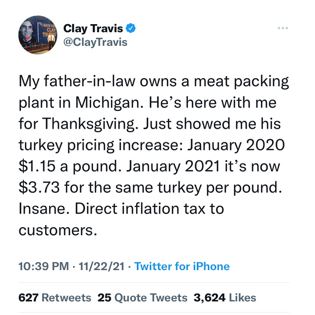 Our despicable media, which has been doing everything they can to make excuses for the Biden administration's wage-destroying inflation policies, is finally acknowledging that inflation exists. (And the inflation rate is a heck of a lot higher than the transparently dishonest 6.2% the Biden administration is reporting.)
The media's solution? Eliminate the wonderful traditions of the holiday! They tell us you can do simple things, such as eliminating the turkey. Or no longer gathering together with family and others you care about.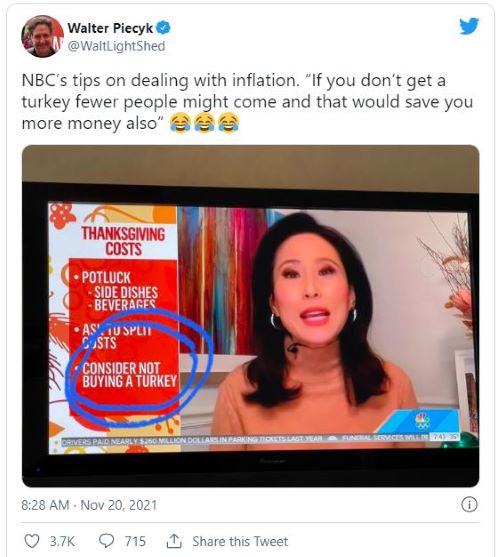 The hate-America left, which includes the media, are unrelenting in their quest to destroy every tradition that makes this a great country. Inflation is not only destroying the purchasing power of average Americans, it is another weapon to destroy everything you love about this country, by the ruling-class elites who despise normal Americans.
My wife and I hosted a delightful Thanksgiving dinner, with several of her family members joining us. The food and fellowship were wonderful, and we had numerous conversations about our many blessings, for which we repeatedly expressed our gratitude. We never discussed politics or the divisions in this country.
But now that Thanksgiving is over, I can revel in knowing that our day of thanks was greatly offensive to the political and media elites who seek to destroy the beautiful tradition of Thanksgiving.
[buck.throckmorton at protonmail dot com]

posted by Buck Throckmorton at
01:30 PM
|
Access Comments