« Thursday Night Open Thread
|
Main
|
Thanksgiving ONT »
November 25, 2021
Happy Fun Thread Thanksgiving Edition!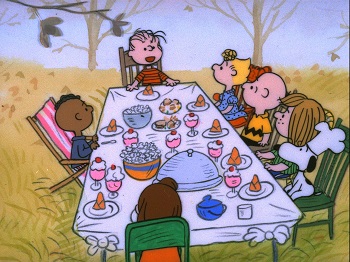 Howdy, Y'all, and Happy Thanksgiving!! By now you're very likely done with, or at least wrapping up, your big meal. Did you play it safe and go the traditional route with Chicken Surprise, Spaghettio's, fried okra and boiled peanuts, or did you throw caution to the wind and get wacky with turkey and stuffing and cranberry sauce and green beans with little onion krispies on top? Let us know in the comments what was on the menu at your place!
Did you eat the whole thing?

Thanksgiving is a time for celebrating the oppression of indigenous peoples, right? That's what we all sat around celebrating today, wasn't it?
No? Well, whatever your personal celebratory traditions happen to be, I hope you took time to remember a few things for which you are thankful. While there is no doubt about we are living in a pretty messed up world, and if you can't find anything else, at least be thankful for this place and for each other. In that regard we are all pretty damn lucky.
And if the indians wanted to win, they should've fought harder.
******
This time of year always puts me in a nostalgic mood.
Thanksgiving 1950
A Family Date
Home Life
The Budget
Housewife School
Thrifty Wife!
The American Dream
Lunchroom Manners
Delinquents!
The Dial Comes to Town!
The Service Station
Selling Oldsmobiles
1950's Small Town with the Andersons
Speaking of the Andersons and Thanksgiving
From WeaselWorld to yours, Happy Thanksgiving!

posted by Weasel at
08:30 PM
|
Access Comments