« BasedCon: A Survivor's Story [moviegique]
|
Main
|
Thanksgivingmanship: A Continuing Tradition of Shame »
November 25, 2021
Thankfulness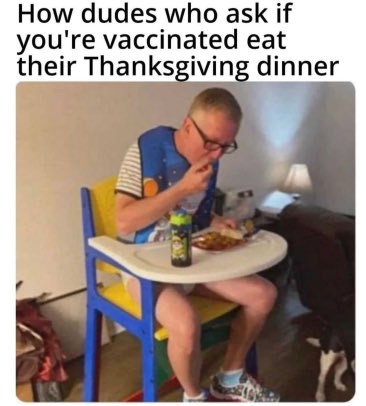 Although we are watching the world sliding into the toilet, there are a number of things to be thankful for.

For example the Fabulous Mrs. Mis. Hum and I have 3 amazing daughters. Unlike this ungrateful little bitch child.

My parents bought me a minivan for my birthday - it better be a sick joke'
A 17-year-old has gone viral on TikTok after she hit out at her parents for buying her a car that she didn't like - but many users criticised her for not appreciating the gift


A teen has gone viral after she complained that she didn't like the car her parents bought her for her birthday.

Priscilla Von Webber said she was 'praying her family were playing a sick joke' when they surprised her with a minivan for her 18th birthday.

The tan-coloured car with personalised number plate apparently wasn't up to Priscilla's standards, as she took to her TikTok account ( @costconewchicken ) to complain about the gift.

In a viral video that has amassed 1.4 million views, Priscilla explained: "It's my 18th birthday Friday and I'm praying to god my family is playing a sick joke that they got me a tan minivan with my name on the license plate."

The teen added that she meant this in "the most non-brat way possible".

Such an entitlement society.
***

Although Conservative Inc., has been fraught with grifters and intellectual light weights I am thankful for William F. Buckley. I remember watching him on PBS I believe on Sunday mornings. Yesterday would have been Buckley's 96th birthday. I suspect he's rolling over in his grave with the likes of Lowry & Goldberg at National Review.

William F. Buckley was born ninety-six years ago today. Most people remember him for National Review, defining modern conservatism and fusing traditional conservatives and libertarians. One of Buckley's most famous lines often used today is "support the rightward most viable candidate" for a given office" I remember and honor William F. Buckley for a different reason than most conservatives. William F. Buckley, a very observant Catholic, made it possible for Jews to feel welcome in the Conservative movement- something unthinkable in the '50s and '60s. William F. Buckley fought Antisemitism

From its initial issue in 1955, the National Review became the bible of conservative thought, but it was also void of the Jew-hatred that was a big part of the conservative movement. Conservative favorites such as aviator Charles Lindbergh and Henry Ford were staunchly anti-Semitic, as were the post-war conservative anti-communist groups such as the John Birch Society and The Liberty Lobby. Buckley didn't let those groups anywhere near his magazine and publicly denounced the John Birch Society and its leader Robert W. Welch, Jr.
***

Yes our country seems to be going down the tubes with vaccination mandates, smuggling unwanted, unneeded and illegal aliens, etc. Those who commit crimes in this country should be happy and satisfied to live in the USA.

A student in North Korea has been sentenced to death by a firing squad for selling copies of Netflix's hit show Squid Game.

He is said to have smuggled the banned series into the Communist state on a stashed USB drive from China.

He was caught after selling copies to several people including fellow students, according to sources in the country cited by Radio Free Asia (RFA).

It is understood he will be executed by firing squad – one of the brutal methods by which characters in the horror series are also killed.
***
Whatever happened to simple courtesy and common sense. If you are invited out for dinner be thankful for the invitation and eat what you can.

Not everyone is on the same page when it comes to food allergies and intolerances, and dietary restrictions and preferences, and that's never more evident than at a holiday meal. While your immediate family may know you're vegan or lactose intolerant, that's not necessarily the case with extended family, friends, or your partner's family.

So what do you do? Choke down food that will probably make you sick, or goes against your beliefs? Or have a super awkward conversation where you potentially hurt someone's feelings? Neither of the above. In an article for the Huffington Post, Alexandra Emanuelli explains how to let your holiday hosts know about your dietary restrictions and preferences in a respectful, polite, and (most importantly) effective way. Here's what to know.
Or as my Mother would say, "Eat what you brought along."
***

A final aside, if you sit back and close your eyes, there are many people, places and things in our life we should be thankful for.
I wish to say thank you to the Horde for being members of the Ace of Spades Family. Thank you Ace for allowing me to be a Cob. Thank you fellow Cobs and Open Bloggers for your work and helping me out when I need it.
Thank you Lord for all of the other wonderful things in my life.

posted by Misanthropic Humanitarian at
02:45 PM
|
Access Comments