« DNC Separating from College Democrats of America, as The Student Group Explodes in Allegations of Racism, Anti-Semitism, Anti-Blackness, and Islamophobia
|
Main
|
Woke French Dictionary Adds "Non Binary" Pronouns to Language -- Despite the Inconvenient Fact That Almost No One In France Uses Them »
November 19, 2021
More Aftermath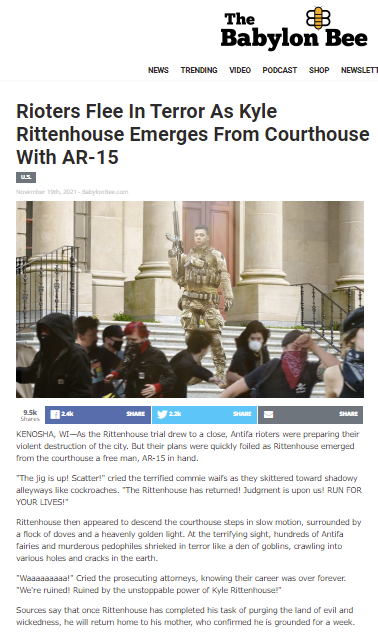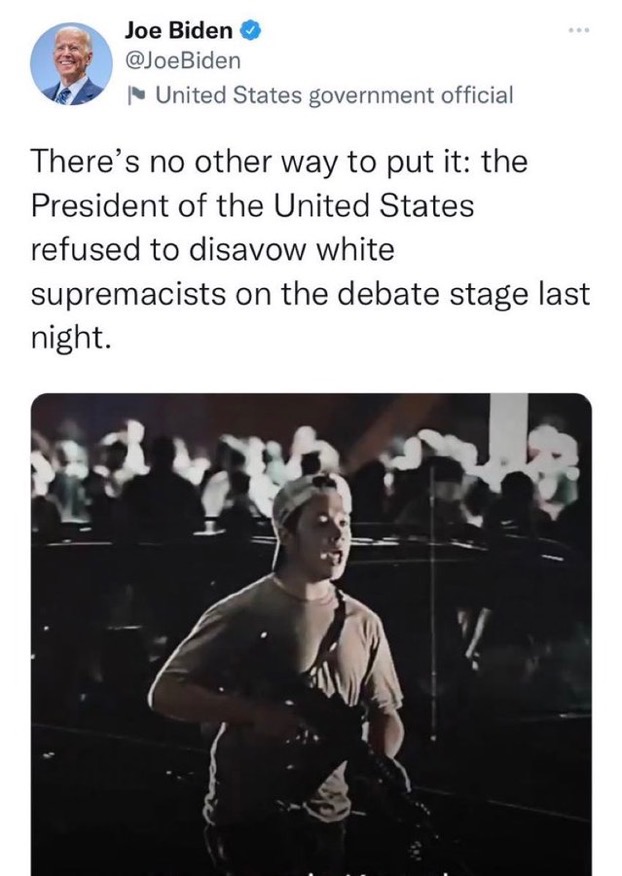 Now JoeShitMyPants says:
Biden on Rittenhouse: "I stand by what the jury has to say. The jury system works." (Per pool).
He says he's "angry" about the decision: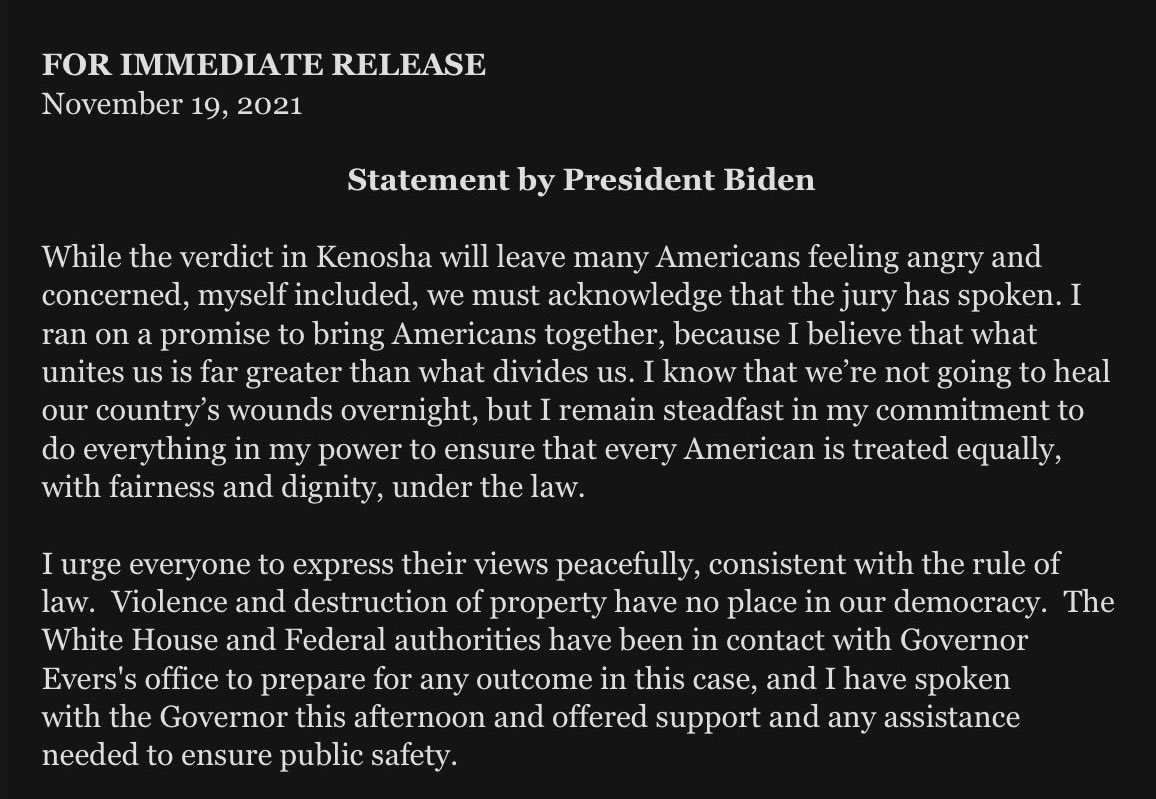 Chuck Todd was getting choked up talking about "the victims families". Did the child molester have a large family presence in the Courtroom? Posted by: Ktgreat
@disclosetv

NEW - Many U.S. media outlets and journalists labeled Kyle Rittenhouse, who acted in self-defense, a mass murderer or worse, and may now face defamation lawsuits - reports.

The ACLU is still in Defamation Mode. I guess they think the donations from crazed leftists will exceed their likely defamation judgment.
ACLU @ACLU

Despite Kyle Rittenhouse's conscious decision to travel across state lines and injure one person and take the lives of two people protesting the shooting of Jacob Blake by police, he was not held responsible for his actions.

Unfortunately, this is not surprising.
Warner Bros./DC hired this person to direct a movie based on DC Comics' "Fourth World" Property. Keep that in mind when they advertise more of their shit at you.
Ava DuVernay @ava

John Huber and Karen Bloom, parents of murderer #KyleRittenhouse's victim Anthony Huber: the verdict "sends the unacceptable message that armed civilians can show up in any town, incite violence, and then use the danger they have created to justify shooting people in the street."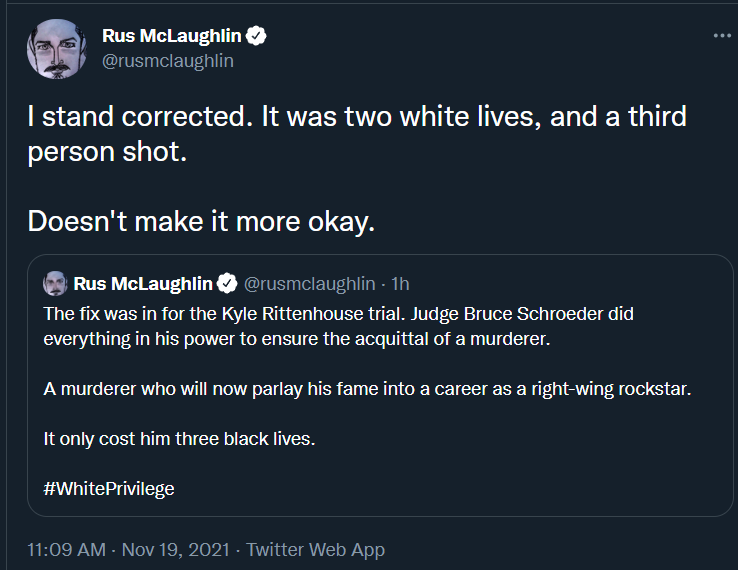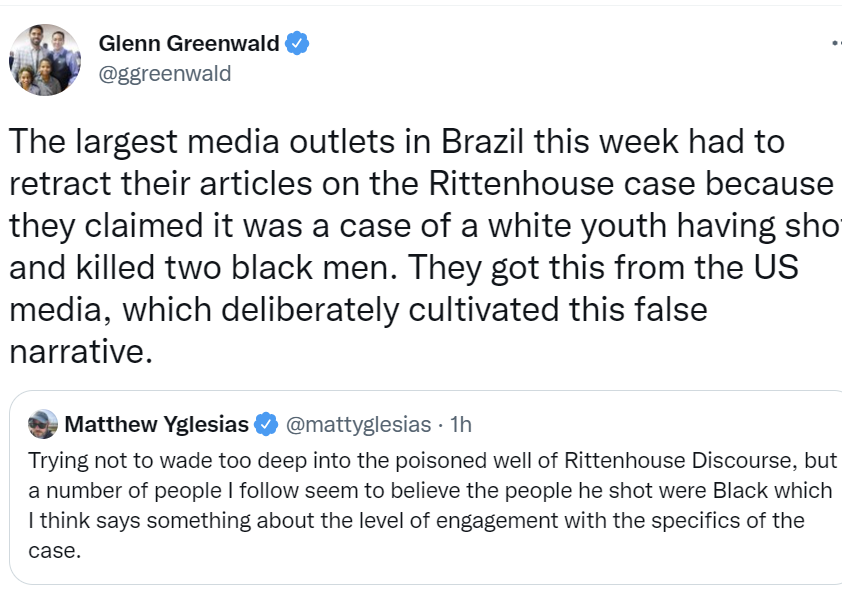 Black people are so discriminated against in America, and so disfavored by the justice system, that the media has to lie and pretend that three white men are three black men to get people to care that they were shot.
That's some weird, wonky "racism"!
Is Keith Olbermann telling us he's judgment proof?
Keith Olbermann @KeithOlbermann

F*ck this murderer.
@DavidAFrench · 4m 1. The acquittal was proper--Rittenhouse presented evidence that he was chased and attacked at every turn.

2. He's no hero. He never should have been there. The effort on the right to turn him into a model of citizen action is dangerous:
I'm not gay no more! I don't want no more mens!!! I like women! Women women women!!!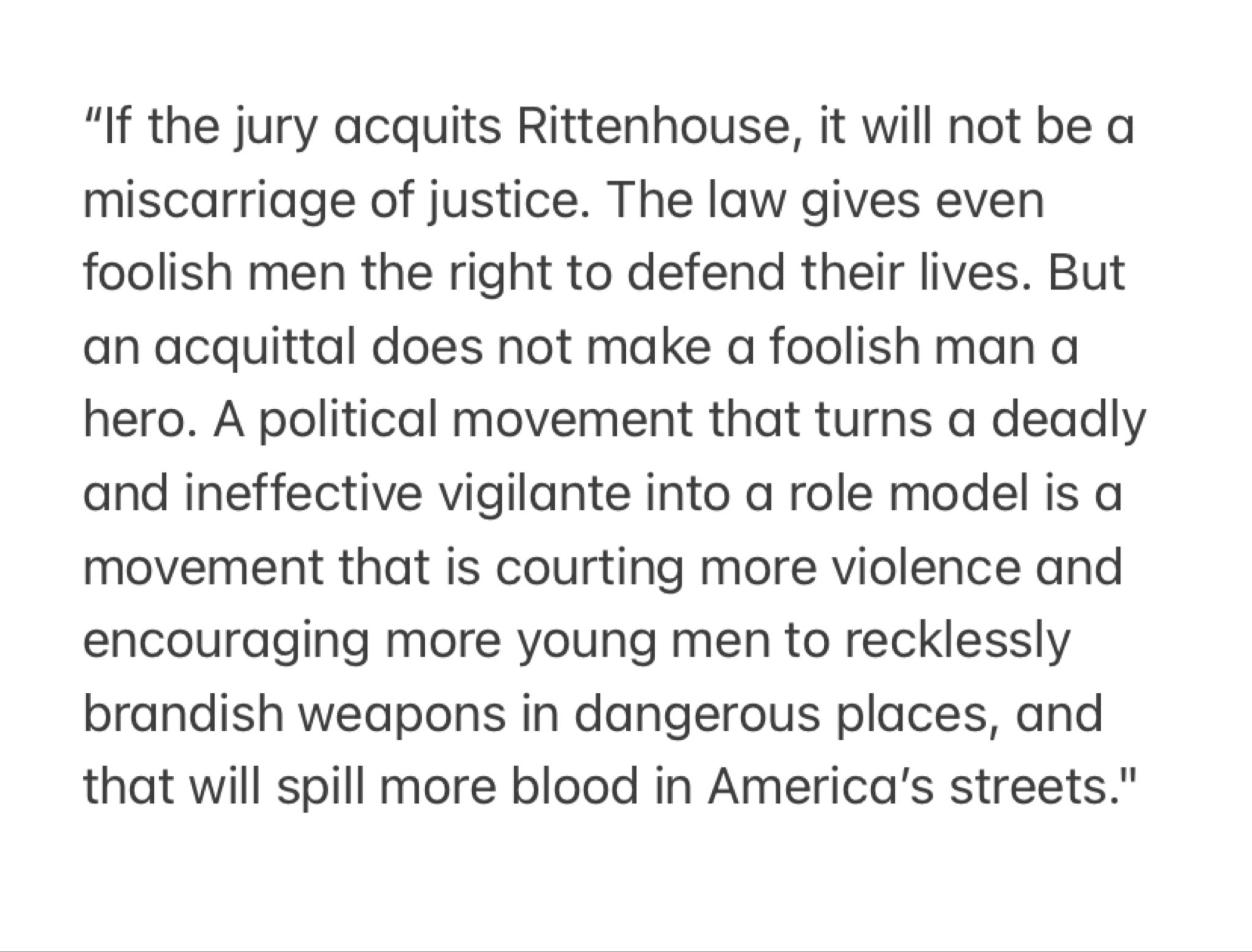 This is defamation; Kyle did not act as a vigilante. He did not seek to arrest anyone for a crime or stop any crime -- except for deadly assaults upon his own person.
He defended himself while being attacked by, get this, vigilantes.
If French isn't sued, it's only because he's a no-account brokedown hasbeen grifter nobody that no one notices any more.
But he should be sued. He should be bankrupted and forced to Learn to Code.
Former National Review leading light, y'all.
It should surprise no one that David French, who supported the Third Term of Obama (as he previously supported Hillary Clinton), is in complete agreement with the man running the Third Term of Obama, Ben Rhodes:
Ben Rhodes @brhodes

A very dark message sent to all the other heavily armed would-be vigilantes out there.
Ben Rhodes finds it "dark" that a pedophile attempting to molest a minor might get shot. I wonder why he's so alarmed by that possibility.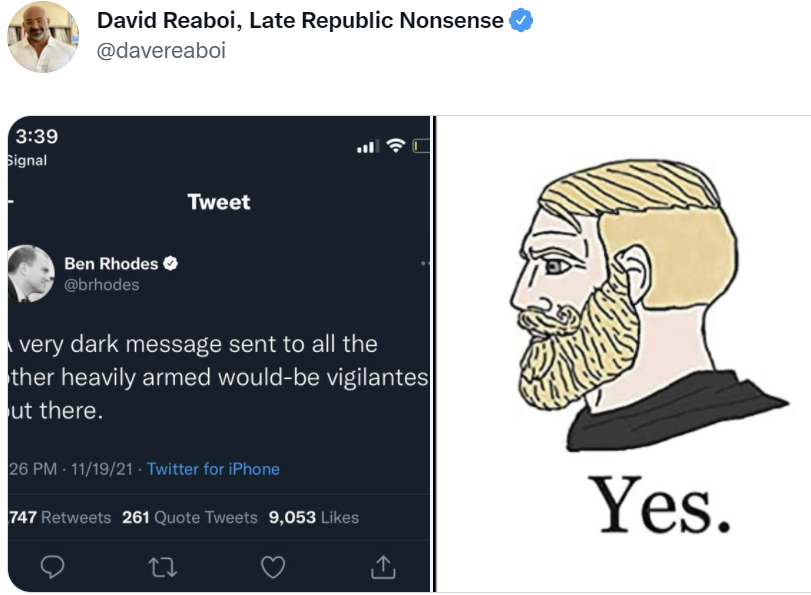 The Unhinged Racist Joy Reid offers up more unhinged racism: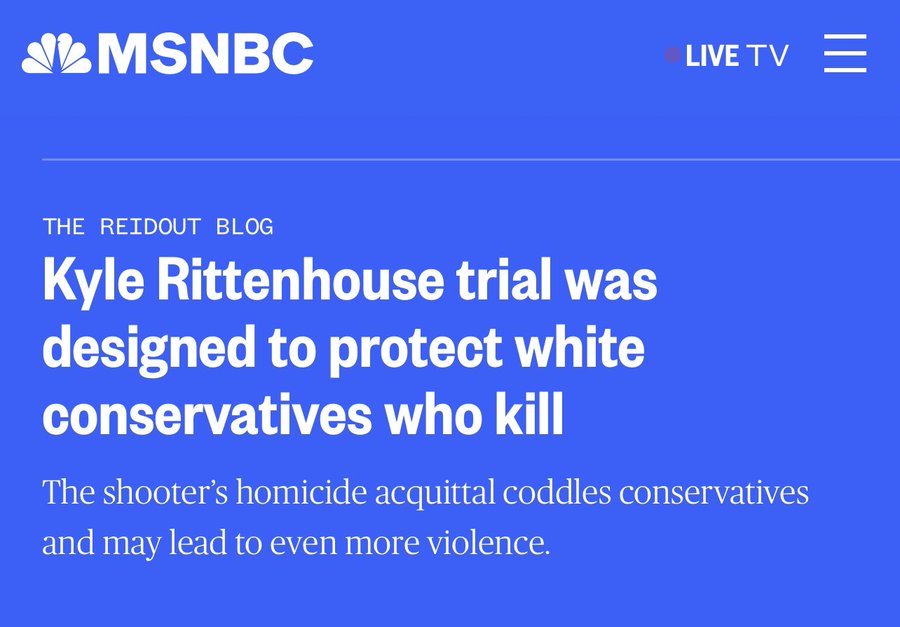 Joy-Ann (Pro-Democracy) Reid @JoyAnnReid

In the Rittenhouse case, the 13th juror was the judge.

We knew, but it's sometimes helpful to remind ourselves how America was designed to work. It continues to work as designed. We have learned again what is considered legal for *some* people to do in America. It's helpful to know where you stand in your country. Be safe out there.
Well, it seems to be "considered legal for *some* people to do" this to someone defending his store from violent rioters, Joy. No word on whether he Crossed State Lines to defend his store.
By the way, two violent BLM felons got arrested "protesting" at the courthouse. They Crossed State Lines from Illinois, which I've been reliably informed is a Hate Crime Intensifier for a crime.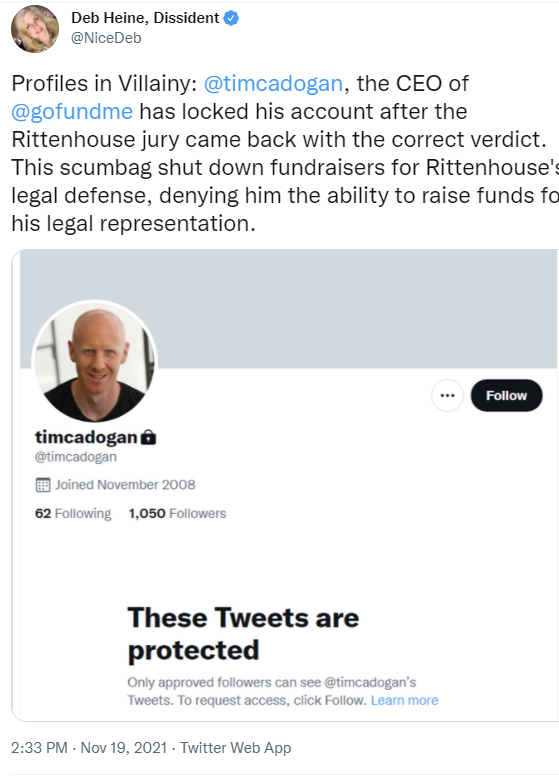 Protected leftwing monopoly censor Twitter -- protected by both the censorious leftwing and the bought-and-owned pseudoright corporate client service grifters -- banned people for saying "Kyle Rittenhouse did nothing wrong," claiming this was "glorifying violence."
They did allow people to defame him all day long and call for him to hanged. And call for cities to be burned, etc.
Well, now people can say, with a jury verdict as authority: Kyle Rittenhouse did nothing wrong: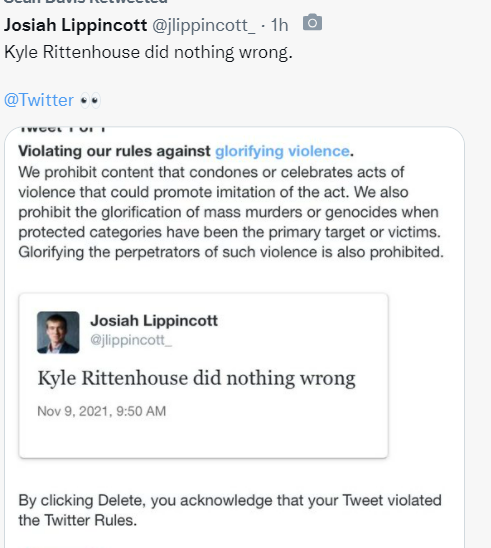 Colin Kaepernick @Kaepernick7

We just witnessed a system built on white supremacy validate the terroristic acts of a white supremacist.

This only further validates the need to abolish our current system. White supremacy cannot be reformed.

posted by Ace at
03:25 PM
|
Access Comments