« "QAnon Shaman" Sentenced to Nearly Four Years in Jail -- For... Trespassing
|
Main
|
Defense Moves for a Mistrial -- Without Prejudice »
November 17, 2021
OH, NO: DEFENSE ASKS FOR A MISTRIAL -- WITHOUT PREJUDICE
"Without prejudice" means a new trial. They base this on not having the best quality video. They say they would have prepared their defense differently.
This could just be setting up an "in case" situation if Rittenhouse is found guilty.
But this also means the defense thinks that Rittenhouse will be convicted.
If the prosecution agrees to this, then the judge is likely to grant a new trial. I suppose the judge COULD, MAYBE deny the motion, but it's hard if both defense and prosecution agree.
Prosecution opposes -- because they think that the jury, by asking to see the "raises gun" video, is thinking about convicting.
I disagree with that, actually. When a jury wants to see something, sometimes it's just to clear their last doubts. The OJ jury wanted to review the testimony of the chauffeur who said that he kept ringing OJ's doorbell and OJ didn't answer for a half hour (because he was showering after killing his wife), IIRC. People took that to mean they were going to convict. I, smartly, thought it meant they were reviewing it in order to dismiss it.
But this does not look good, my friends.
Re: Flufferboy2004
Rekieta said that someone did a social media search on T. Clair Binger (Littlefinger's full name) and it came up with a previous email of "Flufferboy2004" at some email host. This has not been confirmed fully, but he says it pops up on a search. For what it's worth.
See last night's Midnight Post for more about T. Clair Binger.
***

Not sure what he'll do about the latest bad-faith action.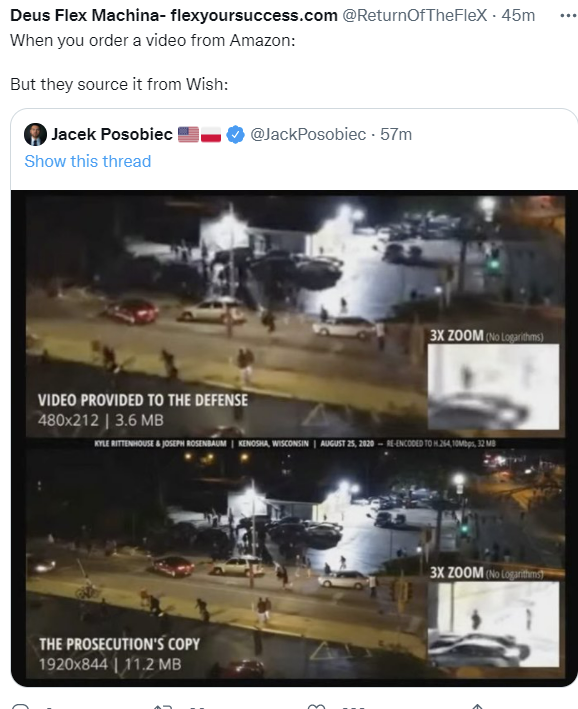 The prosecution provided a much, much lower quality video to the defense. The defense did not even know about this until the end of the trial.
The judge, I'm told, is not buying the prosecution's excuses about why they gave the defense a shitty version of the evidence.

Update: the judge seems to be taking it, as usual, by just biting the pillow for Littlefinger. I thought he was angry, but he just seems to be treating this as another "Oooopsie!" by Flufferboy2004.
I think Fatlock is making the argument of innocence because maybe Flufferboy2004's credibility is still in question.
Fatlock's series of excuses for his and binger's treachery:

1. Video is not different quality.
2. Okay, the video is different quality but you knew it and had the higher quality video all along.
3. Fox News!
4. I resent being called a liar!
5. Maybe the Defense screwed up the computer file when we sent it to them.

Posted by: Soothsayer's Untrue But Accurate Tales
Re: the judge declaring a mistrial or judgement notwithstanding the verdict (JNOV):
142 This judge is not going to mistrial anything or JNOV the case. He's a weakling. He whines about media coverage. He FEELS the sting of Joe Scarborough's scorn.
163 The prosecution applied the wrong snapchat filter. They apologize. Posted by: ...
Fatlock: We're sorry, your honor. We accidentally applied the "Kyle Raises His Gun" Snapchat Filter. It was completely an accident and totally a good faith oopsie. Swearsies.